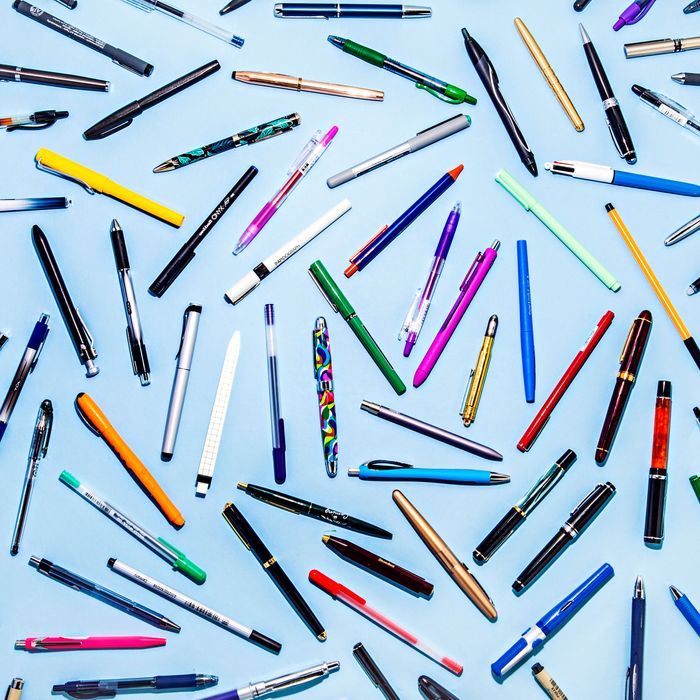 A small sampling of all the pens we tested.
Photo: Jed Egan and Lyne Lucien
At its most basic, a pen has to do just one thing, but there are so many reasons to choose one over another. Does it glide along the page, or does it drag? Does the ink flow in a smooth line, or is it unpredictable? Does the pen feel good or would note-taking cramp your hand? And how does it look? With so many varieties out there, from plastic ballpoints sold by the dozen to thousand-dollar fountain pens hunted down by collectors, we became determined to find the very best pens for everyday use.
We consulted a panel of experts, picked through personal favorites, and mined our own pen coverage to determine the top contenders. Then we called in and tested dozens upon dozens of gels, rollerballs, felt-tips, ballpoints, and fountain pens, and put them to the test. The resulting list is a ranking of the top 100 pens, according to Strategist editors and writers. One note: A lot of what makes one pen better than another is completely subjective. Some of us prefer a finer line and some of us a thicker one (even within the Strategist's ranks, there is dissent). One person's beautiful pen might be no more than inoffensive to another. The finer the point, the scratchier it's likely to be. And if you disagree (or have a favorite we missed), share it in the comments — we just might test it when we update this list in the future.
Candidates
Before we started testing pens, we did a wide sweep to determine which ones would make the list. We trawled through our own archive, looking for pens favored by highly opinionated people like André Aciman and Curtis Sittenfeld, pens from around the world, writers' and illustrators' favorite pens, and even the best-reviewed pens on Amazon. Then we branched out and consulted pen bloggers like Ed Jelley, Jessica Chung of Pretty Prints & Paper, and Ana Reinert of The Well-Appointed Desk; pen shop proprietors like Brian Goluet of The Goulet Pen Company, Elaine Ku of JetPens, and David Cole of Pen Heaven; and even ballpoint-pen artists Rafael Augusto and Nathan Lorenzana, who use the humble tool to create intricate works of art — often on Instagram.
Criteria
Among our team we have those who prefer thin-lined pens, others who like thick, marker-y ones, and even one fountain pen fanatic, but while our individual preferences vary, we've aimed to standardize our judgments by evaluating each pen on a scale of 1 (poor) through 5 (excellent):
Smoothness: How easily does the pen glide across the page? Does the tip feel scratchy or catch on the paper? How smoothly does the ink flow?
Smudging: Does the ink smudge on the paper or on your hand when writing? To what degree?
Bleed-through: Does the ink bleed through to the other side of the page?
Feel: How does the pen feel in your hand? Is it comfortable to hold? Is it heavy or light?
Looks: Is it a beautiful writing instrument? Are there design elements that make the pen stand out?
Methodology
Once we narrowed our list down to the very best, most highly recommended pens, we divided them up among the Strategist's team of writers and editors (there are 11 of us) to be rated according to our five criteria. To standardize the writing surface, we asked each tester to use the pens on the same Muji notebook and averaged each pen's scores across the five categories. If two or more pens ended up with the same average score, we broke the tie by looking at each pen's smoothness rating, as we collectively found this factor to be the most important one. Still — we were left with some pens that had the same average score and the same smoothness rating, so we broke the tie by recruiting left-handed volunteers (we're all righties) from the New York office to break the tie, as lefties are more susceptible to smudging.
Finally, two pens earned perfect scores in testing, so to find our number-one pen, we put the two to a vote among our team, plus one of our volunteer lefties. Winning out 9-3, our number one pick is — we're confident — a crowd-pleasing pen. For devotees of a specific style, we've also noted which pens earned top marks within its type; we've listed them as "Best in Category" and you may hit Ctrl-F, in case you're specifically interested in our favorite felt-tip, ballpoint, rollerball, gel, or fountain pen. Click here to jump to the top 80, top 60, top 40, or top 20, too.
100. Pilot Fineliner
Smoothness: 1 | Smudging: 3 | Bleed-through: 3 | Feel: 3 | Looks: 2
It's easy to understand the appeal of the Fineliner, which has a straightforwardness that I wanted to like. It came recommended from a few of our experts, but I found that the Fineliner produced a good amount of smudging, some bleed-through, and some dragging. It isn't great for the average note-taker, but die-hard marker pen fans may find something to love about the retro attractiveness of this one. — Dominique Pariso, Strategist intern
Total score: 2.4
99. Pentel Arts Slicci 0.25 mm. Extra Fine
Smoothness: 1 | Smudging: 5 | Bleed-through: 3 | Feel: 2 | Looks: 3
I have to admit, I found little to like about this pen. The line it creates is skinny and light, and writing with it feels (and sounds) scratchy. For a gel pen, it created a lot of resistance between the tip and the paper. The ridges on the body look like they're meant to serve some ergonomic purpose, but since they're carved into the plastic, they dig painfully into your fingers. In its favor, there's no smudging and no bleed-through, though it does create raised scratch marks on the other side of the page, which make for a rough writing surface if you're using both sides of the piece of paper. — Karen Iorio Adelson, writer
Total Score: 2.8
98. Uni-ball Jetstream
Smoothness: 4 | Smudging: 3 | Bleed-through: 3 | Feel: 3.5 | Looks: 1
Like the BIC Atlantis (see #64), the Uni-ball Jetstream was built for comfort rather than looks. It's a thick pen, which might mean fewer hand cramps for those who experience them, but it does have the feel of a pen you'd find in the lobby of a used car dealership. Or — and the name is likely creating some subliminal messaging — it may call to mind a commercial airplane. Big and not glamorous. As far as ballpoints go, this one writes well and leaves smooth, clear marks. A thin layer of silicone sheathes the body to give your fingers a hint of padding. — Margaret Rhodes, senior editor
Total score: 2.9
97. Pilot Metropolitan
Smoothness: 1.5 | Smudging: 3 | Bleed-through: 4 | Feel: 3 | Looks: 3.5
This is a budget fountain pen and it writes like one. The ink spreads and spiders, and the line is not clean. The nib feels scratchy across the paper and drags too much. A positive note is that the ink output is consistent (no skipping), but, again, it bleeds. Another good quality is that it does dry pretty quickly and doesn't smudge as much as other fountain pens. As for looks, it's got a metallic body in a rosy gold and is rounded and tapered on each end. It has a good heft and feels nice in the hand, but the subpar inking makes it a less than desirable choice. — Lauren Ro, writer
Total Score: 3
96. Pentel R.S.V.P. RT
Smoothness: 3 | Smudging: 5 | Bleed-through: 4 | Feel: 2 | Looks: 1
The padded grip and overall light weight make this pen comfortable to use for extended periods of time, but I had to dock a few points because after a while, it really feels like you're dragging the pen across the page. And while the clear body of the pen makes it slightly more interesting to look at than similar retractable pens at this price point, there isn't anything particularly special that makes it stand out. — D.P.
Total Score: 3
95. Koh-I-Noor Rapidograph