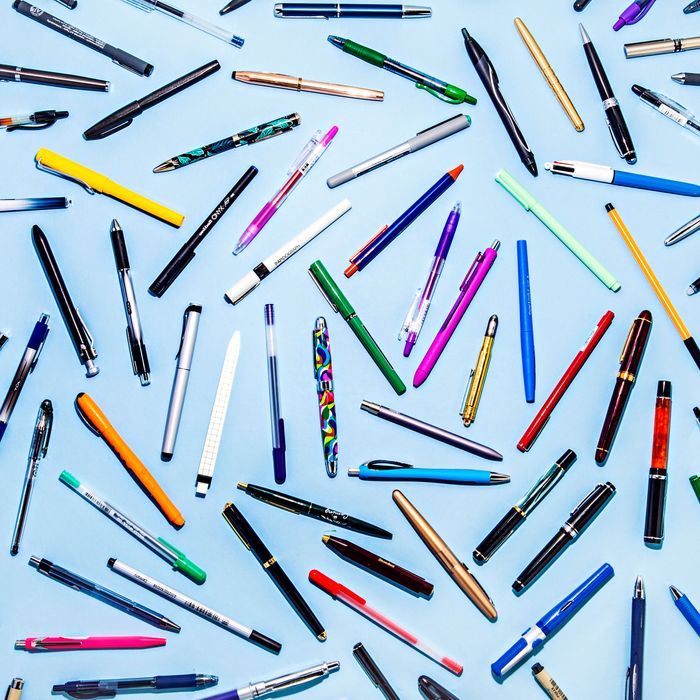 A small sampling of all the pens we tested.
Photo: Jed Egan and Lyne Lucien
At its most basic, a pen has to do just one thing, but there are so many reasons to choose one over another. Does it glide along the page, or does it drag? Does the ink flow in a smooth line, or is it unpredictable? Does the pen feel good or would note-taking cramp your hand? And how does it look? With so many varieties out there, from plastic ballpoints sold by the dozen to thousand-dollar fountain pens hunted down by collectors, we became determined to find the very best pens for everyday use.
We consulted a panel of experts, picked through personal favorites, and mined our own pen coverage to determine the top contenders. Then we called in and tested dozens upon dozens of gels, rollerballs, felt-tips, ballpoints, and fountain pens, and put them to the test. The resulting list is a ranking of the top 100 pens, according to Strategist editors and writers. One note: A lot of what makes one pen better than another is completely subjective. Some of us prefer a finer line and some of us a thicker one (even within the Strategist's ranks, there is dissent). One person's beautiful pen might be no more than inoffensive to another. The finer the point, the scratchier it's likely to be. And if you disagree (or have a favorite we missed), share it in the comments — we just might test it when we update this list in the future.
Before we started testing pens, we did a wide sweep to determine which ones would make the list. We trawled through our own archive, looking for pens favored by highly opinionated people like André Aciman and Curtis Sittenfeld, pens from around the world, writers' and illustrators' favorite pens, and even the best-reviewed pens on Amazon. Then we branched out and consulted pen bloggers like Ed Jelley, Jessica Chung of Pretty Prints & Paper, and Ana Reinert of The Well-Appointed Desk; pen shop proprietors like Brian Goluet of The Goulet Pen Company, Elaine Ku of JetPens, and David Cole of Pen Heaven; and even ballpoint-pen artists Rafael Augusto and Nathan Lorenzana, who use the humble tool to create intricate works of art — often on Instagram.
Among our team we have those who prefer thin-lined pens, others who like thick, marker-y ones, and even one fountain pen fanatic, but while our individual preferences vary, we've aimed to standardize our judgments by evaluating each pen on a scale of 1 (poor) through 5 (excellent):
Smoothness: How easily does the pen glide across the page? Does the tip feel scratchy or catch on the paper? How smoothly does the ink flow?
Smudging: Does the ink smudge on the paper or on your hand when writing? To what degree?
Bleed-through: Does the ink bleed through to the other side of the page?
Feel: How does the pen feel in your hand? Is it comfortable to hold? Is it heavy or light?
Looks: Is it a beautiful writing instrument? Are there design elements that make the pen stand out?
Once we narrowed our list down to the very best, most highly recommended pens, we divided them up among the Strategist's team of writers and editors (there are 11 of us) to be rated according to our five criteria. To standardize the writing surface, we asked each tester to use the pens on the same Muji notebook and averaged each pen's scores across the five categories. If two or more pens ended up with the same average score, we broke the tie by looking at each pen's smoothness rating, as we collectively found this factor to be the most important one. Still — we were left with some pens that had the same average score and the same smoothness rating, so we broke the tie by recruiting left-handed volunteers (we're all righties) from the New York office to break the tie, as lefties are more susceptible to smudging.
Finally, two pens earned perfect scores in testing, so to find our number-one pen, we put the two to a vote among our team, plus one of our volunteer lefties. Winning out 9-3, our number one pick is — we're confident — a crowd-pleasing pen. For devotees of a specific style, we've also noted which pens earned top marks within its type; we've listed them as "Best in Category" and you may hit Ctrl-F, in case you're specifically interested in our favorite felt-tip, ballpoint, rollerball, gel, or fountain pen. Click here to jump to the top 80, top 60, top 40, or top 20, too.
100. Pilot Fineliner
Smoothness: 1 | Smudging: 3 | Bleed-through: 3 | Feel: 3 | Looks: 2
It's easy to understand the appeal of the Fineliner, which has a straightforwardness that I wanted to like. It came recommended from a few of our experts, but I found that the Fineliner produced a good amount of smudging, some bleed-through, and some dragging. It isn't great for the average note-taker, but die-hard marker pen fans may find something to love about the retro attractiveness of this one. — Dominique Pariso, Strategist intern
Total score: 2.4
99. Pentel Arts Slicci 0.25 mm. Extra Fine
Smoothness: 1 | Smudging: 5 | Bleed-through: 3 | Feel: 2 | Looks: 3
I have to admit, I found little to like about this pen. The line it creates is skinny and light, and writing with it feels (and sounds) scratchy. For a gel pen, it created a lot of resistance between the tip and the paper. The ridges on the body look like they're meant to serve some ergonomic purpose, but since they're carved into the plastic, they dig painfully into your fingers. In its favor, there's no smudging and no bleed-through, though it does create raised scratch marks on the other side of the page, which make for a rough writing surface if you're using both sides of the piece of paper. — Karen Iorio Adelson, writer
Total Score: 2.8
98. Uni-ball Jetstream
Smoothness: 4 | Smudging: 3 | Bleed-through: 3 | Feel: 3.5 | Looks: 1
Like the BIC Atlantis (see #64), the Uni-ball Jetstream was built for comfort rather than looks. It's a thick pen, which might mean fewer hand cramps for those who experience them, but it does have the feel of a pen you'd find in the lobby of a used car dealership. Or — and the name is likely creating some subliminal messaging — it may call to mind a commercial airplane. Big and not glamorous. As far as ballpoints go, this one writes well and leaves smooth, clear marks. A thin layer of silicone sheathes the body to give your fingers a hint of padding. — Margaret Rhodes, senior editor
Total score: 2.9
97. Pilot Metropolitan
Smoothness: 1.5 | Smudging: 3 | Bleed-through: 4 | Feel: 3 | Looks: 3.5
This is a budget fountain pen and it writes like one. The ink spreads and spiders, and the line is not clean. The nib feels scratchy across the paper and drags too much. A positive note is that the ink output is consistent (no skipping), but, again, it bleeds. Another good quality is that it does dry pretty quickly and doesn't smudge as much as other fountain pens. As for looks, it's got a metallic body in a rosy gold and is rounded and tapered on each end. It has a good heft and feels nice in the hand, but the subpar inking makes it a less than desirable choice. — Lauren Ro, writer
Total Score: 3
96. Pentel R.S.V.P. RT
Smoothness: 3 | Smudging: 5 | Bleed-through: 4 | Feel: 2 | Looks: 1
The padded grip and overall light weight make this pen comfortable to use for extended periods of time, but I had to dock a few points because after a while, it really feels like you're dragging the pen across the page. And while the clear body of the pen makes it slightly more interesting to look at than similar retractable pens at this price point, there isn't anything particularly special that makes it stand out. — D.P.
Total Score: 3
95. Koh-I-Noor Rapidograph
Smoothness: 2 | Smudging: 2 | Bleed-through: 4.5 | Feel: 3 | Looks: 4
As the name indicates, this is a technical pen for artists — not surprising, since it's used by cartoonist Roz Chast. Its needle-fine point feels like an actual needle: it's that fine. And the nib contracts when pressed to the paper, which is the mechanism by which the ink is drawn from the well, which you manually fill and refill. The lines are thin, and you could probably control the output of the ink depending on the amount of pressure you use while writing. As for smoothness, again, it's like writing on a pad of paper with a needle, but the ink output is consistent. It's a fun pen because of all of its components, and it looks delightfully vintage. Lightweight and mainly made of plastic, it comes in a plastic case with a cool graphic font. For our purposes, it's definitely a pen not for every day, but it could be a great gift for an artist or architect who values technicality. — L.R.
Total Score: 3.1
94. Staedtler Pigment Liner
Smoothness: 1 | Smudging: 5 | Bleed-through: 5 | Feel: 3 | Looks: 2
Super draggy, with uneven pigment. It skips constantly, especially if you're trying to write quickly. There's a ton of resistance, and the nib of the pen is so thin that it keeps on dragging and pulling. It feels unpleasant, especially because it seems like the only way to get an even stream of ink is to write slowly, with your pen held straight up. I truly do not know what writer would use this pen for long periods of note-taking, but it came recommended from Alexander Chee, who uses it to sign books, which may indicate a better purpose (occasional, deliberate name-signing). No smudging or bleed-through, but that's because the writing is so light. I like the matte finish and how the cap fits snugly on the back of the pen. It's a totally average-looking pen. I'm mostly docking points because it's fully covered in text, which makes it look really busy. — Maxine Builder, writer
Total Score: 3.2
93. Staedtler Lumocolor Permanent
Smoothness: 2 | Smudging: 5 | Bleed-through: 1 | Feel: 4 | Looks: 4
This Staedtler permanent marker pen intermittently sticks to the page and makes handwriting look staccato rather than smooth. For the amount it bleeds I was surprised to find that this pen doesn't smudge at all. I did find that this guy bled through two sheets of notebook paper, though — a deal-breaker for me. The matte-finish plastic casing is pleasant to hold and the pen fits well in my hand. But it is too light for my taste and has a strong chemical smell (which I like but some people might not). This is a cool-looking pen with its ribbed cap, flat clip, and an orange "S" on the end. It looks very "professional draftsman" which would make me feel cool. — Liza Corsillo, writer/editor
Total Score: 3.2
92. Pilot G2 Ultra Fine
Smoothness: 2 | Smudging: 5 | Bleed-through: 5 | Feel: 2 | Looks: 2
This pen produces alarmingly thin lines. So thin that my handwriting was rendered even more unreadable than it typically is. I also found it slightly difficult to write with — it took genuine effort to make sure I got every letter I wanted to on the paper. It is just not a smooth writing experience; there is just too little ink being administered. (The 0.7 mm. version of the G2 fared much better, though; see #31.) On the flip side, because the ink comes out so sparingly, there is quite literally no bleed-through or smudging. — Katy Schneider, associate editor
Total Score: 3.2
91. Zebra Jimnie
Smoothness: 3.5 | Smudging: 1.9 | Bleed-through: 4.5 | Feel: 4.2 | Looks: 2
For a rollerball with gel ink, this pen isn't entirely smooth. I discovered that it makes you work a little harder to get it across the page. Even though there isn't any bleed-through to the other side of the page, there's a significant amount of smudging, even whenbi the ink has had a few seconds to dry. It's not an especially great-looking pen either, but if your hand tends to cramp or fatigue while writing, you may appreciate the soft, silicone grip. — K.I.A.
Total Score: 3.22
90. BIC Round Stic Xtra Precision
Smoothness: 4 | Smudging: 5 | Bleed-through: 5 | Feel: 1 | Looks: 1
This pen is so familiar to me — it's the same cheapo BIC you see attached to medical-form clipboards, at the bodega counter when you sign receipts, and what you stock up on in high school when you don't care about quality. In fact, writer Curtis Sittenfeld buys them on the theory that her family members won't be tempted to steal such an unexciting pen. Revisiting it wasn't fun for me: despite the pen's small size and light weight, it's not especially comfortable to grip for long periods of time and my wrist felt sore while jotting out my lines for this (I ended up writing out the same passage from Virginia Woolf's Orlando for all the pens, as a control group for this test — fittingly, it's about pens). The pen does get good marks for being reliably smudge-proof, smooth, and for not bearing down to the next page, but ultimately it looks like a cheap pen and feels like one. — Lori Keong, writer
Total Score: 3.2
Smoothness: 3 | Smudging: 2 | Bleed-through: 4 | Feel: 4 | Looks: 3.75
Writing with the Tradio can be very hit-or-miss. If you've given the ink some time to settle, and you've got it at the correct angle and you're writing in a flowy, cursive script, it can feel pretty smooth. However, if you're quickly jotting down some notes in a less fastidious style, it instead scratches against the page and can alternatively leave pooling ink blots of bare, skipping lines. So if the Tradio works with your handwriting style, it could prove to be a keeper. Veep actor Timothy Simons has had his for more than five years, for instance. The ink smudges very easily, but fortunately it doesn't have much bleed-through. It's a wide-bodied plastic pen that's lightweight and comfortable to hold. — K.I.A.
Total Score: 3.35
88. Pelikan Fineliner 96
Smoothness: 4 | Smudging: 4 | Bleed-through: 2 | Feel: 3.5 | Looks: 3.4
Smooth and richly inky, the Pelikan Fineliner is a delight to write with. From fine-writing German brand Pelikan (some of their pricey fountain pens also came highly recommended), the Pelikan is an affordable introduction to the brand that would work for daily writing or even drawing and outlining. If you're okay with a good amount of bleed-through, that is. While the writing quality shows the brand's attention to functionality, aesthetically it's not the most exciting pen. The cap doesn't have a clip; instead it's more like a seamless addition to the body, which does give it a bit of a streamlined look. — K.I.A.
Total Score: 3.38
87. Muji Gel-Ink Ball Point 0.5 mm.
Smoothness: 1.5 | Smudging: 4 | Bleed-through: 5 | Feel: 3 | Looks: 3.5
While this Muji pen was recommended by several of my colleagues, I found the point to be too fine and the pen too scratchy for my taste. The thin, gel ink doesn't bleed through at all and there isn't much smudging, but those benefits don't outweigh how uncomfortable it is to write with. If you're a fan of the Japanese brand's minimal aesthetic you'll probably like the transparent plastic body, although there aren't any design features that make it especially comfortable to hold compared to your standard cheap pen. — K.I.A.
Total Score: 3.4
86. Platinum 3776
Smoothness: 2.5 | Smudging: 3 | Bleed-through: 4 | Feel: 3 | Looks: 4
This fountain pen has a very thick nib and line. The ink-flow is smooth and consistent, but the nib catches a bit on the paper, and you can feel the flat metal move across the surface. In terms of feel, it sports a pretty robust body made of red translucent plastic, and it feels substantial in the hand without feeling too heavy. There are golden accents (nib, clip, band around the cap) that elevate the pen, but they don't necessarily warrant the price tag. — L.R.
Total Score: 3.4
85. Pilot Hi-Tec-C
Smoothness: 2.5 | Smudging: 4 | Bleed-through: 4.5 | Feel: 3 | Looks: 3
For those who prefer their points extra fine, this is the pen for you. Writing with it is like writing with a needlepoint — the smoothness isn't really the selling point, but you can write as small and as neatly as you want. The ink-flow is on the consistent side, given the fineness of the point, although it feels scratchy across the page, which may or may not be a deal breaker for some. It's got a clear plastic body with a cap, and you can see inside the pen, which has a ridged grip. It's not the most comfortable pen in the world, but if you're concerned about being as precise as possible with your lines, then that is a small price to pay. — L.R.
Total Score: 3.4
84. Pelikan M200
Smoothness: 3 | Smudging: 2.5 | Bleed-through: 4.5 | Feel: 3.5 | Looks: 3.5
A fountain pen in the $100-range, this one has a finer point than the other ones I tested, and the mechanism for filling it with ink was a bit more involved. It uses a vacuum system, but filling it — by twisting the back end of the pen in an inkwell to draw the ink up — was straightforward, and the pen was ready to use immediately afterward. The flow of the ink when writing is a little uneven, and the nib drags a bit on the page, but overall it feels nice to write with. It's got a plastic body with pretty marbled accents and is lightweight as a result, and it would work for prolonged periods of writing with a bit of finessing. — L.R.
Total Score: 3.4
83. Pelikano School
Smoothness: 3 | Smudging: 3.5 | Bleed-through: 4.5 | Feel: 3.5 | Looks: 2.5
This pen is billed as a fountain pen for school, and its robust plastic structure and bright blue color make it ideal for a high school or college student looking to up their pen game. For a budget fountain pen, the ink output is consistent, and the nib feels decently smooth across the page, although there is slight catching. The smudging is better than on most fountain pens — which is perhaps what makes it particularly fit for use in school — and you can use it without feeling too precious about it. A rubber grip lends a level of comfort to this solid, everyday fountain pen. — L.R.
Total Score: 3.4
82. Sakura Gelly Roll
Smoothness: 4 | Smudging: 1 | Bleed-through: 3.5 | Feel: 4 | Looks: 4.5
Listen: as a child of the '90s, Gelly Roll pens hold a special, nostalgic place in my heart. But as an adult human who frequently writes first drafts in my notebook, this is not the most practical pen. It is ultrasmudgy, both on the hand and on the paper, and just dispenses too much ink for practical writing. On the other hand, this is the perfect pen for doodling (if you don't mind getting a little dirty). It's super inky, which means you can fill in any bubble or shape in seconds, and the ink comes out shiny and dark and thick. It's also the pen Cupcakes and Cashmere blogger Emily Schuman reaches for, in sparkly pink, when she wants to "add a little punch to [her] to-do list." — K.S.
Total Score: 3.4
81. Zebra Sarasa Retractable
Smoothness: 5 | Smudging: 5 | Bleed-through: 3 | Feel: 3 | Looks: 1
There is little resistance when writing and the rubber grip adds some comfort to the overall writing experience. However, I had to dock points for the clunky design and the amount of bleed-through. This one is just an average, run-of-the-mill retractable. — D.P.
Total Score: 3.4
80. Stabilo Fineliner
Smoothness: 3.3 | Smudging: 4.8 | Bleed-through: 4 | Feel: 3 | Looks: 2
The Stabilo Fineliner is a comfortably middle-of-the-road felt pen. Its hexagonal body feels just fine to hold and there's very little smudging or bleed-through. However, it's sticky on the page and I found that my not-so-neat handwriting was even harder to read than usual because of how the pen dragged across the paper. The line-thickness also varied without my changing the pressure with which I was writing. Will it work for a quick note or to-do list? Certainly. But it's not a standout by any means. — K.I.A.
Total Score: 3.42
79. Traveler's Company Brass Pen
Smoothness: 2.5 | Smudging: 4 | Bleed-through: 4.5 | Feel: 2 | Looks: 4.5
I really wanted to like this pen based on looks alone, but its performance is less than subpar. It's a ballpoint pen with an extremely fine point; something I would normally like, but it feels like a very fine-point mechanical pencil — which is interesting considering the fact that the body of the pen looks like that of a wooden pencil. Still, the very fine point is great for neat, small writing, but not necessarily for everyday note-taking. I do like that the ink comes out uniformly with very little pressure. When capped, the pen appears to be rather short. It has a brass body that looks vintage in the best way — like a bullet, almost — but when you open the pen, you realize that the cap is longer than the pen itself. And holding onto the pen without the cap on the back makes it too short to use comfortably (it's basically like holding a short golf pencil). Because of this imbalance in the proportion of the cap to the pen itself, the weight-balance feels off, too. With the cap attached to the back of the pen, it feels as if the pen could tip out of your hand; the pen (again, more like a tiny pencil) isn't hefty enough to stay pointed downward in your hand. — L.R.
Total Score: 3.5
78. Uni-ball Signo RT
Smoothness: 3.5 | Smudging: 4 | Bleed-through: 4 | Feel: 3 | Looks: 3
My first thought when I started out testing this one was, "Wow, this looks like chicken scratch." This might be because the pen has a fine point of 0.38 mm., which lends itself better to detailed doodlings than to glorious strains of prose. Writing with this, I felt the slightest bit of drag, like the pen was scraping on the page, which is why I docked points for smoothness. It also feels plastic-y in the hand (with a slight amount of cushion, thanks to a thin finger grip), and there is the teeniest hint of smudging when you pass over fresh sections of writing or art. Overall, it's a pretty average pen — it looks like the Pilot Gels, but doesn't feel as cushy and operates like a thinner drawing pen — and an okay option for a doodler on a budget. — L.K.
Total Score: 3.5
77. Pilot Varsity
Smoothness: 4.5 | Smudging: 2.5 | Bleed-through: 3 | Feel: 4 | Looks: 3.5
This under-$2 disposable plastic fountain pen could easily be a gateway drug to the expensive world of fountain pen collecting because it's so comfortable and downright fun to write with. There's more room for error in angling and handwriting style compared to the pricier fountain pens, as the thick, black ink flows effortlessly across the page. Because the ink is thick, dark, and slow-to-dry, though, there is significant smudging and bleed-through — but better to discover you can't stand that with this pen than with a $200 one. — K.I.A.
Total Score: 3.5
76. Fisher Chrome-Plated Space Shuttle Pen
Smoothness: 3 | Smudging: 5 | Bleed-through: 5 | Feel: 1 | Looks: 4
Surprisingly smooth, especially for a ballpoint pen. Not a ton of snagging, pretty clean, even lines. But it drags a bit on the page, and there's a fair bit of resistance. It's not as bad or noticeable as with a cheaper ballpoint pen, though, and there's no smudging or bleed-through. The tactile quality isn't awesome, as the ridges are a little rough, and it feels small in my hand. It's kind of like writing with a golf pencil rather than a full-size one. While that doesn't make it ideal for everyday use, frequent travelers do like that it's compact and easily stashed away. Also, the cap of the pen has a tendency to slide off, which, to be honest, seems like it could be a liability in a zero-gravity situation. But I do like that it's all metal, so it feels like it's got some heft. And it looks like a space-age pen. — M.B.
Total Score: 3.6
75. Muji Gel-ink Hexa 0.25 mm.
Smoothness: 3 | Smudging: 5 | Bleed-through: 5 | Feel: 1 | Looks: 4
I love the way this pen looks (elegant!), but the hexagonal barrel makes it a rather un-ergonomic instrument. I can't imagine using it over a long period of time simply because it would hurt my hand. The point of the tip is so thin that using it practically feels like dragging a razor blade across the page. The ink is about as smooth as you could expect it to be — good, considering, but the word that comes to mind is "scratchy." You won't have any problems with bleed-through or smudging, but it's not a pen I'd use for anything unless I needed the thinnest of lines (e.g., if I were to ever to need to do an architectural rendering by hand). — Jason Chen, deputy editor
Total Score: 3.6
74. Uni-ball Deluxe Fine
Smoothness: 3 | Smudging: 5 | Bleed-through: 4 | Feel: 3 | Looks: 3
This is a classic pen and writes almost like a felt-tip. It writes best when drawing loopy lines and signatures, but for everyday writing, the tip catches a bit, and the ink output isn't uniform. One might associate this pen with an office or a bank, and it even looks pretty utilitarian, although the pale gold body and minimal stick design are nice. It's lightweight and would fit right into a leather attaché. — L.R.
Total Score: 3.6
73. Lamy Al-Star
Smoothness: 3.5 | Smudging: 2.5 | Bleed-through: 4.5 | Feel: 3.5 | Looks: 4
This is a mid-range fountain pen with decent ink-flow and smoothness. The blue ink looks a little watercolor-y, which is pretty, but the output isn't always uniform. There are issues with smudging, as with any fountain pen, but if you let it dry before running your finger across the ink, you'll have no problems. It's a light-weight aluminum pen with a thick body in a dark silver and a translucent grip area that allows you to see into the pen. It has two straight edges for ergonomic finger placement, and the main body has alternating round and flat sides. The cap is oversized with a paper-clip-style clip. Utilitarian in its looks, it would make a decent everyday fountain pen. — L.R.
Total Score: 3.6
Editor's note: The review was changed to reflect that the body of the pen is made of aluminum, not plastic, as the previous version indicated.
72. Uni-ball Roller
Smoothness: 3.5 | Smudging: 4.5 | Bleed-through: 4 | Feel: 3 | Looks: 3
This is another standard office pen that doesn't stand out much except for the fact that it's utilitarian. It's a rollerball that doesn't feel as smooth as a gel (the metal tip tends to catch on the page), but the line is uniform in both cursive and print. There's no smudging, but there's a little bit of bleed-through. In terms of looks, it's as simple as they come: an all-black body with a matching cap and a metal clip. It's on the thinner side and may be uncomfortable for prolonged use. — L.R.
Total Score: 3.6
71. BIC Round Stic Grip Xtra Comfort
Smoothness: 4 | Smudging: 4.5 | Bleed-through: 4.5 | Feel: 4 | Looks: 1
Oh, the humble BIC Round Stic! This bad boy is not going to be winning any awards for design any time soon. But sometimes you need a workhorse, not a show pony. It is cheap and it gets the job done, even if it is ultimately nothing to write home about (see what I did there?). — D.P.
Total Score: 3.6
70. BIC Clic
Smoothness: 3 | Smudging: 3 | Bleed-through: 5 | Feel: 3.25 | Looks: 4
As we were assembling this list, we often discussed how different pens have different purposes. Is this an everyday writing pen for journaling or taking notes? Or a fancy-schmancy pen you whip out for signing important documents? The Bic Clic occupies a unique space as it's probably the only pen on this list whose main value is as a souvenir — and a branding tool. Since they're cheap and easily customizable (single or double-colored body, logo-ready, and with the option of a classy-looking gold or silver clip), Clics are the pen of choice for restaurants — and they expect you to steal one after signing the check. As a writing utensil, though, the Clic is squarely "fine." It's not a smooth and flowing writing experience, and there's more smudging you'd expect from a ballpoint's ink. There's no bleed-through, though, and it's affordable (especially if you pocket one after dinner), so it's a fine option for a backup pen to keep in your bag — or to start a colorful collection to show off your dining adventures. — K.I.A.
Total Score: 3.65
69. Pentel EnerGel RTX Retractable
Smoothness: 3 | Smudging: 4.5 | Bleed-through: 4.5 | Feel: 3.5 | Looks: 3
Its very fine tip translates into less than ideal smoothness, but the fineness allows me to write more neatly and with more control. The ink output, however, is consistent. The tip feels like a mechanical pencil dragging across the page, and would not be great for the average user, unless you prefer a very fine point. There's virtually zero smudging, however, and the rubber grip and the clicking mechanism are satisfying. As far as looks go, it's a utilitarian pen that doesn't necessarily stand out. — L.R.
Total Score: 3.7
68. Pilot FriXion Point Erasable
Smoothness: 3 | Smudging: 5 | Bleed-through: 5 | Feel: 3 | Looks: 2.5
This gel pen has a very fine tip whose ink looks almost like a felt pen's. Although the ink is black, it comes out looking light gray, and the super-fine tip means that there is quite a bit of dragging on the page. The ink output isn't very consistent, either. What's special about this pen, however, is that the ink is completely erasable with the rubberized tip at the other end. It erases more cleanly and evenly than a pencil; it's incredible. There's zero smudging or residue left behind and you can barely notice that there was ink there (all you can see is the physical imprint of the point on the paper). For those looking for an erasable pen that actually works, this one's for you. A very cool, if not ideal, pen. A rubberized grip adds a little comfort, but otherwise, it's a lightweight pen. — L.R.
Total Score: 3.7
67. Parker Sonnet
Smoothness: 3 | Smudging: 3.5 | Bleed-through: 4.5 | Feel: 3.5 | Looks: 4
The Parker Sonnet fountain pen has a thick nib that yields a thick stream of ink that's quite consistent. The metallic nib does drag a little across the page, but that doesn't necessarily affect ink flow. On the pricey side, it would be a handsome (and giftable) upgrade to your everyday plastic fountain pen. It's great for cursive and for signing your name with a flourish. As far as feel, it's got great proportions and is made of brushed metal. It feels hefty and balanced in the hand. — L.R.
Total Score: 3.7
66. Sailor Pro Gear Slim
Smoothness: 3.5 | Smudging: 3 | Bleed-through: 4.5 | Feel: 3.5 | Looks: 4
The Sailor fountain pen yields smooth lines and the ink output is consistent — dark and thick. The nib feels a little draggy and scratchy across the paper, but that seems common of fountain pens. Smudging is a problem, but because it's a fountain pen, it may require more time for the ink to dry. There's no spotting or pooling, and it works well when writing in both print and cursive. In terms of looks, it's a simple black pen with silver accents and an etched nib and it doesn't stand out much from other fountain pens in this price range. — L.R.
Total Score: 3.7
65. Pilot Precise V5 RT
Smoothness: 4 |  Smudging: 4 | Bleed-through: 4.5 | Feel: 4 | Looks: 3
This is the retractable version of the also very popular Pilot V5 (see #51). It has a needle-fine point that allows for smaller and neater writing. I like the point on this pen. It's not as smooth as I prefer my pens to be, but its fine point allows me to write smaller and more neatly. There's a little smudging but that's not a deal breaker by any means. As far as smoothness goes, the pen passes the cursive test, but there's a tad bit of resistance, most likely owing to the needlepoint style of the tip. It's fine but substantial. — L.R.
Total Score: 3.7
Smoothness: 3.5| Smudging: 5 | Bleed-through: 4| Feel: 5 | Looks: 1
The BIC Atlantis is like the orthopedic shoe of pens: it's lightweight, has a squishy, padded rubber grip for your fingers, doesn't smudge at all, and is retractable, so you can't lose the cap. It also isn't particularly sexy, neither in body nor in ink output. No ballpoint pen will ever leave a mark as smooth as a felt-tip pen, and the BIC Atlantis is no exception. It's perfectly utilitarian, but there are little skipping moments where the ink vanishes, leaving some letters with ghost ligaments. It gets the job done, but it's more of an office supply closet staple than a pen you'd use for your journal or a love note. — M.R.
Total Score: 3.7
63. BIC Classic Cristal
Smoothness: 4 | Smudging: 4.5 | Bleed-through: 5 | Feel: 2 | Looks: 3
A classic disposable ballpoint pen that everyone has probably tried at some point. It's hard to get excited about, but it's a solid performer. It's reliable and smooth. No skipping or bleed-through, and smudging is minimal if present at all. The one thing that really detracts from this one overall is its discomfort. The angular, hard plastic body quickly becomes uncomfortable in the hand. It's a reliable, affordable pen for jotting down quick notes, but not something you would want to write with for an extended period of time. — David Notis, writer
Total Score: 3.7
62. Lamy Safari
Smoothness: 3.7 | Smudging: 2 | Bleed-through: 4 | Feel: 4 | Looks: 5
Strategist writer David Notis called the Lamy Safari a "fountain pen for dummies," and I, as a total fountain pen novice, found this to be mostly true. Using a fountain pen takes some getting used to — the angle of the pen hitting the paper has to be just right, and varying the pressure you're writing with can make a big difference in how your lines look. Writing quickly with it — as you would when jotting down ideas or taking notes in an interview or meeting — isn't all that easy, and the pen can often feels more scratchy than smooth. The wet ink is also super smudgy, although there's not as much bleed-through as I expected. With its bright yellow body (other color options are also available), it is a refreshing pop of color among blue and black pens, and the angular body and oversize clip look cool and not at all fussy. — K.I.A.
Total Score: 3.74
61. Uni-ball Vision
Smoothness: 2.5 | Smudging: 5 | Bleed-through: 4.5 | Feel: 4 | Looks: 3
The Uni-ball writes mostly smooth once it gets going, although there is some skipping at first. It does come in a variety of colors (I tested one in a peculiar shade of green, somewhere between "Emerald City" and chartreuse). For a Staples staple the design is not bad: space age-y with an alternating matte and chrome silver finish. There is barely any bleed-through and absolutely no smudging, which is rare for a rollerball. — D.P.
Total Score: 3.8
60. Kaweco Classic Sport Ballpoint
Smoothness: 3 | Smudging: 2.5 | Bleed-through: 4.5 | Feel: 4 | Looks: 5
Kaweco is best known for its fountain pens, but this one is a standard ballpoint. I'll start with the looks, because that's the only reason you might spend $20 on one of these: this squat, faceted burgundy-and-gold pen looks like something you might've once found in your grandfather's study. You smell mahogany and cigar smoke just looking at it. And for that, I'm a fan. As for the actual writing: the blue ink comes out more smoothly and easily than it would with a cheaper ballpoint, but it also smudges a bit more than a regular ballpoint does. It puts down thin, precise marks that don't bleed through but have enough impact for anything with a carbon copy. Perfect for writing checks. — M.R.
Total Score: 3.8
59. Poketo Colorblock
Smoothness: 3.5 | Smudging: 3.5 | Bleed-through: 4.5 | Feel: 3.5 |Looks: 4
This pen from L.A. brand Poketo is one you might buy for looks (it's designed with the brand's signature modern color blocking) over function. It's reasonably lightweight, with a thin point, but at the end of the day it's just a hard plastic pen without a grip. I noticed that this pen encounters hiccups in writing where the ink catches, and only half of a letter might appear on the page from time to time, which isn't ideal. But overall, the writing feels fairly smooth, and if you don't mind the smudging, it's a solid choice for everyday note-taking — or just for creating a certain desk aesthetic. — L.K.
Total Score: 3.8
58. Paper Mate Flair