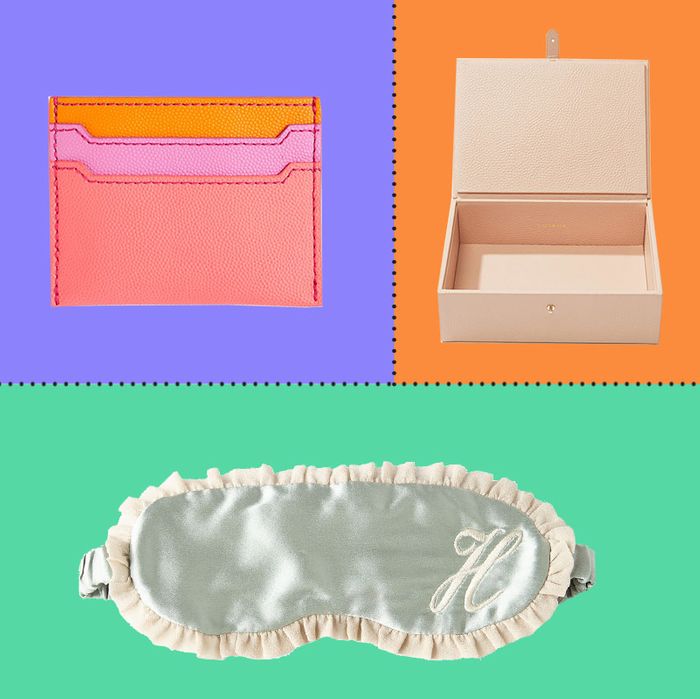 Here at the Strategist, the more personal the gift, the better. It's why we're partial to a tasteful (even subversive) monogram, which, as writer Molly Young puts it, "elevates an item from 'fine' to 'spectacular.' It's special; it's personal; it's luxurious." Below, we've rounded up a range of customizable items for Mother's Day that can be personalized as you choose, whether your mother is the type to prefer a monogrammed clutch or a fancy coupe glass with her initials on it.
A pair of monogrammed clutches that are almost Wes Anderson levels of twee.
Just think: a subtle monogram could turn this run-of-the-mill throw into something much more special.
A genteel gold flask for the lady who aspires to own a flask bracelet, which could be inscribed with any number of Lucille Bluth quotes: We like, "Get me a vodka rocks."
It's always nice (and useful) to receive some stationery printed with your name.
Earn some extra brownie points by presenting it with a gift card inside.
With room enough on the curve of the rings for your full name (the intrepid shopper, and thoughtful child) or hers.
Because we all want the full hotel experience — monogrammed robe, and all.
A luxe leather keepsake box for jewelry or the odd trinket — it would look very nice with some minimal initialing on top.
A pampering gift for the mom who loves to get her beauty rest.
The ideal tote for an art mom who loves a graphic print or two.
Just consider entertaining with some of these millennial-pink, monogrammed glasses — chic!
The signet ring: a classic, if we're talking custom-made gifts.
Add her initials (or embroider some of your own).
There's something really eccentric about monogramming your living-room pillows, but it has the potential to look fabulous.