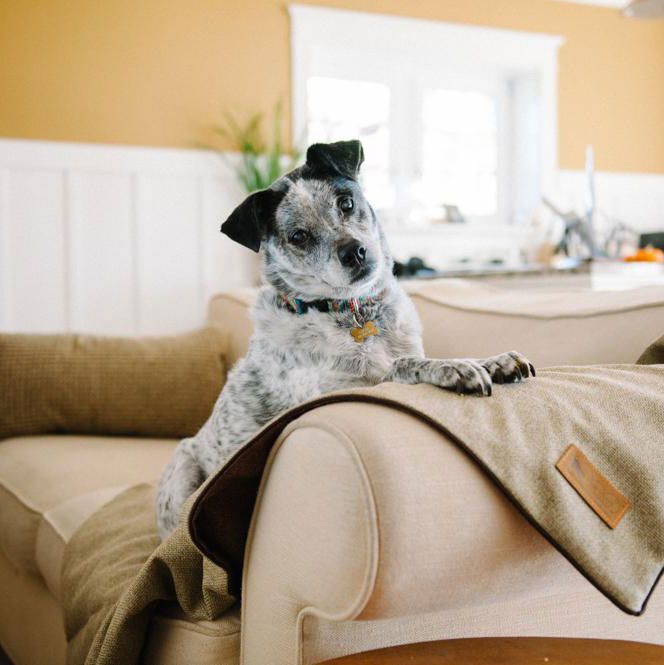 If you've ever had a cat who likes to turn your couch into a scratching post, or a puppy who pees on the floor (or your expensive shag rug) anytime they get excited, you know that keeping your home clean when you share it with animals is an ongoing struggle. And for those who are working from home, shedding and other pet messes are much harder to put off dealing with. But that doesn't mean you need to gate off your living room to keep it tidy.
The first step to maintaining a well-kept home when you share it with a pet is to keep your actual pet clean, according to the experts we spoke with. Regular brushing reduces shedding, and wiping down dogs as soon as they return from a walk prevents them from dragging dirt inside. The second step is choosing vacuums, tools, and cleaning products specifically designed to tackle pet messes. You may also want to cover certain upholstery with machine-washable blankets. Below, we've listed the best equipment and cleaners for dog and cat owners, according to our experts — all of whom also stress that proper training will go a long way toward preventing pets' destructive behaviors. To help you find the products you need, we separated the recommendations into the sections listed below. If you know the type of product you're looking for, you can click on a link to jump to that section.
Products for cleaning pets post-walk | Brushes to reduce shedding | Products to prevent scratching | Products to prevent chewing | Protective coverings for furniture | Tools for removing hair from furniture | Pet-friendly furniture cleaning products | Vacuum cleaners
Best products for cleaning pets post-walk
All dogs need exercise, and whether it's raining or sunny outside, they can return dragging dirt, mud, or other outdoor grime indoors. (Ditto for any cats allowed out of the house.) That filth can quickly soil your carpet, furniture, or car, which is why Samantha Schwab, a pet expert with Chewy, advises putting a mat outside your door, where you can a pooch off before it sets foot in the house. For even less mess, she recommends a machine-washable and "ultra-absorbent, shammy dog mat." This one comes in six sizes and doubles as a towel so you can wipe down your pet no matter how big it is.
Nicole Ellis, a dog-training and product expert with Rover, uses these wipes to give dogs an even deeper scrub after they return from walks. "They are very safe for your pet's feet, as well as their muzzle, ears, and other body parts." The wipes are also antimicrobial, so your pup won't bring in any germs.
Schwab also likes using disposable wipes to clean dogs after an outdoor adventure. "Cleaning your pet's paws with wipes allows you to get into the nooks and crannies," she says. These plant-based wipes have vitamin E and aloe vera, which will help condition skin.
Those looking for an ecofriendlier wipe may prefer these compostable ones that Jisu Kim, co-founder and CEO of dog-apparel company Little Beast, uses to "clean our dog's paws after every walk." With ingredients like shea butter, aloe, and chamomile, these not only wipe away grime but help keep pets' fur and paw skin soft. They're also a price performer compared with other recommended wipes.
DIY-ers may prefer to follow the advice of Big Dog Mom blogger Stephanie Seger, who uses apple-cider vinegar and cloths she has around the house to make post-walk wipes for her two mastiffs, Junior and Sulley. The apple-cider vinegar, she explains, "prevents bacterial and yeast growth from both their food and the elements outside." As for how she makes the wipes: "I simply saturate a cloth with water and add about one to two teaspoons of vinegar, then rub the dogs down." Another benefit of vinegar, according to her, is that it deters insects like flies. "In Arizona, flies are really bad at certain times of the year, and I found that when I use this method for their paws and legs, the flies don't bother them," says Seger.
This dishwasher-safe tool is another easy way to clean dirty paws, according to both Schwab and Ashley Renne, who hosts of her own show on Smart Healthy Green Living, a new streaming service, and owns a 65-pound husky. "It's basically like a washing machine for paws," says Schwab. Simply fill the BPA-free container with water, slip each of your pet's paws inside it, and gently use the thing's interior silicone bristles to scrub each paw clean.
After pets have been outdoors, Ellis loves using this "all-natural sprays on everything from dogs' paws to their body." The line of products uses food-grade, non-toxic ingredients that leave animals smelling fresh. This particular spray, for instance, uses a blend of shea butter and coconut oil to neutralize any unwanted odors.
Best brushes to reduce shedding
Fur-covered furniture is a telltale sign of a home with pets, and "good grooming is the first step to limiting shedding," says Ellis. Both she and Renne recommend picking up "a high-quality slicker brush," a tool with tightly packed bristles designed to penetrate an animal's topcoat. This one "can be used on both long- and short-haired dogs and is effective at removing loose fur," Schwab says. It'll also help detangle hair and remove matted clumps, and it's easy to clean: Just push a button to depress the bristles, leaving only the hair to remove.