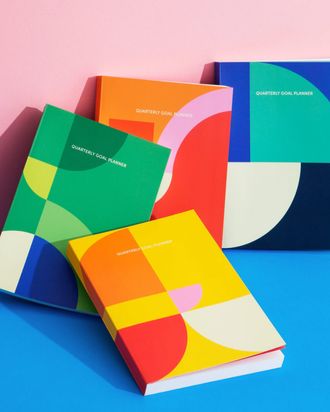 Instead of an app or gadget that claims to jump-start your productivity, you should consider investing in a good paper planner. There's plenty of research that shows how actually writing down your to-do list and schedule for the day — rather than typing it out on a laptop or your iPhone — makes you feel more engaged in the task at hand. But also, once the year is complete, a physical planner becomes an artifact, a time capsule, if you will, of all those momentous happenings from that calendar year. To find the best planners, we talked to 26 productivity experts, life coaches, and people who just love stationery (including a few Strategist staffers) about their favorites, then culled our archives for standout styles we've written about before. Any of the 35 planners recommended below will surely go a long way to keep you on track this year, but to ensure you find the right one, we broke them down by how they're broken down — whether weekly, daily, monthly, or quarterly — and begin each section with any planners that got the most recommendations. The list concludes with a few truly customizable planners we heard about, for those folks who relish in obsessing over every last detail.
Best weekly planners
We first heard about German stationery company Leuchtturm1917's weekly planner from self-described "planner power user" Perrin Drumm. As she writes, the planner's "hardback is perfect for planning on the go or taking notes in your lap; and the layout ideal: days on one side, spaces for notes on the other." Cindy Thompson, the blogger behind Instagram's Plan Another Day, also loves this planner because it "features a simple weekly layout that can be utilized in many ways." The two-year planner starts in January 2021 and will last you until December 2022, making it quite cost-effective.
If you want a weekly dated planner that also has space for journaling, try this MiGoals option that also made our list of the best wellness, gratitude, and happiness journals. "It breaks down long-term and short-term goals that you write out each week and month, then you check in every day with what you're grateful for, how you're feeling, and how you're working to accomplish your goals," explains Strategist writer Chloe Anello. Pages on the left side of the journal are broken down into days of the week so you can keep track of events and meetings, while pages on the right side have space to write your gratitude lists, to-do lists, habits, and larger weekly goals. Asia Milia Ware, market writer at the Cut, is another fan: "I'm all about my goals and having a strategic plan for each of them, and this book really has a way of breaking everything down to make them measurable and make sure you're taking daily steps to your goals."
[Editor's note: The 2021 Goal Digger Planner is currently sold out, but MiGoals' Get Shit Done weekly diary (also $7) has many of the same features, including a weekly dated planner, sections for journaling, templates for short- and long-term goal planning, quarterly review sections to track your progress, and further space for gratitude and to-do lists.]
This Rhodia weekly planner, which comes recommended by Strategist senior writer Karen Iorio Adelson, is organized with the days of the week on one side and a gridded page for notes and scribbles on the other. Each day's schedule is broken down into hour-by-hour lines (from 7 a.m. to 8 p.m.), and the pages have tearaway corners to help you keep your place.
Singer Belinda Carlisle has used a Filofax for almost 30 years. "I like the format. It's consistent," she says of this planner, which has a two-page layout for each week of the year. The spiral-bound pages are tucked inside a handsome patent-leather cover that has several slots for business or other cards, an elastic holder, and an inner pocket. "I keep all of my old ones in a big envelope so I can revisit everything I've done in past years," Carlisle adds.
Musician Phoebe Bridgers told us she is so obsessed with this weekly planner she reached out to its designers to do the fonts for her album packaging. "I love how much freedom this gives me," she says. "There's no daily mantra, or section where I have to write what I'm grateful for." Each of the spiral-bound planner's pages covers one week; on the left, the pages have (undated) boxes where you can write down plans for each day of a week (Saturday and Sunday share a box), and on the right, each page has a to-do list and black space for notes.
According to Drumm, "if Massimo Vignelli had $15 to buy a planner, he'd surely pick this one." She loves the "non-nonsense" layout: "There is barely any type on the pages, so the dates, and pretty much everything else, are entirely up to you to plot out." While the planner comes in four sizes, Drumm prefers the large, "which feels less throwaway than the smaller options." She adds that her design-y friends go for the black-on-black option, but Drumm prefers the planner in Pepto-Bismol pink.
Strategist writer Liza Corsillo loves this weekly planner from Traveler's because, like Bridgers's favorite planner (and others on this list), "it lets you fill in the dates as you please," so you can start using it at any point in the year. On top of that, because it contains just six months' worth of undated weekly pages, it's a great option to consider if you're picking up a planner later in the year. In addition to those weekly pages, the planner contains a few pages laid out as vertical monthly calendars that you can use to keep track of important dates like birthdays or anniversaries. The paper itself is bleed- and feather-resistant, as well as fountain-pen friendly, she adds. While the planner as-is only has a simple card-stock cover — which Corsillo says works just fine for her — you can get a handsome leather cover to keep it in for an additional $50.
When it comes to stationery, Drumm calls Fabriano a "gold standard" because "the color combos are next level." Its planners, which she describes as "objects of beauty," are made in Italy "by paper artisans who are truly deserving of that overused title." The Ispira planner's calendar pages break down each week across two pages; dated columns provide space to jot things down for each day (the columns are broken down into hours for those who plan that obsessively). Drumm notes that the columns are skinny, though, so folks who like to write a lot in their planners may want something with more space.
Thompson also recommends this dated planner from Appointed, which she says has "smooth paper, delicate lines, and optimized weekly layouts." Speaking of lines, it also has 11 lined pages at the back for note-taking, as well as a center-sew binding so it can lie completely flat when opened. For an extra $10, you can customize it with a monogram.
If, like Strategist writer Tembe Denton-Hurst, you would describe your planner usage as "intermittent at best," she suggests trying out this one from Octaevo. As Denton-Hurst explains, it's another planner with a looser format: "Rather than going by dates, its pages have areas where you can circle the month and write in the week." This means that you don't waste paper on weeks when you rely on your Google calendar or don't make any plans. Its vibrantly colored cover, she adds, "ensures I'll never lose it."
Hart-Unger says that "a fairly minimal planner with space for lists and goal-setting," like this one from Moleskine, might be better for folks who've pared down and are used to "keeping their calendars digitally." It has a simple layout: When opened, the left side's pages are broken down into days of the week, while the right side's are lined for taking notes.
Author and time-management coach Elizabeth Grace Saunders told us about this planner that, according to her, combines the scheduling elements you'd want in a regular planner with the goal-setting elements you might look for in a journal. "It goes beyond being a planner, and is really a clarifying tool for understanding how you want to invest your time." In addition to its gridded weekly (and month and year at-a-glance) pages, this has space for you to write down both your roles and goals as a partner, employee, and friend, she explains. "It even invites you to track your daily habits" according to different priorities, Saunders adds, allowing users to tackle their goals in a more holistic way.
In addition to its weekly pages, the Ponderlily planner has monthly ones, too, as well as spaces for jotting down tasks, notes, and things you're grateful for (as you might in a journal), according to Saunders. Calling out details like "a cloth cover, foiled-copper lettering, lay-flat binding," and inspiring quotes that begin each new month, she has just one word for this planner: "Beautiful."