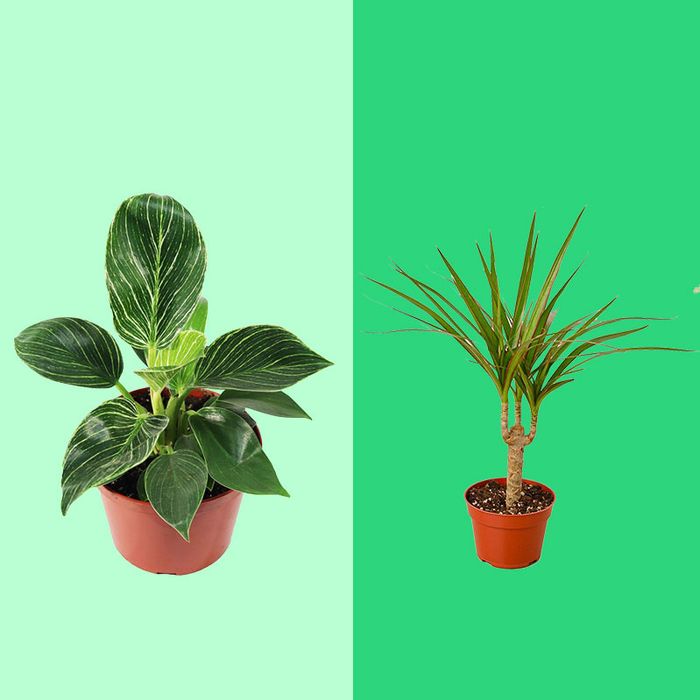 Photo-Illustration: The Strategist; Photos: Retailers
Buying plants online has become an easier (and more curated) experience since we were first introduced to Amazon's plant store. Whether you're working from home and looking to spruce up your living/work space, or just live in a concrete jungle and need to see some green, it's as good a time as any to take up indoor gardening. Hanging plants, succulents, and even herbs can be used to make your home look and feel less sterile, but the benefits don't stop there. Sharing your space with plants can purify your air, reduce anxiety, and even improve concentration — all welcome antidotes to the stresses of life.
Here, we've combed through Amazon's (continuously growing) selection of indoor plants to find the best in-stock options for plant parents of all gardening levels. We've also considered plants that will thrive in many different types of spaces, whether you have high ceilings and lots of light or just a few bare windowsills to fill. Alongside foolproof options like ZZ plants and the always-reliable pothos, there are a few rare and underrated plants to choose from if you'd like to level up your plant parenting while hunkering down over the winter.
Best floor plants
Despite the tropical look of this palm tree, you won't have to worry about creating a tropical environment for it to survive in. All it needs is bright light from an east- or west-facing window and water about once a week. The seller says it can grow pretty slowly, but when it arrives, it will already be three feet tall — and still make a stately appearance in an empty corner.
Another easy-care tropical option is a dracaena plant, especially if your home gets a decent amount of sunlight year-round but you struggle with dry winter air. That's according to Rebecca Bullene, partner and co-founder of Greenery Unlimited. "A lot of them are native to Hawaii, and they actually grow on the [very arid] lava fields of volcanoes," she explains.
The status plant that started it all and is still a best-seller. Former Strategist writer David Notis was once a fiddle-leaf skeptic but quickly found that among his other plants, this one "is an instant visual impact." The plant grows best in indirect sunlight, meaning it can flourish indoors. Within the first couple of years, Notis' design-y houseplant grew almost three feet in height.
There are some status-plant runners-up to choose from as well, like the birds-of-paradise, which is perfect for making your apartment look like an East Village cocktail bar. Benito Gonsales, plant buyer at Saifee Hardware & Garden, says the plant is easier to care for than a fiddle-leaf. "Just give it bright light and water it once per week," he says, adding that you can get it to flower annually "if you take care of it."
Visual merchandiser Chikako Ishii Frank first alerted us to the "pink plant" trend, to which the pink-toned Chinese evergreen (a.k.a. Aglaonema) fits right in. It comes recommended by two plantfluencers, including Summer Rayne Oakes, author of How to Make a Plant Love You and host of the YouTube series Plant One on Me, who especially recommends the plant for somewhat-experienced plant parents "who can't grow flowers in their home, because Aglaonema can really give a nice brightness of color."
Another pink-toned floor plant is the rubber plant. Upon arrival, the shiny, dark, "burgundy" leaves will be smaller than they look in this photo, but they'll grow super-tall over time.
And here's a pretty-in-pink option for plant parents looking to level up their skills: the slightly fussy stromanthe triostar. It resembles a rubber tree but has perkier and more delicate leaves that will move around during the day as light fluctuates. Ryan Lee, co-founder of Rooted NYC, nominates it as one of the most underrated indoor plants.
One of the few houseplants out there to have had its own "day of the week" hashtag on Instagram — "#monsteramondays," in case you were wondering — the monstera has been on the fiddle-leaf's tail for years now, and it's still popular as ever. They can get really big, and they tend to grow out rather than up, so make sure you have a lot of floor space available. The irregularly shaped leaves are part of the charm.
Snake plants make for another great floor plant. They're very tolerant of low light and infrequent watering, and since they grow straight up, they're ideal if you want something that doesn't take up too much air space in your living room. Plus, we've said that buying from Amazon is the most convenient and cost-effective way to get this plant.
If you're after something leafy that thrives in low light but don't care for the ubiquitous snake plant, a cast-iron plant is a great option. "You can't kill them," says Tula Plants & Design CEO and founder Christan Summers. "They have a really elegant leaf shape that I always appreciate in the mix of floppiness."
Best countertop plants
Of the multiple styles of money plants, this one makes one of the biggest statements. Five Pachira plants are braided into one tree, forming an intricate tangled-root design. It's a great plant to gift someone, as it's said to bring wealth, good luck, and fortune. And it doesn't take much maintenance, either: only a half-cup of water every week.
The quirky-looking ponytail palm is not technically a palm — it's more closely related to desert plants like yuccas. Either way, its muppetlike fronds will quickly become a focal point on your desk or dining table.