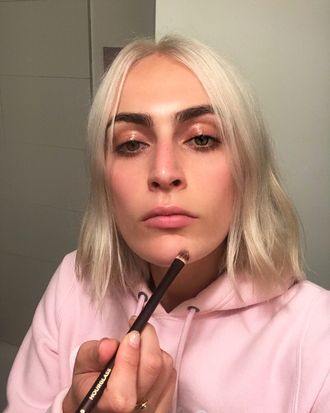 The worst part of a new blemish is not the moment you first see it but the moment you first feel it: I assume you're familiar with that horrible, tingling pre-zit sensation. But things typically don't get much better once the pimple emerges. Questions begin to form in your head: Why does it look so much worse in the mirror in the living room? Was that tequila soda I had last night my downfall?
While measures can be taken to prevent pimples from forming in the first place — my personal prevention routine includes lathering Snail Essence and Tea Tree Serums over my face daily — sometimes a breakout is just unavoidable. The good news is (if you can call anything pimple-related good news) I've created a combat plan that will help both shorten the blemish's lifespan and cover it until it goes away. The tips and tricks below require much more than a single stick of concealer, but I guarantee that this multiproduct, multistep process will ensure both the hasty disappearance — and seamless coverage — of your blemish(es).
To ensure all my makeup glides on easily, I prep my face, first with Circumference Beauty Vitamin C. Vitamin C is great for getting rid of dark spots and hyperpigmentation — I use it here as a preventative, in case my blemish has plans to leave a dark spot.
Then I go in with Cosrx moisturizer, which sinks into the skin nicely, and I'm obsessed with how well my makeup goes on after I apply it.
If I know I'm going to be doing a lot of targeted concealing, I like to even out my skin tone first by prepping it with a little bit of tinted moisturizer. I've found that targeted concealed areas actually look more natural when they're buffed and blended into tinted moisturizer instead of just bare skin. I go in with something light like the NARS Tinted Moisturizer, which I know matches my concealer well, and blend it out with my fingers to provide a more natural finish.
I select my concealer based on whether my blemish is new or old — if the blemish has just popped up, I go for a mattifying concealer like the NARS soft matte complete concealer.
If it's older and starting to heal, I'll use a dewier product like Tarte Shape Tape.