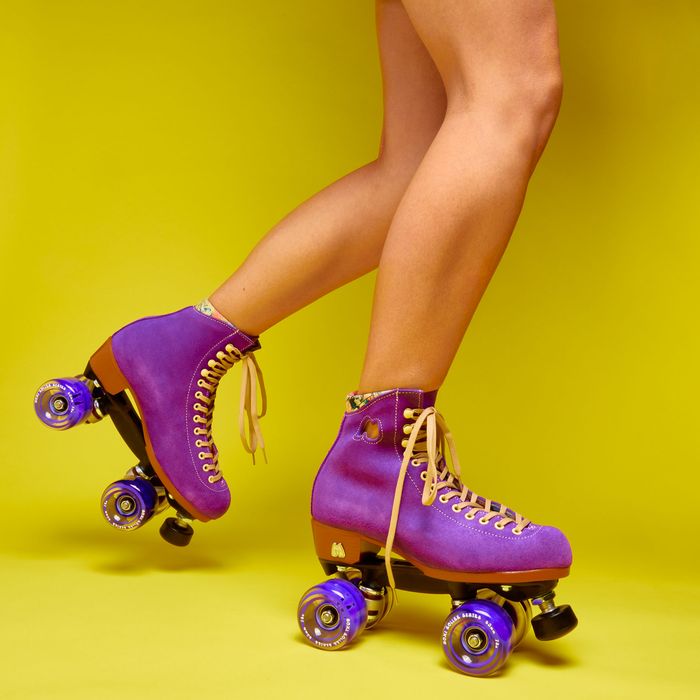 While roller-skating has long been a beloved pastime, it has exploded over the last two years, with stir-crazy people of all ages adopting the hobby as a safer way to spend time outdoors during the pandemic. Inspired by the teens on TikTok, I also decided that spring of 2020 was finally the time to strap on a pair of roller skates, but figuring out which skates to buy was almost as difficult as figuring out how to stop without crashing into a fence. Whether you're an adult newbie like I was looking to join in on the fun or just want to upgrade roller skates you already own, there are now lots of brands out there — both new and old — making the Technicolor, four-wheeled footwear for all experience levels and budgets. But if you're thinking about investing in a new pair of skates, there are of course things to look out for aside from rad colorways. So to find the best roller skates, I asked eight experts for their picks, which include options for beginner cruising, advanced park skating, roller derby, and more.
Best overall | Best for beginners | Best (less-expensive) for beginners | Best hybrid for beginners | Best hybrid for intermediate to advanced skaters | Best for rink skating | Best for rhythm skating | Best (less-expensive) for rhythm skating | Best for street skating | Best (less-expensive) for street skating | Best for park skating | Best for roller derby | Best (less-expensive) for roller derby
What we're looking for
To find the best roller skates, we asked eight experts — including pro roller skaters and skating choreographers and instructors — about their favorites. Their 12 recommendations below include something for most everyone, whether you want to skate on a street, in a rink, as part of a roller derby (or all of the above). When you're looking for your own skates, the size and feel of the wheels, the material of the boot, and the type of hardware used will all affect skates' durability and maneuverability, according to the eight roller skaters I spoke with.
Boot: When selecting a skate, deciding on the cut and material of your boot is one of the most important decisions. High-cut boots offer more ankle support, while low-cut boots offer more speed and ankle flexibility. The material of the boot also matters: Synthetic materials like vinyl are generally more affordable, though they don't have the longevity of a leather or suede boot, which, while typically more of an investment, is more durable over time.
Wheels: Roller-skate wheels come with a durometer rating which tells you how hard they are, typically in a range from 70A to 100A. The higher the number, the harder the wheel. Softer wheels are ideal for outdoor skating, while harder wheels are better if you're rolling around a rink. You also want to consider the wheel size. The smaller the wheel, the better it is for agility and tricks, while larger wheels are better for absorbing shock and traveling longer distances. In general: Larger, softer wheels are used for outdoor skating, while smaller, harder wheels are used for indoor skating.
Plates: The plate of your skate is attached to the bottom of your boot. They typically come in two materials: nylon or metal. Nylon is lighter but less durable, while metal is more durable but heavier (nylon is also less expensive so if you're on a budget it's probably the way to go, especially as a beginner).
Toe-stop: Toe-stops come in two styles: adjustable and non-adjustable (also known as a "fixed" or "bolt-on" toe-stop). Adjustable toe-stops allow you to adjust the height of your toe-stop to suit your particular needs as you develop your skills, while a fixed toe-stop has to be replaced entirely if you want to make any changes. Note that while most "jam" or "dance" skaters typically remove the toe-stop entirely and replace them with a jam plug to execute their moves, every other skate style — including street skating and rink skating and roller derby — requires a toe-stop for safety.
When it comes to the fit of any roller skates, roller-dance choreographer Morgan Weske has this general tip: "You want the skate to fit very snug and move with your foot." Most skates come in men's sizes, so those used to buying footwear in women's sizes should order about a size and a half down from your everyday shoe. And once you buy your skates, Heiden and Weske stress that it is important to check the tightness of the wheels and the truck, which are usually not loose enough fresh out of the box. And if your skates don't feel quite right, remember that "you can change the truck, wheels, toe-stops, and other parts of the skate to work better for you," says skater Rebel RousHer, who posts roller-skating tutorials on her YouTube page Queer Girl Straight Skates.
Best overall roller skates
High-cut suede boot | 65mm/78a wheels | nylon plate | adjustable toe-stop 
Six of the eight experts we spoke to recommended the Lolly skates from Moxi Skates, founded by professional skater Michelle Steilen (aka Estro Jen) and manufactured by Riedell, one of the oldest skate producers in the United States. "Handmade in the USA, these leather beauties come in all colors of the rainbow," says professional roller skater and coach Candice Heiden, co-founder of LA Roller Girls Entertainment. The basic package includes a Powerdyne Nylon plate, Kwik Abec 5 bearings, and soft, gummy outdoor wheels, which are better for "rough terrain, cruising, or slippery surfaces," she explains. Skater Lauren Perrino describes the wheels as being "like marshmallows," adding that they "absorb shock like no other wheel I've skated on." The wheels' larger size gives "better stability for beginners and an overall more comfortable ride for all-day or long-distance sessions," she adds.
This was the second pair of skates I got after learning the basics and I can say with certainty that they are absolutely worth the money. I've gone trailskating and clocked ten miles on these babies and my feet and ankles felt completely comfortable the entire trip. There's a reason you see most skaters wearing Moxi's on their feet, and it's not just because they look cool (though that doesn't hurt).
Roller-skating blogger Kaci Bell agrees that the Lollys are more than capable of handling the rough pavement you'll encounter skating outdoors. RousHer also likes the Lollys, adding that the skates' suede boots "feel so comfortable as soon as you put your foot into them." And skater Marician Dedeaux Brown notes that while "they are definitely an investment, they are worth the money." Because the Lolly skates as is are designed for street skating and can handle ramps, cracks, and concrete, Heiden suggests buying an extra set of wheels if you want to use them for indoor skating.