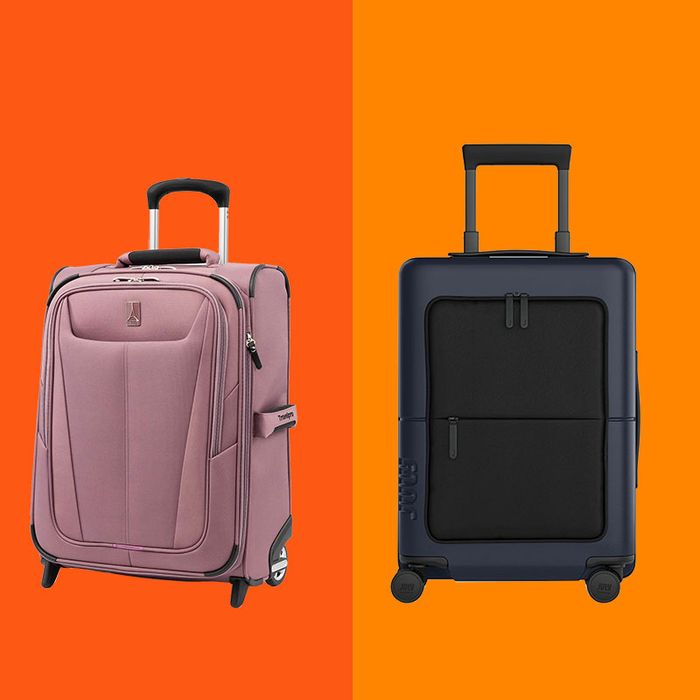 Photo-Illustration: The Strategist; Photos: Retailers
A reliable piece of rolling luggage is an essential any real traveler should have, but one person's go-to suitcase could be another's nightmare. Everyone wants something that will last, but beyond that it's all up for debate: Hard-shell or soft-side? Two wheels or four? Luxury or affordable? Stylish or practical? Ideally, your luggage will be the perfect blend of them all. To find these Goldilocks suitcases, we asked some of the most well-traveled people we know about their favorites, and below, you'll find a suitcase fit for just about every traveler.
Best overall | Best for frequent fliers | Best waterproof | Best under $100 | Best for business travel | Best customizable | Best for the overpacker | Best for kids | Best soft-side 
What we're looking for
Hard-shell vs. soft-side: Based on the recommendations we've received, there is definitely a preference for hard-shell luggage among our experts. It's durable and easy to clean, it protects your clothes if it rains, and it's harder for bedbugs to penetrate if you encounter any on your trip. The hard-shells on this list are made from either ABS, an inexpensive but less durable plastic; polycarbonate, a more durable but also lightweight material; or aluminum, which is slightly heavier, but the most durable. Most on this list are polycarbonate, but there are a few soft-sided pieces too, for those who haven't made the switch yet. While they aren't as durable, "from a repair standpoint, we always feel that the canvas soft-sided luggage is better than the hard-side luggage because you can repair canvas," Tony Pecorella, president and CEO of Modern Leather Goods, a repair shop in Manhattan, says. He's an authorized repairman for many of the luggage brands below and says someone comes in with a cracked hard-shell every day and "there's no repairing them at all." So in addition to soft-side suitcases being fixable, they are also overpacking-friendly because you can stuff more in them than a rigid polycarbonate case and finesse a larger carry-on to fit in an overhead bin, too.
Compression dividers: A pretty standard feature in all suitcases are the buckled straps that go over your clothes to help keep them in place. In newer hard-shells, they have doubled down on this concept with full dividers that compress your clothes and make it easier to close your suitcase. Unlike the straps, the dividers cover the entire section and usually have an additional zippered pocket on them, addressing a common complaint that polycarbonate cases don't have any smaller compartments.
Wheels: Our experts continuously raved about the wheels on their favorite suitcases, describing them as smooth and sturdy. Most were talking about their four spinner wheels, which make the suitcase much easier to push along as it can glide in all directions. For comfort and ease of use, four wheels is definitely the way to go and is our recommendation, but again, Pecorella says it's not the best choice from a repair standpoint. "It is always stronger to have the case that has the two wheels on it," he says. "Those wheels are encased, so the only thing that can really happen on those wheels is that they wear out eventually like tires on your car." With the four spinners — which Pecorella fully admits to using personally — he says because they aren't encased and just are attached to the bottom of the suitcase, you run the risk of them being banged off. "If you're rolling off a curb or if you hit the escalator too hard, it'll just snap the wheel right off," he says. "That's one of the biggest repairs we do here all day."
Warranty: Almost none of the suitcases on this list go the easy-repair route of being soft-side and having two wheels, and that's because they all have pretty good warranties, which Pecorella says is actually the most important part. "This is what we tell our customers all the time: If you are a regular traveler, really look into the luggage brand's warranty and see what they are covering and what they are not covering," he says. "There is a large disparity between the very good ones that I would recommend if we were off the record and ones I would not recommend." The biggest phrase you want to avoid is "limited to manufacturer's defects," which Pecorella says means they basically cover nothing and will attribute damage to wear and tear, or say it's your fault or the airline's fault. "Lifetime warranty" is ideal, and he says most of them offer it. Others will say they have a "limited lifetime warranty," which means it's only good for so many years or there are restrictions on what it applies to. The bottom line from Pecorella is to do your homework: That way, you'll really know what you're getting.
Best overall rolling luggage
Polycarbonate hard-shell | Compression dividers | 360-degree spinner wheels | Limited lifetime warranty
We've been recommended this style of Away suitcase in nearly every size, but the Bigger Carry-on is by far the most popular. It has an almost 50-liter capacity, but it still fits in most overhead bins and is perfect for a longer trip. Kelly Farber, founder of KF Literary Scouting, took only this on a three-week, seven-city business trip, and said, "That thing just would not quit." No matter what size you get, though, each one features the same desirable qualities our experts were looking for in a modern suitcase. "It's sturdy but light, and has a USB charger so I can charge my phone just enough to order an Uber," writer and photographer Nicholas Gill said. "Plus, inside it has a nylon bag where I can toss in my clothes after getting caught in a sudden jungle downpour, which always seems to happen." Stephanie Be from TravelBreak.net and BUENA also calls out the "TSA-approved lock, 360-degree wheels, tough hardware, and sleek design." There is also an interior compression divider on one side of the suitcase, which "let us stuff all the things and zip it shut," Summer Hull, the director of travel content at the Points Guy, says. For Kiana Brooks, an associate buyer at Dior, another selling point was the warranty, which helped her justify the price of the large size. There's a limited lifetime warranty on it. In this case, that means it doesn't expire, but there is a limit on what it covers. Away will fix or replace any functional damage to the shell, wheels, handles, zippers, or "anything else that impairs your use of the luggage," according to the website. The battery pack, however, is limited to a two-year warranty.
Best rolling luggage for frequent fliers
Polycarbonate hard-shell | Compression dividers | 360-degree spinner wheels | 5-year manufacturer's guarantee
The Rimowa Essential line of suitcases was a very close second to the Away. More than ten people mentioned the brand; it ultimately didn't take the top spot because of the price, but those who recommend it say it's worth it if you travel often. Hull is a frequent flier, so her luggage "isn't a once- or twice-a-year thing, it's a regular companion," which is how she justified spending more on a suitcase that would be functional and also fun. It comes in 11 colors and two finishes and works like a dream, according to owners, almost all of whom praise the wheels. "I won't pretend to understand all the physics behind the bearings and axles on Rimowa's bags, but I do know they spin amazingly well through the airport," Hull says. Chris Schalkx of travel website Rice/Potato, who often says "this has been one of our best travel investments we've made," also says "the wheels roll as smooth as a knife through butter, no matter the terrain they're on." Rimowa was also the first brand to release a polycarbonate suitcase back in 2000, so it's had over 20 years to perfect the durable yet lightweight design. Travel writer Hillary Eaton brought the checked version of this on a 48-hour journey from Vancouver to Machu Picchu by "tiny floatplane, three long-haul flights, a five-hour bus, and a two-hour train ride," and Eaton says the bag, and the three weeks' worth of stuff inside, survived. Many users also mentioned how easy it is to get this suitcase repaired if anything goes wrong, which shocked me after looking into the warranty. There's a manufacturer's guarantee of five years — if you remember to register your product when purchase it. Otherwise, it only lasts for two. Even within those five years, the warranty only applies "if the usability of the product is considerably adversely affected by a material or manufacturing fault already present at the time of hand-over (defect)," the brand says. Breaks caused by "abrasion, improper use, faulty operation, or externally occurring forces," like cracks, breaks, and scratches caused in flight, are not covered. There's a lot of fine print with Rimowa, so I suggest looking into it before you purchase.
Best waterproof rolling luggage
Aluminum hard-shell | Compression dividers | 360-degree spinner wheels | 5-year manufacturer's guarantee
Another popular offering from Rimowa is the Original line, which comprises the aluminum suitcases that put the brand on the map. While aluminum is heavier than polycarbonate (this carry-on is 9.5 pounds and the above is 7.1 pounds), it is the most durable material to make a hard-shell out of, and Rimowa makes them so they are also completely waterproof, a selling point for Tom Marchant, co-founder of luxury-travel and lifestyle brand Black Tomato. While the other hard-shells on this list will mostly protect your stuff from the rain, they still have fabric zippers that water can penetrate. These suitcases close more like trunks with two built-in TSA locks and a completely sealed opening. The aluminum also ensures that your belongings inside stay safe, which is key for Marchant: "My Rimowa has seen quite a few things around the world, including a tumble off the roof rack of a tiny car while winding down roads in Greece (miraculously intact)." The Points Guy Brian Kelly also likes the Original cases. The other features — dividers, wheels, and warranty — are pretty much the same as the Essential line, but Kelly adds that Rimowa's handles are standout, too, describing them as "especially awesome for tall people since the handle extends extra-tall."
Best rolling luggage under $100
ABS hard-shell | Compression strap | 360-degree spinner wheels | Limited warranty
None of the suitcases on this list are less than $200, so finding one for under $100 that can hang with the rest of them is pretty special. This AmazonBasics case is made from ABS, the cheaper and least durable hard-shell material, so that explains the price, but it's still a favorite of writer Robin Reetz. She actually didn't even like carry-ons before trying this one out, always preferring to check a bag — but after trying this spinner because of the price, she found a lot more to like about it. She was drawn to "the compartments and much-better-than-expected functionality," she said. Reetz was also impressed with the size of the 21-inch suitcase. "It's really perfect for a weekend or four- to five-day trip," she says. "I've traveled recently with friends who have Away and Delsey luggage, and all are now thinking about getting this bag." Amazon has a three-year limited warranty that protects against defects in materials and workmanship under ordinary use and does not cover normal wear and tear, abuse or misuse, cosmetic damage or cleaning, damage or loss caused by an airline, or incidental or consequential damages, including damage to or loss of the contents of a bag, loss of use, loss of time, or similar expenses.
Best rolling luggage for business travel
Polycarbonate hard-shell | Compression dividers | 360-degree Spinner wheels | Limited lifetime warranty
I've previously called July the Away of the Down Under. The Australia-based brand became available in the U.S. last year, and its suitcases resemble Away's with a few different perks. July's charger has a USB-C port, so you can charge the latest iPhone or your laptop straight from the bag. Its smallest carry-on weighs about half as much as Away's, even though they both have similar liter capacities, and you can personalize it. This particular model sets itself apart with a removable fabric front pocket, which was great for Christine Wang, the founder of TheSkiGirl, who is generally a fan of soft-side luggage. This basically combines the two. It holds a ​​16-inch laptop and has slots inside for other documents, in addition to a zippered outside pocket for smaller items. If you're traveling for work, everything you need is easily accessible, and instead of digging through your bag to remove your laptop at TSA, you can easily just snap this pouch off instead. July offers a lifetime warranty on ​​manufacturing defaults, and a limited lifetime warranty that covers damage to the wheels, zips, handles, nylon compression strap, and cracks in the polycarbonate shell or aluminum bumpers.
Best customizable rolling luggage
Photo: The Strategist; Photo: Retailer
Polycarbonate hard-shell | Compression dividers | 360-degree spinner wheels | Limited lifetime warranty
You might be able to personalize July's luggage, but Roam's is fully customizable. "Roam lets you customize their lightweight hard-shell pieces in bright, eye-catching colors," says Travel + Leisure editor-in-chief Jacqui Gifford. "I recently purchased one with an 'Arabian Purple' back (it's a subtle magenta), a 'Pacific Blue' front (a slightly brighter, cooler navy), and a 'Metro Grey' zipper." The color options are different now, but they're no less exciting. You can also add your monogram free of charge. Roam's luggage has a lot of the standard features we look for. It's made from polycarbonate and has a built-in TSA lock, spinner wheels, and compression dividers on both sides of the suitcase. The warranty is pretty standard, too. Its lifetime limited warranty covers cracks to the shell and wheels, handles, or zippers that no longer work, so long as the damage occurred while the luggage was being used for its intended purpose.
Best rolling luggage for the overpacker
Polycarbonate hard-shell | Compression dividers | 360-degree spinner wheels | Limited lifetime warranty
If you can't travel without taking your entire closet, Béis's luggage is for you. For one, it's "expandable up to two inches," says Laura Ratliff, the senior editorial director of TripSavvy. According to the product description, though, it's probably closer to three inches, as it says the suitcase expands up to 12 inches, an increase from its standard nine-inch depth. And while more space means more stuff, which leads to a heavier bag, Béis's luggage has a built-in weight-limit indicator to make sure you never go over the 50-pound weight restriction for checked bags. According to a customer service representative, the luggage-weight indicator activates when you lift the suitcase by the side-carry handle. A red mark will appear if the luggage is approximately over 50 pounds, which should save you some stress and money at the check-in counter.
While it's not waterproof like the Rimowa above, the zipper is water-resistant, another favorite feature of Ratliff's. The spinner wheels, polycarbonate case, and TSA locks are more standard, but still appreciated. Béis's warranty leaves a little to be desired. It only covers the polycarbonate cases and not its newly launched soft-side collection. It covers all the standard things, but it only lasts "for the reasonable lifetime of the Luggage," according to the website, which sounds like there's an undisclosed expiration date based on how long the brand thinks it should last.
Best rolling luggage for kids
ABS and polycarbonate hard-shell | Compression strap | 360-degree spinner wheels | 100 percent risk-free satisfaction guarantee
Strategist writer Lauren Ro recently wrote about her search for an affordable and attractive-looking suitcase for her toddler, Augie. "Every rolling suitcase designed for little kids was emblazoned with either characters, superheroes, or straight-up fugly graphics," she said. "If it looked remotely sophisticated in any way, it cost way too much for something we'd use just a few times a year." Her husband eventually came across this plain, 18-inch spinner designed for kids priced under $100. "It can hold everything Augie needs for a week-plus trip to California, including all his clothes, books, and accoutrements (like his sound machine)," Ro adds. It's got a lot of the attractive elements of a full-size suitcase as well, like a built-in lock, spinner wheels, a telescoping handle, and, while not a full divider, it does have a compression strap. If something breaks, though, you might have to just accept the loss. It's sold by a third-party seller, so while it is eligible for return within 30 days of purchasing from Amazon, the brand's "100 percent risk-free satisfaction guarantee" isn't exactly spelled out. It states, "If you are not pleased with our products for any reason, please reach out to us. We'd love the opportunity to service you and provide total satisfaction." This, however, does not address damage over time.
Best soft-side rolling luggage