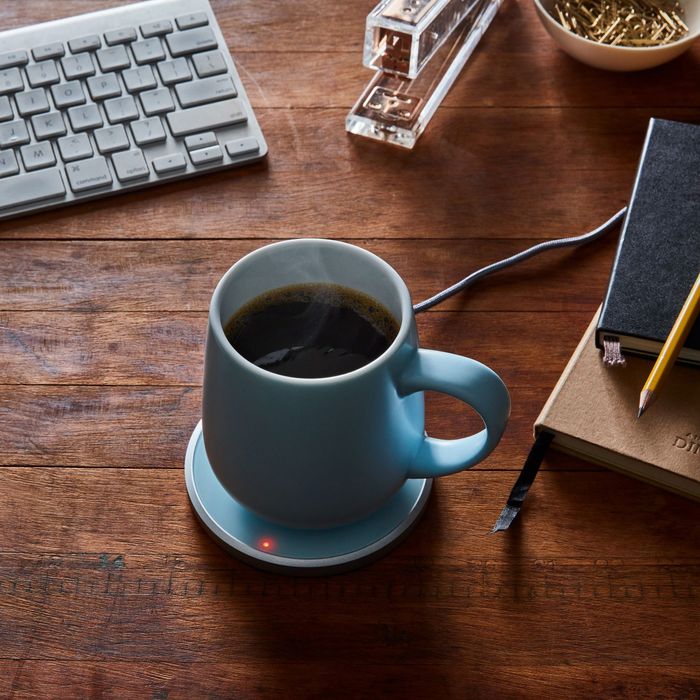 Although the first step in my work-from-home morning routine is pouring myself a cup of tea, I don't often get around to drinking that tea until I've made breakfast, checked emails, responded to any urgent emails, and gotten distracted chatting with co-workers on Slack. By then, my once-steaming mug is usually closer to lukewarm. While I could go through the process of boiling more water, that would also involve waiting for it — and waiting for it to cool back down. At this point, I am ready to drink it, not wait even longer.
At first, I used them casually for my daily tea, just to get a sense of how they worked and how well they maintained their temperatures. Then, after a few days of trying each, I moved to a slightly more scientific testing method, pouring boiling water into each mug and then checking the temperature with a meat thermometer at five-minute intervals for two hours. To add in a "control" factor, I also tested a regular ceramic mug as well as a stainless-steel Yeti tumbler. Two of the mugs I tested, Ember and Muggo, allow for precise temperature control, while the OHOM Kopi is designed to stay at 130-degrees. The Burnout also doesn't allow for temperature control, but that's not a surprise, because it's not electric. The product description explains it should stay at around 140 degrees "for hours." To compare them all accurately, I set the Ember and Muggo to 130 degrees. All of the mugs but the Ember have a lid, so I tested them without the lids on to control for that. I've also noted how long each mug held a temperature from 125 to 135 degrees. By comparison, a regular mug only stayed in that exact range for around five minutes
Best overall warming mug
Time in temperature range: 1 hour, 35 minutes
In all-white with a matching saucer charger (it's also available in black and metallic copper), the Ember mug is the most sleek and streamlined of the bunch. It's the only warming mug I tested that uses an app, connected via Bluetooth. That may sound gimmicky but it is actually pretty useful: On the app, you can set your desired temperature (anywhere from 120 to 145 degrees in single-degree intervals, the most specific control of any mug) and view the current temperature of your drink. You'll also get notifications once the mug has reached your desired temperature and when it needs to be charged. The only not-so-modern thing about Ember is that there's no USB charging cord. The saucer charger has to be plugged into an actual outlet which isn't always the most convenient.
During casual use I set the Ember mug to 140 degrees (which, thanks to all these temperature measuring gadgets, I recently discovered is my preferred tea temperature) and found that it stayed around there until I finished my tea around an hour later. My slightly more scientific testing proved it be even more effective: It stayed within seven degrees of the set temperature for 95 minutes.
TL;DR: Ember is a sleek, app-controlled mug that will keep your beverage at a set temperature anywhere from 120 to 145 degrees and it's mostly accurate based on my testing. The only downside is there's no USB charger. Although I did not test it, Ember also makes a travel tumbler with similar features, if that's more appealing to you.
Best travel warming mug
Time in temperature range: 1 hour, 15 minutes
Although it doesn't have an app like Ember, the Muggo tumbler is very easy to control, as you can adjust the temperature in five-degree intervals from 95 to 150 degrees by pressing right on the LED display on the tumbler itself. (The tumbler also displays the current temperature at all times.) The spring-loaded lid pops up and down with a single press, so it's easy to drink from on the go, too. Instead of sitting on a charging saucer, Muggo has a removable battery that magnetically attaches to a charging pad. The charging pad can keep the mug charged while you're sitting at your desk, and also charge up the battery for when it's time to go.
In my testing, Muggo performed fairly similarly to the Ember mug. Once it cooled down to the set temperature, it stayed there for over an hour.
TL;DR: Muggo is an effective self-warming travel tumbler with an easy-to-use interface and accurate temperature settings from 95 to 150 degrees. It can be charged directly on its USB-powered charging pad, or you can remove the battery and charge it separately.
Best-looking (but less-effective) warming mug
Time in temperature range: 15 minutes
With its curvy pear-shape, the Kopi mug has a more design-y and attractive look than the Ember and comes in pretty shades like "fresh mint" and "cupcake pink" that'll certainly brighten up your desktop. There's no app to control it, however, and no way to customize the temperature. Instead, it's designed to stay at 130 degrees at all times. Its charging saucer can be connected to a USB port and actually doubles as a wireless phone charger, which is convenient. But it gets hot while warming the mug, so you'll have to wait for it to cool down to drop your phone on it.
While the Ember saucer and Muggo battery hold their charges when unplugged, the Kopi actually needs to be sitting on its saucer, while plugged into a USB port or outlet to work, which makes it a bit less convenient. During testing, it didn't perform as well as the other two, either. Although it's supposed to maintain a temperature of 130 degrees, it only did so for around 15 minutes before cooling down. Another thing to note is that the Kopi doesn't heat evenly — the heat disseminates from the base so the liquid on the bottom of the mug is consistently warmer than the liquid toward the top.
TL;DR: While the colorful Kopi gets points for cuteness, it loses some for functionality. There's no way to customize the temperature (it's designed to stay at 130 degrees), and it will only work if it's sitting on the charging coaster while the coaster is actually plugged in. Even then, it performs better than a non-warming mug, but not as well as Ember or Muggo. One added plus: The coaster will also charge your phone.
Best nonelectric warming mug
Time in temperature range: 1 hour, 30 minutes
Even though it isn't a rechargeable electric warming mug, Burnout's specs — that it was invented by aerospace engineers and claims to be better at warming than the gold-standard vacuum-sealed tumblers — caught my eye. A tall, slim travel tumbler with a slide-open lid, Burnout looks unassuming from the outside but promises to pack a lot of technology inside. Its inner stainless-steel layers are separated by a chamber of a phase-changing material that turns from solid to liquid as it absorbs heat, and then back to liquid as it releases heat back through the steel to keep your drink warm.
Ten minutes into testing, I was a little surprised to see that the water in the Burnout mug was actually cooler than the water in the regular mug. However, when I did some reading about Burnout I learned that it's designed to reach a drinkable temperature fast and stay there for a long time. And that's exactly what it did. Although there's no way to set the temperature on the Burnout, it remained in a drinkable range (around 120 to 140 degrees) for a solid hour and 45 minutes. Compared to the Yeti, the other stainless-steel tumbler in my trial, it got down to the drinkable temperature faster, hitting 138 degrees within 15 minutes (the Yeti was still at a too-hot-to-drink 174 degrees at this point). Also, once the Yeti hit that sweet spot of around 140 degrees, it declined more rapidly than the Burnout, falling below 120 degrees two hours into testing.
TL;DR: The best thing about the nonelectric Burnout mug is that it cools your drink down from boiling to a drinkable temperature faster than your standard stainless-steel tumbler — and keeps it there longer. While you can't set a specific temperature, there's no need to worry about keeping it charged. Plus, it's the cheapest option.
The Strategist is designed to surface the most useful, expert recommendations for things to buy across the vast e-commerce landscape. Some of our latest conquests include the best acne treatments, rolling luggage, pillows for side sleepers, natural anxiety remedies, and bath towels. We update links when possible, but note that deals can expire and all prices are subject to change.