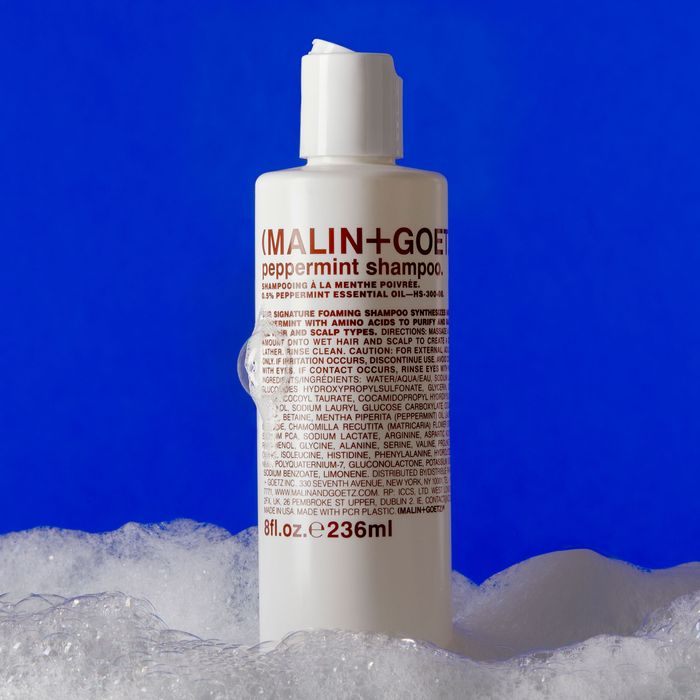 If you take a walk down the shampoo aisle at CVS — let alone do a search for "shampoo" online — the options can make your head hurt. There are shampoos for dry hair, thinning hair, and color-treated hair, and while we've done deep dives into several of those categories, I was curious to hear what stylists and salon owners would suggest for some overarching favorites. So I reached out to a panel of experts to hear about their old and new standbys, the shampoos they reach for when working with clients and cleaning their own hair alike.
Before we delve into specifics, here are a couple of general shampooing tips: If you're wondering how often you should wash, Brooke Jordan, co-founder and master stylist at the Bird House in Gowanus, recommends "no more than twice a week," and when you do shampoo, try her star-shape cleaning method. "I always recommend first making sure your hair is pretty wet," she says, "then putting about a quarter-size drop of shampoo in your hand, lathering it in your hands, and then tapping some on your head at your temples, on the top of your head at the crown, and two at the nape," making what would look like a star of shampoo on your head. Then get to scrubbing. "Do that once, rinse, repeat and do it again," she says. "The pattern is to your pleasure." Now that we have that down, let's go on to the best shampoos. (And if you're looking for the best conditioners, we've rounded those up, too.)
Sulfate free vs non-sulfate free
When I reported on the best sulfate-free shampoos, the experts I spoke with explained that sulfates are essentially detergents in the surfactant family that give shampoo that satisfying lather. Some hair stylists advise steering clear of them, especially if you have damaged hair since they can be stripping, or if your skin is sensitive to them. However, Masami Hosono, creative director of the gender-neutral East Village hair salon Vacancy Project, told us point blank that they "don't really care that much" about whether a shampoo is sulfate free, because sulfates are also highly effective at cleaning your hair and scalp, especially if you have oily hair or product buildup.
Like any beauty product, shampoo is often scented. Since there's nothing worse than having a cloud of fragrance you hate follow you around all day, I've noted the scents of each shampoo below.
If budget is an important factor, you'll also want to keep an eye on the total ounces of shampoo you're getting per dollar.
Best overall shampoo
Sulfate free | Scent: Fresh | Size: 8 oz. 
Hosono is a fan of Malin + Goetz and has been using the brand's moisturizing shampoo and cilantro conditioner in their salon for "a really long time — like eight years," they say. According to Hosono, the shampoo works well for all hair textures, "curly to straight, thick or thin." Despite it being sulfate free, it's still very foamy. "I like the Malin + Goetz shampoo because it's not 100 percent organic and it's also not 100 percent chemical," Hosono says. "It has both, and you really need both, especially if you have a color or anything chemical in your hair. It's really for any hair type, and it's not too heavy."
Malin + Goetz's moisturizing shampoo also receives high praise over at the Cut: "I could tell it was instantly moisturizing, and the touches of neroli and basil had a sophisticated scent that I enjoyed," reports beauty editor and writer Jessica Prince Erlich. And Stephanie Louis, the chief executive and operating officer of Stylebox Salon in Prospect Heights, also loves the brand. "We totally agree that Malin + Goetz is rock-on awesome," she says. "Nearly everything in the line is really, really good." We heard about the brand when we talked to experts about the best shampoos for dandruff too. For its effectiveness on all hair types, its balance between organic and nonorganic ingredients, the high praise the brand receives overall, and the shampoo's appeal to both women and men, we're calling this one our best all-around.
Best shampoo for all hair types
Sulfate free| Scent: Powdery floral | Size: 9.47 oz.
"Every Davines shampoo is my favorite, but Oi is at the top because it is literally perfect," says hairstylist Clariss Rubenstein. She recommends it for every hair type and says it leaves hair feeling silky, hydrated, and shiny. The shampoo is infused with beta-carotene-rich roucou oil (it has 100 times more of the antioxidant than carrots, for what it's worth), which helps hair produce melanin. Rubenstein also likes the scent, which she describes as "delicious and mild."
Best shampoo for "normal" hair
Non–sulfate free | Scent: Fruity floral | Size: 8.4 oz. 
"If I were to talk about my all-encompassing favorite shampoos and conditioners, one of my favorites is Sachajuan Normal Hair shampoo," says Jordan. "It's so simple and so effective, it smells amazing, and the ingredients are incredibly high quality." Jordan tells us that while Sachajuan does use sulfates, the shampoo's ingredients are produced in "small batches in Sweden" and that "in Europe, they have so many more regulations for their beauty products than we do, so essentially anything that's made in Europe is sort of automatically going to be a little safer than what's produced here." The brand's products have regularly made our more specific shampoo and hair-product guides — not to mention being a favorite of Rio's mom. And given the effectiveness of the brand's more targeted treatments and Jordan's ringing endorsement, we're calling this one the best for "normal" hair that's right down the middle between not too oily and not too dry.
Best shampoo for fine hair
Sulfate free | Scent: Floral | Size: 8.4 oz. 
"One of my very favorite products for fine hair is Davines Volu shampoo," says Jordan. She likes it because the formula includes turnip extract that gently lifts the hair off the scalp and gives it more volume at the roots. (For even more lift, Jordan recommends using the Volu shampoo with Davines Volu hair mist, and she suggests layering with Davines dry texturizer if you want to take your hair from day to night). Hairstylist Marco Santini also loves the Volu shampoo because it is free of parabens and sulfates and is gentle enough to use every day (a must if you wash your fine hair more frequently).
Best shampoo for dry fine hair
Sulfate free | Scent: Floral | Size: 8.45 oz.
If your hair is both fine and dry, though, master stylist Chelsey Pickthorn says to avoid "volumizing" shampoos altogether — the extra weight can actually work against you. Instead, she recommends the Nourishing Shampoo by Davines, with rehydrating ingredients such as glycerin, keratin, and amino acids.
Best shampoo for curly, coily, and tight textured hair
Non–sulfate free | Scent: Jasmine, bergamot, and sandalwood | Size: 9.8 oz.
"This is a hydrating shampoo for all curly hair types," says Louis. "It's really incredible." The shampoo comes from Tracee Ellis Ross's hair-care line, which offers products for curly, coily, and tight-textured hair. The shampoo is formulated with moisturizing ingredients including aloe-vera-leaf juice, coconut oil, and honey, and the scent is a lovely sounding blend of jasmine, bergamot, and sandalwood.
Best shampoo for frizzy hair
Sulfate free | Scent: Citrus | Size: 8.4 oz. 
If you've got some frizz you'd like to smooth out, Jordan recommends this shampoo from Davines, a brand she loves "for the quality of their products, as well as their commitment to sustainability." She adds, "They produce everything in this one factory in Italy, and a lot of their ingredients literally come from local farms." One of those ingredients is Minuta-olive extract, which, according to the Davines website, is farmed in Messina, Italy, and is loaded with fatty acids and vitamin E — ingredients that add moisture to hair and combat frizz. "It's just a really beautiful, yummy shampoo," says Jordan. "It smells amazing, and it does smooth the hair but it's not so heavy that it creates any kind of weight in the hair." She notes that the only hair type she wouldn't recommend this shampoo for is very fine hair — the moisturizing properties won't do much for you in the way of volume — but otherwise, anyone can use this one.
Best shampoo for color-treated hair
Sulfate free | Scent: Citrus | Size: 8.5 oz. 
We've heard about this shampoo from many stylists and hair experts, and when we reached out to some specifically about the best shampoos for color-treated hair, this was their pick. Blackstone NYC colorist Patti O'Gara told us, "This sulfate-free shampoo will rebuild the bonds damaged through coloring, gradually transforming dry, broken, and brittle hair back to a healthier state." The experts we spoke to for this story were similarly enthusiastic about the shampoo. "This is amazing for color-treated hair," says Louis. She elaborates that it's ideal for those who color their hair because it "repairs protein bonds in hair, limits split ends and subsequent hair breakage, and helps keep hair smooth and frizz free." Hairstylist Dhiran Mistry also suggested Olaplex for color-treated hair. "All color can damage hair bonds," he says. "This shampoo is really good with flyaways and frizz control and will lather well and restore the internal strength of the hair."
Best shampoo for heat- and color-damaged hair
Non sulfate-free | Scent: Peach, orange, sandalwood | Size: 10.5 oz.
"If someone happens to have very damaged hair due to chemically treating it, I love using this," says stylist Haley Campise. The shampoo contains rice extract, rich in both B and E vitamins, as well as antioxidants. Those help to strengthen hair, reducing the sort of breakage you may experience after bleaching or applying heat. "It repairs damage better than anything else I've seen in my 19 years of hairdressing," Campise says. She's also a fan of how the entire Ultimate Reset range smells, with both fruity and musky notes, and recommends pairing the shampoo with the mask from the same range. Her final tip? Leave a hint of the mask in the ends of your hair after rinsing so it can go on nourishing your hair.
Best hydrating shampoo
Sulfate free | Scent: Grapefruit and oatmeal | Size: 12 oz.
Another shampoo that happens to be color safe and is, according to Louis, an incredibly moisturizing "staple" product is Verb's paraben- and sulfate-free Ghost shampoo. It includes moringa oil, which is a tree-derived essential oil known for its hydrating properties, as well as UV protection (like the R+Co Dallas shampoo) that helps protect color and shine. We heard good things about this shampoo before when we named it our best overall sulfate-free shampoo.
Best thickening shampoo
Sulfate free | Scent: Fruity, woodsy | Size: 8.5 oz. 
This one is packed with ingredients including biotin, pro-vitamin B5, and coconut oil, that will pump up hair's strength and thickness. It can be used on any hair type, according to Jordan, who recommended this one as a "catchall product" for giving hair a boost. What also really impressed us is the shampoo's UV-protection properties. "R+Co puts an ingredient in all of their shampoos that's basically like putting an SPF on," Jordan says. "It protects your hair from the sun." UV protection is particularly useful for those who color their hair, because it will help make the color last longer, "especially in the summer months if you're spending any time on the beach," she adds. All of the brand's shampoos are also sulfate free, another draw for those with color-treated hair, and while the thickening properties of this shampoo will benefit anyone looking for a little more bounce, they're really helpful for those whose hair has become brittle from treatments. (Jordan reminds us that UV protecting does not mean heat protecting, so if you're styling your hair with hot tools, don't forget to use a heat-protecting product.)
Best shampoo for volume
Non–sulfate free | Scent: Botanical | Size: 8.4 oz.
Maria Elizabeth, a hairstylist and the founder of Salon deZEN, swears by this shampoo from the Australian hair-care brand Kevin Murphy. "It really plumps hair without weighing it down," she says. It stimulates scalp circulation using ingredients like ginger root and nourishes and repairs hair using rice bran and rice amino acids. "I love how this shampoo creates extreme volume while also delivering shine and softness," she says.
Best shampoo for scalp issues
Photo: Retailer
Sulfate free | Scent: Botanical | Size: 8.5 oz. 
Shirley Hagel, formerly an advanced hair colorist at Parlor Salon, names Aveda's Scalp Benefits shampoo a favorite. "It helps balance the pH of the scalp and balance sebum levels," she says. "A lot of people complain about a dry or oily scalp, and this is a great option for either." This one's safe to use with color-treated hair as well.
Best shampoo for hair extensions
Sulfate free | Scent: Fruity | Size: 8.4 oz
Another standout for Elizabeth is this "weightless, color-safe, ultra-hydrating" shampoo by Goldie Locks. She says the shampoo has been formulated "protein-free with an emphasis on moisture," making it an ideal match for hair extensions that are often "dying for hydration." It's also "weightless, color safe, and completely delightful to your senses," says Elizabeth, of the Goldie Locks signature fruity scent: grapefruit and orange "cast with raw nectar and finishing notes of juicy lime." For best results, she advises pairing it with the conditioner from the same range.
Some more shampoos we've written about
Our experts
• Haley Campise, stylist at Keith Kristofer
• Maria Elizabeth, hairstylist and founder of Salon deZEN
• Jessica Prince Erlich, beauty writer and editor
• Shirley Hagel, retired advanced creative stylist at Parlor salon
• Masami Hosono, creative director of Vacancy Project
• Brooke Jordan, co-founder and master stylist at the Bird House
• Stephanie Louis, chief executive and operating officer of Stylebox Salon
• Dhiran Mistry, hairstylist
• Patti O'Gara, colorist at Blackstone NYC
• Chelsey Pickthorn, master stylist at Pickthorn studio
• Clariss Rubenstein, hairstylist
• Marco Santini, hairstylist
The Strategist is designed to surface the most useful, expert recommendations for things to buy across the vast e-commerce landscape. Some of our latest conquests include the best women's jeans, rolling luggage, pillows for side sleepers, ultra-flattering pants, and bath towels. We update links when possible, but note that deals can expire and all prices are subject to change.
Every editorial product is independently selected. If you buy something through our links, New York may earn an affiliate commission.