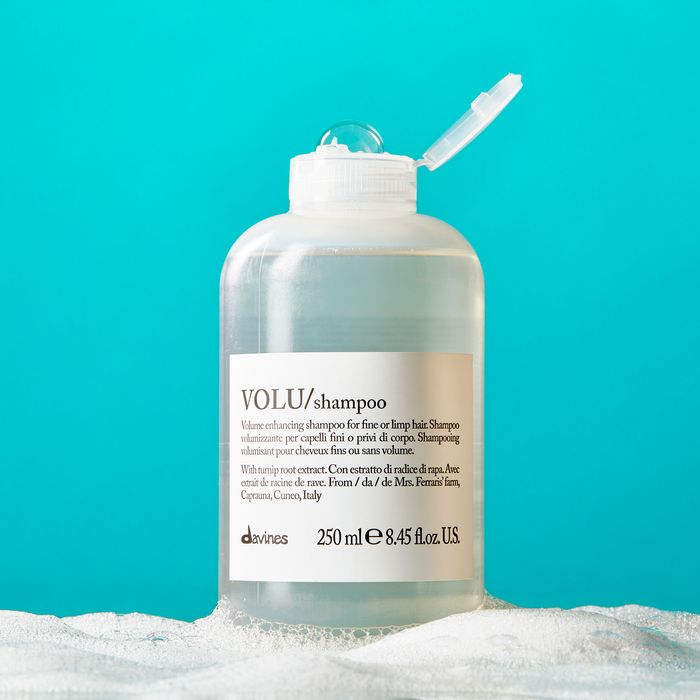 Fine hair is made of up strands that are smaller in diameter and less porous than those of other hair types. As I've learned after a lifetime of dealing with my own very fine hair, that means it can get greasy fast and show oil at the roots more readily — unless it's frequently washed. And all that washing means that finding the right shampoo is nonnegotiable. Hairstylist Marco Santini notes that a proper shampoo is all you need to keep fine hair looking its finest: "You want a good shampoo, and that's it." (I've tried dozens of shampoos at a variety of price points, looking for one that is nourishing enough to keep my strands from looking dry but not so moisturizing that they'll get weighed down.) Sometimes fine hair is dyed, damaged, or curly, which has other specific needs. So we turned to Santini and nine other experts to find the best shampoos for all types of fine hair. Below are their picks, which include shampoos for texturizing and volumizing fine hair as well as formulated for chemically treated hair and to help remove product buildup (plus my favorite shampoo that costs less than ten bucks).
What we're looking for
Sulfate free vs. non–sulfate free
When I reported on the best sulfate-free shampoos, the experts I spoke with explained that sulfates are essentially detergents in the surfactant family that give shampoo that satisfying lather. Some hair stylists advise steering clear of them, especially if you have damaged hair since they can be stripping, or if your skin is sensitive to them. However, sulfates are highly effective at cleaning your hair and scalp, especially if you have oily hair or product buildup, which are problems that often affect fine hair, so I've noted throughout which ones are which.
Like any beauty product, shampoo is often scented. Since there's nothing worse than having a cloud of fragrance you hate follow you around all day, I've noted the scents of each shampoo below.
If budget is an important factor, you'll want to keep an eye on the total ounces of shampoo you're getting per dollar.
Best overall shampoo for fine hair
Sulfate-free vs. non-sulfate free: Sulfate-free | Scent: Fresh | Size: 8.45 oz.
Brooke Jordan, owner and master stylist at the Bird House in Gowanus, calls Davines Volu Shampoo a favorite for fine hair types it because "it uses turnip extract to gently lift the hair off the scalp" and give it more volume at the roots. (For even more lift, Jordan recommends using the Volu Shampoo with Davines Volu Hair Mist, and she suggests layering with Davines Dry Texturizer if you want to take your hair from day to night). She says that, regardless of how often you wash, "dry shampoo really is a good friend, even on clean hair — it can give you more volume and texture." Santini loves the Volu Shampoo because it is free of parabens and sulfates, gentle enough to use every day, and detangles the hair so you don't need to use conditioner (though if your hair is super-long, he suggests using a very small amount of conditioner on just the ends to get rid of knots; otherwise, he says, skip it altogether).
Davines is a generally praised brand when it comes to hair care, with Strategist contributors Rio Viera-Newton Leah Finnigan both praising its natural ingredients and taming abilities. These endorsements, coupled with those of Jordan and Santini, helped the Volu Shampoo earn the top spot on this list.
Best less expensive shampoo for fine hair
Sulfate-free vs. non-sulfate free: Sulfate-free | Scent: Fruity | Size: 12 oz.
For a tquarter of the price of the Davines Volu Shampoo, you can get this bottle of sulfate-free shampoo from Monday, a popular New Zealand–based hair-care line that I've sworn by since purchasing it close to a year ago. My hair is very oily and while I've tried lots of expensive shampoo before–from Oribe to Sachajuan–this is the only one that ever gets my hair compliments. It adds a good amount of body and, most importantly, a lot of shine without weighing my hair down or making it look greasy (and for only seven bucks a bottle, at that).
Best shampoos for oily and fine hair
Sulfate-free vs. non-sulfate free: Sulfate-free | Scent: Fresh | Size: 8 oz. 
One of the trickiest parts of caring for fine hair is figuring out how often to wash it. "It's easy to say that you shouldn't wash your hair very often, but a lot of my clients with fine hair tell me it drives them crazy to wait too long," says Jordan. If your hair is super-oily to the point where you must shampoo every day, then Ruggeri suggests New Wash, saying that, in his experience, "my clients who have fine hair and wash their hair every day have found the right type of body-boosting components from using New Wash." New Wash is technically a shampoo-and-conditioner replacement, which means it's more like an essential-oil-based hair cleanser that washes hair without any suds. It's formulated without detergents or synthetic compounds, doesn't dry hair out, and leaves it conditioned and tangle-free. And because it's a two-in-one product, it's no-fuss and ideal for someone looking for a streamlined, low-maintenance routine. For those who need more convincing, former Strategist writer Molly Young gave the shampoo a ringing endorsement, writing "the results are wild. My long hair air-dries perfectly, with no 'squeaky' texture. It is shiny and falls in loose waves, like it did when I was a kid. I don't need to blow-dry it. My chronic flaky scalp bis gone forever."
Best volumizing and texturizing shampoos for fine hair
Sulfate-free vs. non-sulfate free: Non-sulfate-free | Scent: Fresh | Size: 8.4 oz. 
Jordan loves using Sachajuan Ocean Mist Volume Shampoo to add serious texture to fine hair. "The shampoo gives your hair structure and maintains strength without stripping it of its essential proteins," she says. If you really want to amp up texture, she recommends using the shampoo, letting your hair dry, then styling it with the Ocean Mist sea-salt spray, which, unlike many other sea-salt sprays on the market, uses sugars as well as salt to keep hair from drying out (and to give it a little extra grit).
Best volumizing shampoo for fine hair
Sulfate-free vs. non-sulfate free: Sulfate-free | Scent: Fruity, woodsy | Size: 8.5 oz. 
"Dallas Thickening Shampoo by R+Co not only works magic on fine hair; it has a heavenly scent as well," says Fred Connors, the owner and creative director of FRED Salon. It's formulated with biotin to increase hair strength, vitamin B5 to add luster, and saw palmetto for extra body, making it perfect for anyone with fine hair who wants "bombshell volume," when they blow-dry. To maintain that volume on day-two (or-three) hair, Connors suggests an old-school trick. "Pull hair into a ponytail or bun on the very top of your head and secure with a scrunchie — do not use an elastic, as it can bend hair and make it look weird when you let it down in the morning."
Jordan's other big fine-hair-care tip is to schedule frequent haircuts. Since it's smaller in diameter, fine hair tends to be fragile and thus more breakable. "Think of it like a branch — a thick branch is harder to snap." Frequent haircuts means removing dead weight and maintaining shape, which all can make your hair lighter-weight and therefore more voluminous.
Best shampoo for thinning fine hair
Sulfate-free vs. non-sulfate free: Non-sulfate-free | Scent: Lemon, basil, fir with notes of florals, herbs, patchouli, vanilla, and amber | Size: 10.1 oz.
If your hair is both fine and thinning, trichologist Rochelle Hunter Mosley likes this shampoo from Paul Mitchell. With thinning hair, the shampoo you use is extremely important because you need it to add both body and volume, body, as well as shine, something this shampoo delivers, she says. It contains a blend of growth-stimulating ingredients, like kakadu plum, pea peptides, clover flower, turmeric, and ginseng. "It lathers and cleans extremely well."
Best thickening shampoo for fine hair
Sulfate-free vs. non-sulfate free: Sulfate-free | Scent: Slightly floral | Size: 8.4 oz.
Meanwhile, Siobhan Benson of CutLoose BK likes this clay that, once combined with water, develops into a lightly scented foam. "This product is marketed toward men but works great for anyone with thinning hair," says Benson. "With a high concentration of pure rhassoul clay, known for being high in minerals and calcium, it absorbs impurities that clog the scalp while the Tahitian algae adds density and detoxifies." You just need to lather a quarter-size amount into wet hair to see a difference and encourage long-term growth.
Benson's biggest piece of advice to those with fine, grease-prone hair is "simply daily washing." Dry shampoo could tide you over "in a pinch, but can only do so much."
Best plumping shampoo for fine hair
Sulfate-free vs. non-sulfate free: Sulfate-free | Scent: Botanical | Size: 8.4 oz.
Maria Elizabeth, founder of Salon deZEN, is a "lover and advocate" of Kevin Murphy's Plumping Wash. She says the formula adds shine, thickness, and volume in a way that's almost "miraculous." Plus, each component of the bottle is recyclable.
Best shampoo for dry fine hair
Sulfate-free vs. non-sulfate free: Sulfate-free | Scent: Herbal | Size: 6.7 oz. 
Just because fine hair tends to get oily at the roots doesn't mean it can't be dry at the tips. If you feel like you need to pump up the moisture, then take the advice of Connors, who likes the "luxurious" formula of Sisley Paris Revitalizing Volumizing Shampoo because it is chock full of vitamins and minerals to nourish and protect your hair and scalp, including magnesium, zinc, and vitamins B5 and B6. It contains camellia oil, which he says "makes your hair feel like silk without weighing it down." And although his shampoo is the most expensive on our list, Connors assures us that a little goes a long way.
Best shampoo for limp, fine hair
Sulfate-free vs. non-sulfate free: Sulfate-free | Scent: Côte d'Azur | Size: 8.5 oz. 
Samantha Musco, founder of Beautébar, calls this color-safe Oribe shampoo "perfect for fine, limp hair," because "it creates weightless moisture while plumping the hair shaft to create a voluminous appearance." Jordan is a fan. "Oribe's volume line is my favorite for fine hair," she says. "It works wonders for building body in fine hair." She likes to pair it with the brand's Grandiose Hair Plumping Mousse, which helps hair to keep its body and shape.
Best shampoos for growing out fine hair
Sulfate-free vs. non-sulfate free: Sulfate-free | Scent: Herbal | Size: 10 oz. 
If you're looking to grow your fine hair to a Rapunzel-level length, Gregorio Ruggeri of Salon Ruggeri says that Act+Acre Cold Processed Hair Cleanse "helps nurture the growing process" — particularly when it comes to fine hair. The formula is rich in vitamins and antioxidants like rosemary, which stimulates circulation in the scalp and promotes healthy hair follicles, helping hair grow longer and stronger from the root. It contains vetiver, lavender, and amaranth oil, all of which strengthen and moisturize the hair shaft, helping to keep it from breaking as it grows.
Best clarifying shampoo for fine hair
Sulfate-free vs. non-sulfate free: Sulfate-free | Scent: Fresh | Size: 6.3 oz.
Fiona Guidice, owner of Fiona Hair NYC, recommends periodically washing your hair with a clarifying shampoo to remove product buildup from your hair and scalp. This keeps your hair from being weighed down, and keeps your scalp clean and healthy, she adds, noting that "a healthy scalp grows healthy hair." She's a fan of this charcoal-infused shampoo from IGK, which she calls "a beautiful, low-maintenance line." It contains tea-tree oil and witch hazel to soothe the scalp.
Best shampoo for chemically treated fine hair
Sulfate-free vs. non-sulfate free: Sulfate-free | Scent: Coconut | Size: 8 oz.
When clients with chemically treated fine hair ask Ruggeri for a shampoo that will help build and protect their hair without making it flat, he told us he always gives the same answer. "Hands down, I always respond with Virtue Recovery Shampoo and Conditioner," he says, explaining that the shampoo works by filling in cracks in the cuticle caused by damage from heat, chemicals, and color treatments. Plus the formula is lightweight enough to give fine strands lift and body without weighing them down, he adds.
Best shampoo for fine curly hair
Sulfate-free vs. non-sulfate free: Sulfate-free | Scent: Citrus | Size: 8.45 oz. 
Angela Taormino of Brooklyn-based Union Beauty Salon, always recommends Eufora Curl'n Enhancing Shampoo to her clients who have a curly and fine hair type. The shampoo uses a tomato-fruit extract to enhance the curl while gently cleansing curly hair, which has a tendency to be dry, she explains. Taormino adds that the formula is color-safe and can be used daily without stripping hair or leaving it feeling over-shampooed.
Best shampoo for tangle-prone fine hair
Sulfate-free vs. non-sulfate free: Sulfate-free | Scent Sweet and nutty | Size 8.5 oz.
Strategist writer Katherine Gillespie began using Bumble and Bumble's newly launched Invisible Oil Shampoo after being gifted a bottle by the brand and noticed that it immediately made a difference in her hair, which she describes as very fine, very straight, and very tangly. Because she currently has a "very fussy razor cut with a lot of shaggy layers," she finds that most shampoos make her hair too dry and fluffy. Because the Bumble and Bumble shampoo is "so lightweight yet moisturizing, I can use it every couple of days with no problem, and my hair always looks great afterward — I just air dry it, and I always get compliments," she says. Despite the shampoo being sulfate-free, Gillespie reports that it lathers in an "extremely satisfying way," leaving her hair feeling "clean but not squeaky" and not dry or fluffy, which she attributes to the blend of eponymous "invisible oil," which includes grapeseed, sweet-almond, coconut, safflower, macadamia, and argan oils.
Some more shampoos for fine hair we've written about
Our experts
• Siobhan Benson, founder of CutLoose BK
• Fred Connors, owner and creative director of FRED Salon
• Maria Elizabeth, owner of Salon deZEN
• Katherine Gillespie, Strategist writer
• Fiona Guidice, owner of Fiona Hair NYC
• Brooke Jordan, owner and master stylist at the Bird House
• Rochelle Hunter Mosley, trichologist
• Samantha Musco, hairstylist and founder of Beautébar
• Gregorio Ruggeri, hairstylist and founder of Salon Ruggeri
• Marco Santini, hairstylist
• Angela Taormino, hairstylist at Union Beauty Salon
• Molly Young, Strategist contributor
The Strategist is designed to surface the most useful, expert recommendations for things to buy across the vast e-commerce landscape. Some of our latest conquests include the best acne treatments, rolling luggage, pillows for side sleepers, natural anxiety remedies, and bath towels. We update links when possible, but note that deals can expire and all prices are subject to change.