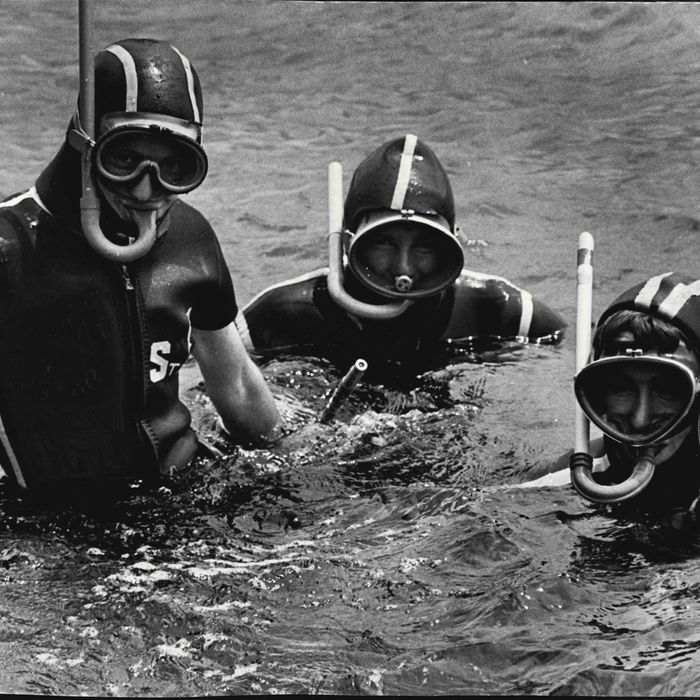 Photo: Fairfax Media Archives/Fairfax Media via Getty Images
Snorkeling gear is not always taken seriously. Most people tend to either rent it, or pick up an inexpensive set from a boardwalk beach store on a whim. The latter might do the trick for a few dives, but if you want to really get the most out of your time under the water, consider investing in some better-quality snorkels and masks. For starters, a well-made snorkel will be more comfortable than the standard-issue plastic model, and many of the newer options are designed to block water from getting in (and to easily clear it out if it does). Better snorkel masks — which are not as expensive as you might think — will have tempered glass lenses that fog minimally and don't scratch, along with comfortable silicone "skirts" around their edge that create a good seal.
To find the best snorkeling gear, we spoke with ten experts — including certified scuba instructors, snorkeling tour guides, and owners of diving supply stores — to get their picks. Read on for the snorkels and masks they swear by, including recommendations suitable for snorkelers of pretty much any experience level, and tips for how to safely and effectively use the stuff. One more note: You won't find any of those trendy full-face snorkel masks here, because nearly all of our experts opposed using — or recommending — them, due to some serious safety concerns. Rather, as a whole, our experts prefer the more classic setup of separate snorkel and mask, which they say is more comfortable and easier to breathe in.
Best overall snorkel and mask
All of our experts say the most important thing with any snorkel is that the mouthpiece is comfortable, so you can easily inhale and exhale through the tube. Beyond that, there is a range of models at various price points. But five of the professionals we spoke with, including Monica Echeverria, an avid snorkeler and scuba instructor/environmentalist with the World Wildlife Fund, say that if you want the flexibility to occasionally go beyond the surface and dive down deeper, you should opt for a semi-dry snorkel. "If you're snorkeling and diving, the best option would be a semi-dry snorkel," Echeverria says. Scuba instructor and snorkel guide Sarah Gauthier agrees, saying a semi-dry snorkel is best "if you want to explore more [underwater]; for example, to go check out a starfish a bit closer." Essentially a middle-ground between dry snorkels (which have a buoy-like device to seal their valves when completely submerged) and classic snorkels (which let water gush in when completely submerged), semi-dry snorkels typically have a "splash guard" designed to block waves from entering the opening up top, along with a flexible corrugated sleeve connecting the mouthpiece to the main breathing tube, and a purge valve for expelling any water that manages to make its way in.
The ScubaPro Nexus is Gauthier's favorite semi-dry snorkel. She likes the flexible tube and says that since the purge valve is close to the mouthpiece, it's easy to expel excess water without blowing too hard. Seconding the Nexus recommendation is Kate Wilkins, a dive and snorkel instructor who leads trips in Tonga and New Zealand for tour company Wilderness Travel. "It rarely lets water in, and it has a great purge and very comfortable mouthpiece," Wilkins says of her preferred snorkel.
As far as masks are concerned, all the experts said the most important factor is fit. In terms of assessing fit, many of the pros told us the best test is to place a mask on your face without the strap and breathe in through your nose. "If it stays on your face, that is the first sign of a good seal," says Scuba San Diego owner Rodney Watkins, a scuba and snorkel instructor of 51 years. Beyond stressing a proper fit, six of the pros told us they prefer using frameless masks like this. Unlike more traditional masks, frameless ones do not have a plastic or rigid outer frame, but instead feature an outer skirt (that the experts say should be made of silicone) to create a seal on your face. According to Nick Fazah, managing partner at East Coast Divers and International Training Director at Scuba Schools International; Tim Hughes, scuba instructor and co-owner of Gotham Divers; and Gauthier, frameless masks are generally more comfortable due to their design, and an all-silicone skirt helps them achieve a more "custom" fit that will work for more people. Another benefit of frameless masks, according to Fazah: They're easy to travel with, because you can basically fold them up and don't need to worry about them breaking in transit.
Each of the experts who recommended a frameless mask had a different favorite. This model has been Gauthier's go-to for many years; it has tempered glass, a silicone skirt, and comes from ScubaPro, a brand that she and three other experts generally endorse for its snorkeling gear. Gauthier told us she likes that this mask has "one big lens, which gives a bigger field of vision." It also "fits so many people," she says, adding "men with mustaches always have trouble with water going in, but not with this." It's available in a range of colors, but Gauthier likes the pink.
Best (less expensive) semi-dry snorkel
San Diego–based snorkel guide (and former marine biology teacher) Matt DiCarlo uses and recommends the ScubaPro Escape semi-dry snorkel, which is essentially a more affordable version of the Nexus. And while Wilkins personally uses Nexus, she says she's seen the Escape "work really well for people," and agrees that the two snorkels have a lot in common.
Best beginner snorkel
Most of our experts agreed that beginners looking for the most seamless and frustration-free snorkel experience should get a dry snorkel, which are designed to be even more protective than their semi-dry cousins. Like with semi-dry snorkels, these generally have a flexible corrugated sleeve that connects mouthpiece to breathing tube and a purge valve to expel water, but they typically have a heavier-duty piece that fully surrounds the tube opening (instead of a one-sided splash guard), and an internal buoy-type device near the top of the tube that will basically seal-up if submerged, but let you breathe in and out freely when above water, according to Fazah. He told us he "typically recommends these for those less comfortable in the water," or for snorkelers who aren't familiar with clearing water out of the tube. This Mares Ergo dry snorkel came recommended by both Fazah and Hughes. "All the scuba companies make good snorkels," admits Hughes, who says he's still partial to this one from the long-standing Italian diving outfitter. According to Hughes, it lives up to its promise of keeping water out, and it's very reliable and well-made. "I've never had one break on me," he says.
Best classic snorkel
Watkins told us he's skeptical of all the new innovations in snorkel technology, and that he still prefers using a classic snorkel. All the additional features built into dry snorkels make them "cumbersome and bulky," he says, adding that they can pull on the masks. And although he believes "the best snorkel is a very simple tube," Wakins will make an exception for two basic features — a purge valve and a flexible corrugated sleeve — because he sees these as genuine improvements. His go-to classic snorkel is the basic Flexor 4 from H2O Odyssey, which he buys wholesale for all of his classes and tours. If you want something more easily available, this Aqualung model has all the same features as the Flexor 4, and many of our experts — Watkins included — say Aqualung makes quality snorkel and dive gear.
Best snorkel for freediving
Fazah is also an experienced freediver, and he says this simple snorkel from Mares is a favorite amongst the freediving set. (To the unfamiliar, freedivers will dive quite deep underwater — to depths you'd generally only go with a full-on scuba outfit and oxygen tank — by holding their breath alone.) It might seem counterintuitive to use a snorkel for freediving, but he says it helps divers conserve their breath while they're on the surface looking below to survey their surroundings and prep for a dive. It's shorter than an average snorkel, so it's easy to swing to the side when not in use, and the smooth and streamlined design minimizes drag.
Best (less expensive) frameless mask
For something very similar to, and more affordable than, her ScubaPro frameless mask, Gauthier suggests this frameless model from Cressi, another brand mentioned by multiple experts. Diver and snorkeler Sydney Dillon oversees Wilderness Travel's snorkel programs in the Pacific region, and although she hasn't used this mask herself, she tell us, "I know a lot of people who use and love the F1, especially the black version."
Best professional-grade frameless mask
Fazah says he can never keep this mask in stock. It's definitely pricey, but he says it's top of the line and made from some of the highest-grade glass and silicone available. "These have an ultra clear glass that gives a far clearer representation of what you're seeing in the water."
Best framed snorkel mask
While most of the experts prefer frameless masks, their more traditional framed cousins still have their fans, many of whom like them for the more structured feel that the frame offers. People who can get claustrophobic might prefer a framed mask, too, because they tend to leave more space between the wearer's face and the viewing window. This mask from ScubaPro is DiCarlo's go-to. "It's super durable," he says, noting that "it lasted through almost eight years of constant use and abuse" before he needed to replace it. DiCarlo likes that it has "one massive lens, allowing a wider field of vision" than masks with two separate lenses can provide. Watkins is also a fan of snorkel masks with "single window" lens construction. "It gives you more peripheral vision," he says.
Best (less expensive) framed snorkel mask
For those who might prefer a framed masks with two windows (or lenses), Wilkins likes this mask from Oceanic, which she says is a great all-purpose mask and "fits most faces."
Best (even less expensive) framed snorkel mask
This more budget-friendly mask from Mares is Dillon's favorite. She says she's used it for four years and "it's still in great working condition. I never have any problems with leakage and the silicone seal has held up well."
The Strategist is designed to surface the most useful, expert recommendations for things to buy across the vast e-commerce landscape. Some of our latest conquests include the best acne treatments, rolling luggage, pillows for side sleepers, natural anxiety remedies, and bath towels. We update links when possible, but note that deals can expire and all prices are subject to change.