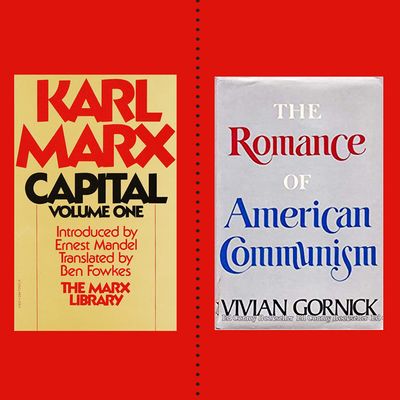 The cover story of the most recent issue of this very magazine is about contemporary socialism: what it means to be a socialist in 2019, and how the movement transformed from — as writer Simon van Zuylen-Wood put it — "irrelevant, [from] the dustbin-of-history" to something near-ubiquitous, at least among a certain type of under-35-year-old. For those who're interested in learning more about the origins of the movement, we've consulted a slew of experts, including Maxine Phillips, the former Executive Editor of Dissent, Bhaskar Sunkara, the founding editor of the socialist quarterly Jacobin Magazine, Vijay Prashad, a Marxist intellectual and Executive Director of Tricontinental: Institute for Social Research, Sarah Leonard, a senior editor at The Nation, Mitchell Cohen, a professor of political science at Baruch College, Chiara Cordelli, an assistant professor in the Department of Political Science at the University of Chicago, and Corey Robin, the author of Fear: The History of a Political Idea, on the best books to get started with. As always, each book is recommended by at least two experts.
Two of our experts recommend books by Irving Howe, a Bronx-born, prominent figure of the Democratic Socialists of America (and recipient of a MacArthur Fellowship) who died in 1993. Maxine Phillips recommends his Essential Works of Socialism, an anthology of major socialist writings by Marx, Engels, Bukharin, Plekhanov, Lenin, Luxemburg, and essays from people like Djilas, Silone, Orwell, and Harrington on topics from welfare, to economic power, to work alienation, to the Russian Revolution. "This was the text for my first ever socialist reading group," said Philips. "It spared me from having to read thousands of pages of Marx, Engels, and others."
Bhaskar Sunkara and Mitchell Cohen recommend Howe's 1985 Socialism and America, a collection of six essays (written by Howe himself) that survey the socialist movement and reflect on its future. "Howe takes us from the days of the populists through to the creation of the Socialist and Communist parties to give us a sense of just how firmly rooted the socialist tradition was, for a time, in America and also why it faded away for so long," says Sunkara.
Several of our experts, unsurprisingly, recommend Karl Marx's 1867 text (the most cited book in the social sciences published before 1950), in which he analyzes the economic patterns underpinning capitalism. "It's such a great book," says Vijay Prashad. "It gets under the skin of commodity-driven economy, it's so well written, it has such funny literary references and even better footnotes. It's the one book I would take with me if I were to be stuck on an island for the rest of my life." Sarah Leonard agrees, and argues that the book isn't as challenging as it's often made out to be. "Hear me out," she says, "anyone can read Capital! I recommend taking it on with David Harvey's free online lectures (or his books) and a few good friends. You don't need to read Capital to be a socialist, but no book clarifies the logic of capitalism so elegantly. There are also vampires in it."
Two of our experts recommend the 1977 book The Romance of American Communism, in which author Vivian Gornick (who grew up in a Jewish immigrant family in the Bronx) interviews some 45 former Communists to ask them why they joined the Party, how it affected their lives, and how they feel about it now. "Socialists often get caricatured as ideologues and automatons, zealots without an inner life." says Corey Robin. "Gornick's Romance may be the best book ever written about that inner life. Yes, Gornick was talking about members of the Communist Party, but she was really talking about everyone in the socialist tradition who was fundamentally committed to creating a world without capitalism, why they saw their personal destiny bound up with that struggle, and what happened to them when they were confronted with its crushing disappointments and terrible realities." Sunkara agrees. "When we think of the Communist Party USA, we often associate it with the drab and monolithic "Marxist-Leninism" of the Soviet Union. But Gornick uncovers the rich network of social institutions, clubs, and dance halls that defined membership in the party for tens of thousands of Americans in the 1930s and '40s."
Many of our experts recommended titles by Angela Davis, a political activist, academic, and author, who was a member of the Communist Party until 1991. Professor Cordelli and Professor Wolin recommended The Meaning Of Freedom, in which Davis confronts the interconnected issues of power, race, gender, class, incarceration, and conservatism. "This is an important book for understanding why class struggle cannot be separated from other forms of social struggle, including, most obviously, race and gender struggles," says Professor Cordelli. "This collection of speeches Davis gave between 1994 and 2009 is indispensable," says Professor Wolin, "and highly accessible."
And three of our experts, including Kate Aronoff, Bhaskar Sunkara, and Sarah Leonard recommended Women, Race, & Class, in which Davis exposes the close tie between the anti-slavery campaign and the struggle for women's suffrage — and demonstrates how the racist and classist bias of some in the women's movement has divided its own membership. "This book is very important," says Leonard. "And heavily cited in a foundational text of the reproductive justice movement, Killing the Black Body, also essential reading."
Two of our experts recommended the (out of print) Socialism by Michael Harrington, the founder of Democratic Socialists of America. "Harrington gives a broad overview of the origins of the socialist movement, its triumphs and tragedies, and its at times tense relationship with liberalism," says Sunkara. "It's an inspiring work," says Phillips. "It explains democratic socialism to the non-political science major."
The Strategist is designed to surface the most useful, expert recommendations for things to buy across the vast e-commerce landscape. Some of our latest conquests include the best acne treatments, rolling luggage, pillows for side sleepers, natural anxiety remedies, and bath towels. We update links when possible, but note that deals can expire and all prices are subject to change.
Every editorial product is independently selected. If you buy something through our links, New York may earn an affiliate commission.