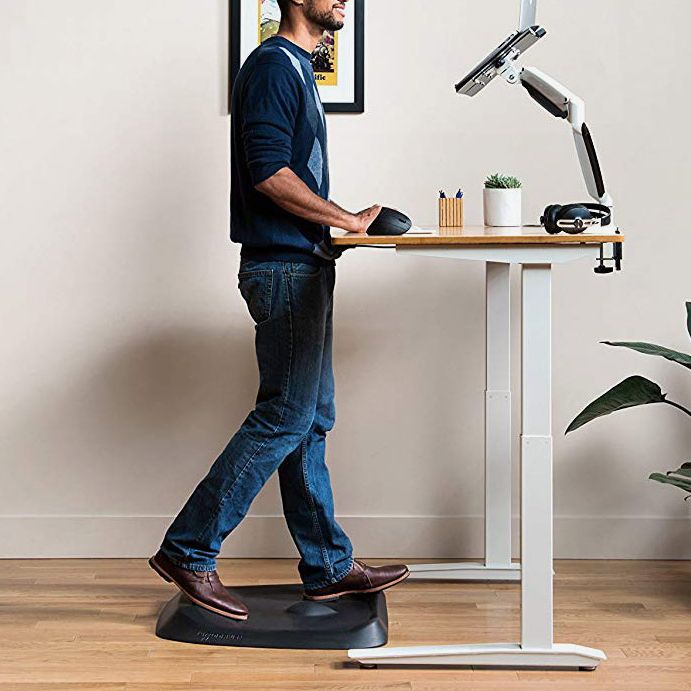 Photo: Courtesy of the retailer
Here at the Strategist, we like to think of ourselves as crazy (in the good way) about the stuff we buy, but as much as we'd like to, we can't try everything. Which is why we have People's Choice, in which we find the best-reviewed products and single out the most convincing ones. (You can learn more about our rating system and how we pick each item here.)
And while we've written about lots of standing desks before — including the best standing-desk converters, one freelance writer's favorite standing-desk converter, and the best standing desks on Amazon — here, we've rounded up the best standing-desk mats, as praised by the most enthusiastic reviewers on Amazon.
Best-rated standing-desk mat
Dozens of reviewers use heavenly analogies to describe this mat. "This anti-fatigue mat is like standing on a cloud, wearing cloud shoes; it is amazing," raves one. "I actually feel energized when using it with my standing desk." Another "was hooked" on his co-worker's standing-desk mat and eventually purchased his own. He also describes the feeling of standing on it as "like standing on clouds. This is so comfortable that it is hard to believe." Another calls it "soft as a feather," explaining, "I can stand all day at my new standing desk and not have any issues. Also helps with my plantar fascia due to the cushioning in my arch." One satisfied shopper says, "This is the Goldilocks of mats, not too hard, not too soft, and the price is absolutely right. I stood all day without even thinking about it." Lots of reviewers appreciate how balanced this mat is, including one who mentions, "It conforms to my feet similar to a nice 'memory foam' pillow made from the same material originally designed for astronauts. It is very much like standing on a firm cloud that cradles my feet in a soft but supporting mattress." One reviewer concludes, "Wow. My legs were in heaven."
Best-rated (less expensive) standing-desk mat
Many reviewers appreciate that this anti-fatigue mat relieves the pain felt from standing on uncomfortable floors. "This is one of the most supportive mats and helps relieve stress on my legs at my standing work desk. You can feel the support right away without it feeling too squishy like a marshmallow," writes one reviewer who thinks this mat "is a critical part in the success of my venture to stand most of the day." Another who has used this standing-desk mat for almost a year compares the experience to "standing on a cushion of air or cotton." Lots of reviewers comment that it's comfortable without shoes, too, like one who describes this mat as "incredibly comfortable both with and without shoes on. It especially helps me since I have a stand-up desk at work. It's actually helped so much that I've purchased three." One reviewer "immediately" detected "a major difference," noting her "legs, back, and joints felt much more relieved." Overall, she writes, "in terms of comfort, this mat is very comfortable. The mat is neither too firm nor too soft. It has a lot of cushioning and is fairly thick."
And now some micro-picks for every type of standing-desk mat you might be looking for.
Best gel standing-desk mat
The gel material of this standing-desk mat stood out for reviewers, especially those who have had less-than-positive experiences with other brands and types of gel mats. "Wow, I had no idea there was such a difference in gel mats. I've had others, and they do not measure up to this mat," raves one. Another reviewer has had the mat for "a year-plus" of "standing on it a lot" and reports that "after many wipes and washes, this gel mat is still perfect. The mat is still 'fluffy,' the edges are still nice and flat, and the color is still nice and vibrant, with no discoloration." One reviewer purchased this mat after a knee-replacement surgery because "it has been painful to stand for periods of time … These mats make all the difference." Another reviewer was simply "amazed": "I didn't know how hard the floor really was until I purchased these floor mats. Standing on them is like standing on a cloud and so much better than what I had."
Best anti-fatigue standing-desk mat
Customers who stand for long periods of time describe this mat as their solution to back and foot pain. "It's thick, yet soft enough to distribute the weight of standing on your feet for hours at a time," says one reviewer. Another calls it "perfect for standing long hours." And many are impressed with the quality of this AmazonBasics mat, including one who writes, "I was under the impression I was going to have to spend $40+ to get a good standing-desk mat, but the value here is fantastic." One reviewer even describes it as a "premium mat" and explains, "As a person who works from home a lot, it helps a great bunch when you are at your sit-and-stand desk 13-plus hours a day. It was perfect and has been a great addition to my home office." But it's low-profile at the office, too. "It's the right size for my cubicle," one reviewer says, adding, "It definitely helps with the foot fatigue, pain, and hot spots." And as this reviewer sums it up, "Wow, what a difference this has made. I have a standing desk at work and used to only stand for an hour or two per day, since I'd be sore and tired the next day. Now, I stand all day, 5 days a week."
Best standing-desk mat for back fatigue
Lots of reviewers with back pain gave this standing-desk mat five stars. "I wish I could cover all the flooring in my house with this material," one reviewer writes without irony, explaining, "We have superhard cement right under our carpet and vinyl floors, and gosh, this thing is saving our backs." One says this mat is "encouraging me to stand at my desk (when otherwise I would be a lazy bum and sit the entire day) because it helps my knees and back not feel like I'm 90 years old (I'm only 30)." A few even forget how long they've been standing when using it, like one who describes it as "so squishy," and writes, "I find that it's really helped with the fatigue. Most days I don't even notice that I've been standing for hou