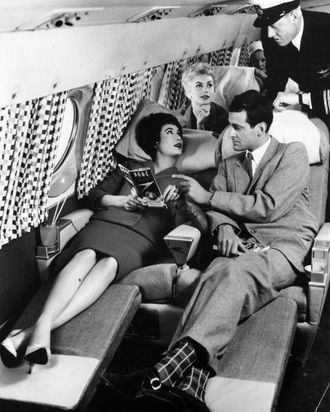 Photo: Douglas Miller/Getty Images
You've tried packing cubes and rolling your shirts up Marie Kondo–style and yet, most likely, all your clothes still come out of your suitcase wrinkled when you reach your destination. Or maybe you have an important meeting right after landing, and your once-polished outfit looks rumpled after hours in economy. Like other travel dilemmas — finding a bag that'll fit under the seat in front of you or trying to sleep on a transcontinental flight — arriving with a suitcase full of wrinkly clothes can be solved. To avoid pricey hotel dry-cleaning services, or risky sessions with your in-room ironing board, we asked nine women in the travel business to recommend the best pieces to wear and pack while you're away.
Best wrinkle-free pants for travel
For travel pants that are comfortable, stylish and low-maintenance, Jeralyn Gerba, co-founder and editorial director of Fathom, likes easy pieces from Eileen Fisher. "She's known for researching and developing materials that are responsible, sustainable, and high-performance while also being crazy chic," says Gerba. "I love her uncrushable Tencel, a tree fiber textile produced with near zero waste — the drawstring pants and blazers look really good after long-haul flights." The adjustable drawstring allows for in-flight comfort while the textured crepe lends them a sophisticated look.
A similar pair at a lower price point, these slim, drawstring pants are a favorite of Sarah Corsa, a trip designer at Journy. She likes that they're "lightweight and rarely wrinkle." Gerba also looks to Athleta for "casual basics with the occasional flair," and says their athleisure pieces offer "a nice alternative to the straight-up sweats uniform" while traveling.
Outdoor Voices, makers of our favorite "sleek and tailored" sweatpants, are another frequent flier go-to for easy-to-wear pieces that'll look fresh after a long journey. Journy co-founder Leiti Hsu, calls the RekTrek pants "the ultimate in comfort." She says they "stay crisp from laundry cycle to laundry cycle" and "look way more pulled-together than yoga pants."
"I have a few pairs of stretchy but tailored trousers from The Row that are incredibly comfortable and easy to pack," says Jen Rubio, co-founder and chief-brand officer of Away. They'll give an outfit more polish than a jogger-type pant while still being wrinkle-resistant and non-constricting on long flights. Rubio says she'll pair hers with a T-shirt and leather jacket.
Based in San Francisco, the clothing start-up Betabrand sells pieces based on crowd-sourced designs, like these trouser-style pants that come highly recommended by Larissa Hayden, deputy director of events at Atlas Obscura. She likes that they're crafted "with comfort, durability, and professionalism in mind," and have all the comfort of stretchy sweats.
Best wrinkle-free leggings for travel
If you'd rather go the leggings route, Melissa Hie of Girl Eat World swears these jeggings "look exactly like jeans but are very stretchy and comfortable like leggings." She says, "I would just pair this with a comfortable button-up shirt if I need to look somewhat put together straight off the plane."
For leggings that can be dressed up, Hsu likes this expensive-looking (but actually quite affordable) faux-leather pair. "Tuck them in your carry-on for a sexy go-to that [can go from] day to dinner in any city," she says. "They're secretly lined with cozy fleece on the inside; all the better to brave your next winter dining adventure."
Best wrinkle-free tops for travel