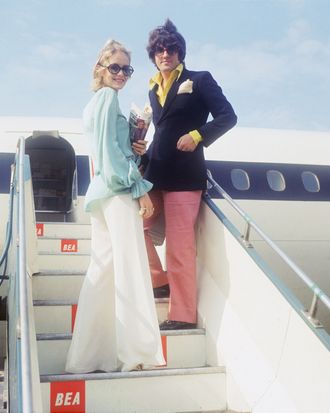 Twiggy's wide-leg pants look comfortable.
Photo: Keystone/Getty Images
Sitting in an airplane seat is never particularly comfortable, and it's only gotten more cramped over time: Airplane seats have continued to shrink in width and legroom in recent decades, which helps explain why passengers often show up for flights in leggings and sweatshirts — cozy, but not exactly sartorial, outfits.
Nonetheless, there are actually some stealthily stylish and comfortable pants out there, perfect for frigid planes and the germy seats you sit in before and during a flight. As a companion to our guide to the best travel shoes, we asked frequent travelers who work in fashion — designers, stylists, and writers — to share their go-to pants for flights, absurd delays, and whatever else the sometimes-hellish journey of getting from point A to point B throws at you.
Despite what we just said about wearing sweats on a plane, several of our frequent travelers told us about the good-looking joggers that they often put on for long flights. There are a great many to choose from, starting with these cashmere Everlane joggers. As Denise Lee, founder of activewear brand Alala, explains, "Cashmere actually regulates temperature really well, which is key when dealing with the unpredictable air-conditioning on airplanes."
If you want to splurge on a really nice pair, we also like the dip-dyed drawstrings on this Tory Burch pair.
Merino wool will also keep you warm on frigid flights, and as a bonus, it's also a breathable and odor-repelling material. "The slim fit on these gives them a cool look, but they're just as comfortable as your old-school university sweats," says Sophie Kahn, co-founder of jewelry brand AUrate, of this pair emblazoned with a pair of lips.
Photo: 18-05-22 nicolepollard AM1 B6 raypfeiffer W
For a more statement-making (read: not black, navy, or gray) pair of joggers, go for a pattern and a cut that's slouchy but not schlubby. "Printed jogger pants give you comfort and style all in one," says Caroline Maguire, Shopbop's fashion director, of this vibrant Tibi version, which gets "extra comfort points for being high-waisted," she says. The bright floral pattern is cheery, but isn't too garishly bright, thanks to the navy background; plus, the paper-bag waist is super flattering.
For something a little more muted, but still in silk, these pastel-pink joggers would look equally put-together.
A close cousin of the go-to track pants: fancy track pants. "When I find something I like, I tend to go overboard and get the item in every color. Such was the case with these track pants," says Felicity Sargent, stylist and writer, of this pair from Isabel Marant. "They're cropped, making them look as great with a slide as they do with a sneak, and they're high-waisted with a drawstring, so you can adjust to your comfort." Sargent pairs these with vintage T-shirts when traveling. She has also spilled red wine on one of her (multiple, that's how much she likes them) pairs, and says it came out in the wash at home.
You could also go for a more ostentatious, logo-striped pair in bright pink, like Kahn. "If you're up for a bit more spunk and some yummy velour, these pants will do just the trick; they make me want to fall asleep when I wear them," she says of these Opening Ceremony pants, which have an elastic waistband. She likes to style them with a white tee and blazer.
If the bubblegum shade is too aggressive, the black ones are currently on sale.
This white pair from hip Danish label Ganni has a faint floral print and a double tuxedo stripe on the sides.
Connie Wang, senior features writer at Refinery29, opts for thick sweatpants with an elastic waistband, like these Adidas styles. "Drawstrings and gathered stretch waists end up digging into my torso on long flights," she says. "I also like a thick fabric that won't show panty line because thongs on a plane are a form of torture."
And here's a similar pair with a wide elastic band (no drawstrings) and a straight-leg, trouserlike cut. And these are on sale!
One more for those counting at home: This is one of Adidas's most classic track-pants styles.
Aritzia really excels at travel-ready pants, says stylist and writer Felicity Sargent, who dubs it "the master-life-hacking-maker of slacks that feel like sweats," with her favorite being this cropped pair. "They have sneaky, invisible elastic bands on the sides, making them super comfy, and they have great slit pockets and are on the low-rise side, which makes them feel fun and '90s. "They're also, in my experience, though not advertised as such, wrinkle-free," she says. For quickly dressing them up upon landing, add a black cami, mules, and some gold accent jewelry, Sargent suggests.
Not surprisingly, Everlane being Everlane, it makes a similar kind of track-pants-office trouser hybrid, also with a stretchy waist. It's currently in Everlane's "Choose What You Pay" section, which just means it's on sale.