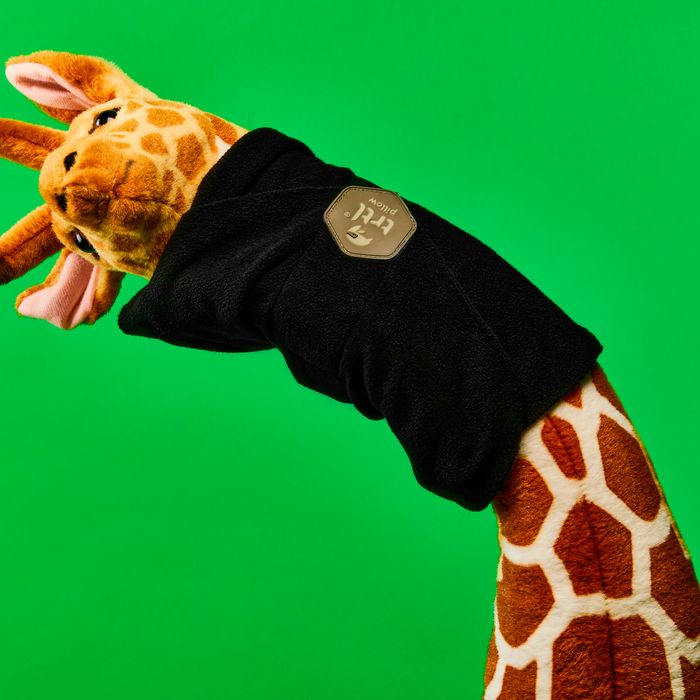 As a seasoned travel writer (and traveler), I will not board a plane or train (or many automobiles) without a travel pillow. It doesn't matter if I'm going across the country to visit my parents or across the world on vacation, I have no interest in the inevitable slump that comes with an airplane seat.
But travel pillows can be a mixed bag. There are the cheap ones the airlines give you when boarding, status neck pillows, and even travel pillows for your entire head. For example, if I'm traveling with minimal luggage, I want a travel pillow that's easy to pack down. And if I'm traveling on a low-budget airline, I might consider a lumbar support travel pillow, as well as a traditional neck travel pillow. To surface the best travel pillows for every type of journey, I interviewed 16 picky people who log a lot of miles, including two chiropractors and a spine surgeon, to find comfortable, safe, and supportive options. I then tested their recommendations on dozens of trips, from short hops on the Eurostar from London to Paris, to super-long-haul flights. Read on for my favorite travel pillow overall — which genuinely helped me beat jet lag when I traveled from London to Seoul — as well as picks that even made traveling in the dreaded middle seat a smooth experience.
Best travel pillow overall
Shape: Neck pillow | Fill: No fill | Thickness: Thin | Easy to pack
This travel neck pillow is not the traditional U-shape; it has no fill and is very thin, but it still takes the top spot on my list. It had the most recommendations from our experts, which is what gave me the confidence to test it out during a 12-hour flight to Seoul. I was a bit perplexed by its appearance initially, but writer Lauren Schwartzberg explained that it achieves the main goal of a neck pillow — which is to prevent lateral bending in the neck — thanks to the plastic brace stowed inside a padded scarf. The brace is only in one part of the pillow, but you can adjust it "so you'll have to choose which side you prefer nodding off toward," Schwartzberg explains.
The first time I tested out the Trtl, I was out like a light. The brace's angle hits just right: There is no sloping so much that your neck bends unnaturally, but it's supportive enough for you to relax into a decent sleep. Editor at Pack Hacker Lauren Maternowski's promise that I would be able to "fully lean against the seat's headrest," was completely true.
Former Strategist staffer Rosie Percy also found that with the adjustable Trtl she was "able to sleep through a flight for the first time in my adult life, touching down feeling refreshed and without a crick in my neck." And the Points Guy's travel editor, Madison Blancaflor, told me, "It's the only way I can survive long-haul flights in economy." Scott Keyes of Going (formerly known as Scott's Cheap Flights) also echoes their praise: "What I like about it is its versatility. It lets you sleep decently even if you're in the middle seat, and this one is small enough to easily tuck into your backpack."
Thanks to the great reviews from people who don't usually even use travel pillows (I'm including myself in this), as well as those who've tested out a lot to find their favorite, I'm firmly naming the Trtl the best travel pillow overall.
Best memory-foam travel neck pillow
Shape: Neck pillow | Fill: Memory foam | Thickness: 5 inches | Easy to pack
A more traditional travel pillow is this version from Cabeau. It's a U-shaped neck pillow with a thick padding of memory foam for firm support. The back of the neck squares off a bit, which is ideal for keeping your neck in line with the back of the seat. "Ultimately it needs to be flush with the chair," says Fitzpatrick. "Your spine needs to be flush with the chair, and that'll be more comfortable and safer for you." She says this is especially true for people with a straighter spine. This pillow additionally has a strap that attaches to the back of the headrest to help you stay up straight even more. If you do flop to the front, Arnold says this pillow keeps your jaw supported. "You won't be caught open-mouth breathing, which is, one, not very attractive and, two, dehydrating," she says. Carmen Sognovi, who blogs about her family's travels, always gets jolted awake when her head drops forward as she sleeps on a plane. She wears this pillow "the 'wrong' way around with the ends of the U shape at the back of my neck. That way my chin is always supported and I don't get awoken by these head drops," she says. Unfortunately, the Cabeau takes up more space than the Trtl, but it is still fairly easy to carry. It comes with a bag that compresses it to half its size, and you can use the bag's strap to fasten the pillow to your carry-on.
Best bead-filled travel neck pillow
Shape: Neck pillow | Fill: Polystyrene beads | Thickness: 6.3 inches | Easy to pack
This Muji pillow is over an inch taller than the Cabeau, but because it's filled with polystyrene beads — the same stuff they put in bean bag chairs — it's not as firm, which is appealing if you want to sink in a little deeper. Stella Shon, a writer at The Points Guy, confirms that this pillow is less rigid than the memory-foam options, which she prefers. "Muji has crafted the perfect neck pillow," she says. "It's low profile, completely plush, and best of all, it's Martha Stewart approved!" Stewart said in an interview with the Points Guy Brian Kelly that Muji's neck pillows are the best. In addition to the minimalist look, "They really do offer the support you need," she says. "They're covered with a nice jerseylike material instead of fattener." Shon also appreciates the clip that makes it somewhat adjustable. The same clips can be used easily to secure the pillow to a bag.
Best inflatable travel lumbar pillow
Shape: Lumbar pillow | Fill: Inflatable | Thickness: 2 inches | Easy to pack
Inflatable travel pillows are arguably the easiest to travel with. Yes, you have to blow them up, but they are the most compact when deflated, which makes them the easiest to pack. The Travel Pal, a favorite of Hoffman's, is a lumbar pillow that grows to two inches thick once it's inflated. He thinks that low-back support, which you don't get in an airplane seat, is crucial. He says that a lot of plane seats curve in where they actually should curve out in the lumbar area. Supporting that low-back curve is so important because it reduces stress on the joints and discs of your low back, and this pillow helps with that. Dr. Hoffman not only recommends it to patients, but says "this I have used personally and I think it's one of the best products I've come across."
Best inflatable travel neck pillow
Neck pillows come in inflatable options too. From the same brand as our favorite memory-foam pillow, this Cabeau inflates to five inches thick, but is just the size of a soda can when deflated. Just like the memory-foam pillow, this one has a flat back to help keep your neck in line with the seat, but it has the addition of a tiered structure and a neck strap to keep your head super-stable. "They are a bit higher than most neck pillows and have a special toggle you can connect and tighten so the pillow doesn't fall off," says Jennifer Lachs of Digital Nomad Girls. Lachs admits that the memory-foam pillow above is "even more comfortable," but the inflatable is better if you want to travel light. Initially I thought that inflatable was synonymous with adjustable — the more air you put in the taller it will be and less air will make it less firm — but Fischer said it's a bad idea to not fill up these pillows all the way, as that's not how they were designed to be used.
Best convertible travel pillow
Shape: Neck and lumbar pillow | Fill: Not listed | Thickness: 2 inches | Average packability
If you aren't exactly sure if you'll need neck support or lumbar support, a convertible pillow like this might be your best bet. This neck pillow folds up into a square-shaped pillow that can then be used on your lower back or up against a window. "It's super-comfy, and it folds into a pocket," says Taryn White of The Trip Wish List. "We all know that airplanes and airports are not very clean, so being able to keep the pillow from coming into contact with tons of germs was a huge selling point." It has a less convenient hook (compared to a strap) to secure it to your luggage, but the snaps that close the front of the pillow provide another option for strapping it on. The detail White is more concerned with is the storage. She says, "It has pockets in which I can store earbuds, gum, and mints." The fill used in this travel pillow is not listed, but according to one Bed Bath & Beyond reviewer it's "firm but not too hard for me & my aching neck."
Best travel pillow for the middle seat
Shape: Neck pillow | Fill: Inflatable | Thickness: 3.5 inches | Easy to Pack
On a recent flight to Italy, I chose the dreaded middle seat on purpose to see how well the Travelrest really works. The inflatable pillow is worn like a sash, and it gives you something to loll your head against (apart from the person sitting next to you.)  "I'm obsessed with this hideous inflatable golf club," says travel writer Teddy Minford, who first told us about the unique travel pillow. "It creates something to lean against, even if you're in the middle seat." After testing it, I agree with Minford that the pillow gives you something to rest your head against — and I successfully managed to get a few hours of sleep on my early flight. However, I'm not a middle-seat convert just yet. I still felt myself sloping a little towards the side I was resting on. I was overall impressed with how much the pillow improved the usually uncomfortable experience of middle seating, though, and it was super easy to transport: When deflated, it rolls up to the size of an iPhone.
Best travel pillow for the window seat
Shape: Head and neck pillow | Fill: Polyester filling | Thickness: 3 inches | Average packability
Mercedes Arielle is a window-seat person and says the J-Pillow is best at cradling her head, shoulder, and chin on flights. As someone who favors the window seat myself, I knew I had to try it. It's almost claw shaped, with a main body that supports the crook of your neck and a cushion extending below the chin to stop your head sliding forward. For Arielle, that three-pronged support is essential "because I rest my head against the window so I can maximize every inch of my window seat." I particularly liked how the chin cushion didn't extend too far around the neck (as I mentioned above, the usual doughnut-shaped pillows make me feel as though I'm being choked), and the main body of the pillow opened up in a V-shape so I could really wedge my head inside. The material felt more luxurious than the average travel pillow too — it had a fleecy lining that you can nuzzle down into. Although I love my Trtl, the J-Pillow has become my go-to for train journeys. It's so cushy that it absorbs the vibrations and rattles that usually keep me awake during a train journey — meaning I can properly snooze. It's also rather handy: You can compress the pillow to half its size in a carry bag, then use its loops to attach it to your luggage.
Best travel pillow for tray-table sleeping
Shape: Head pillow | Fill: Polystyrene microbeads | Thickness: Not listed | Not easy to pack
As important as supporting the neck is, if you don't sleep on your side, a neck pillow is useless. Fitzpatrick recommends considering how you sleep when you travel and getting a pillow that accommodates that. For those who lean forward and rest their head on their neighbor's seat in front of them, or on the tray table, she recommends this pillow that's more like a helmet. It covers all sides, including the forehead, so it can be used in a number of situations. There is a hole for your mouth so you can breathe, but otherwise it's a pillow, an eye mask, and noise-canceling headphones all in one. Once out of the box, there is no indication that this pillow will compress again, making it very difficult to travel with.
Best pillow for traveling with kids
Shape: Neck pillow | Fill: Polyester filling | Thickness: Not listed | Easy to pack
Writer and mum of one Chantel Tattoli says this Huzi pillow has an almost mystical effect on her daughter on long flights. "Generally, she seems to accord a magical 'fairy-ring' quality to this fluffy circle, as if once she's thrown it over her, she's staked some space in which things are pretty good," she says. The pillow, like an extremely plush scarf, can wrap around your neck or lower back — or even both at the same time — to create a highly customized, optimum sleeping position. For this reason, it's a great pick for those with scoliosis, too. "Even mild scoliosis can affect your comfortable position in a tight seat," says Fitzpatrick. "The adjustable lemniscate-type pillows can be good for this." Wearing it through the airport like a scarf also makes it easy to carry, but if you'd rather throw it in your bag, it rolls up neatly into a little ball.
Some more travel pillows we've written about
• Mercedes Arielle, fashion and travel blogger at Calculated Opulence
• Wainani Arnold, founder of the Wainani Wellness Center and in-flight wellness expert for Hawaiian Airlines
• Dr. Carla Fischer, director of quality and patient safety at NYU Langone Spine Center
• Dr. Claire Fitzpatrick, founder of Bed-Stuy Chiropractic
• Dr. Jared Hoffman, Williamsburg Chiropractic
• Scott Keyes, Going (formerly Scott's Cheap Flights)
• Jennifer Lachs, founder of Digital Nomad Girls
• Kat Lopez, freelance writer
• Lauren Maternowski, editor at Pack Hacker
• Teddy Minford, travel writer
• Rosie Percy, former Strategist associate director of e-commerce-audience-development strategy
• Dr. Rebecca Robbins, sleep specialist and Harvard Medical School instructor
• Stella Shon, writer at The Points Guy
• Carmen Sognovi, travel blogger
• Chantel Tattoli, freelance writer
• Taryn White, founder of The Trip Wish List
The Strategist is designed to surface the most useful, expert recommendations for things to buy across the vast e-commerce landscape. Some of our latest conquests include the best acne treatments, rolling luggage, pillows for side sleepers, natural anxiety remedies, and bath towels. We update links when possible, but note that deals can expire and all prices are subject to change.
Every editorial product is independently selected. If you buy something through our links, New York may earn an affiliate commission.