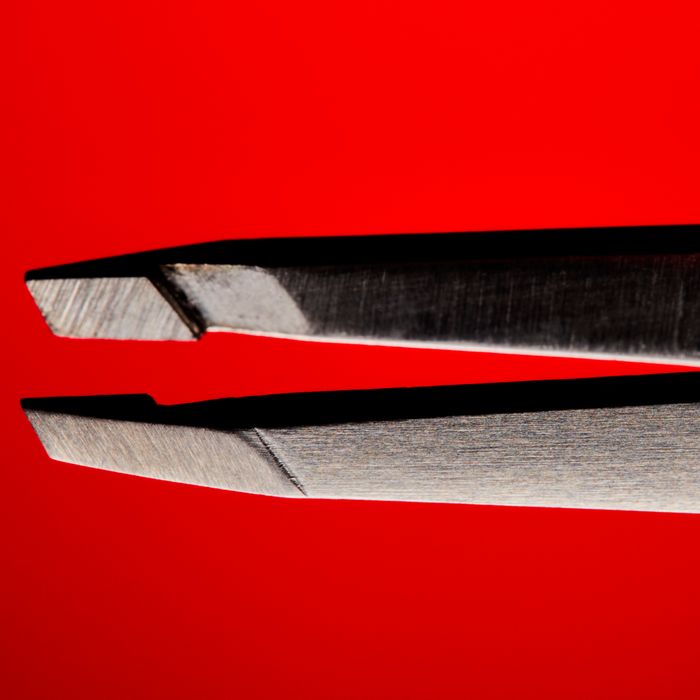 A set of tweezers is something I always have in my makeup bag. I use them to maintain my groomed bushy brows and pluck those errant face hairs that bug me. After years of going through cheap drugstore brands, I finally learned that the right pair of tweezers is worth the investment. It makes plucking less painful and more precise, and they cost less in the long run. Ideally, tweezers should "last a lifetime, like a timeless Japanese knife," says Chanel eyebrow artist Jimena Garcia. Below, you'll find eight tweezers (plus one coil hair remover) recommended by our panel of experts for eyebrow shaping and maintenance, facial hair, and ingrown hairs. Or you can jump to whatever type of tweezers you're looking for using the table of contents.
Tweezers come in a variety of shapes and sizes. It's worth noting that all of the listed tweezers are the standard size (4.25 to 5.5 inches) because mini ones don't actually make plucking any easier or more efficient. As far as shape goes, the tips of tweezers tend to vary. The most common one you've probably seen are slant tweezers, but there are also point, flat, and round tweezers, as well. With the exception of round tweezers, it's important that the edges of your tweezers are as sharp as possible. This ensures that the tool can easily grab and hold hairs well enough to pluck without any breakage or slippage. The worst thing is when you have to pull an eyebrow hair over and over again just for it to break in half. Other things to look for are properly aligned tips and a bit of scuffing on the inside, both of which affect how the tweezers grip hair.
Tweezers should be made with material that's hypoallergenic, rust resistant, and easy to maintain. Stainless steel is your best bet, but you can also go for titanium tweezers. Some tweezers are brushed or coated in paint, mainly to add to its appearance, but just be sure that the tip itself is stainless steel or titanium to avoid skin irritation and ensure longevity.
Sharpening Policy or Warranty
Even the best of tweezers dull over time making it much harder to grab hair quickly and precisely. Tina Lowitt, esthetician and owner of The Wild Kind Beauty, recommends following the grain of your tweezers with an emery board five to ten times to sharpen your tweezers at home. And be sure to store tweezers properly to keep them sharper for longer, says Alix Shapiro, co-host of True Beauty Brooklyn Podcast. Place the little plastic shield back on the tip when you're finished plucking, and don't leave tweezers in liquid for a prolonged period of time.
We also found that Tweezerman offers a lifetime sharpening service for most of their tweezers. Just fill out their online form, package up and send out your tweezers, and you should receive your freshly sharpened tweezers in about three to four months. Other companies may offer some sort of money-back warranty, which we've also noted.
Best overall tweezers
Tip: Slant | Material: Stainless Steel | Sharpening Policy or Warranty: Sharpening service
I finally replaced my dull, years-old drugstore tweezer with this Tweezerman at the end of 2021. It can perform almost any hair-plucking job with ease. I keep my eyebrows on the natural side but like to clean up my arch every now and then. I used to struggle to grab short, wispy hairs (or, even worse, I'd accidentally pluck a perfectly in-place hair). But I don't have that issue anymore because this tweezer is precise. Its slanted tip is ideal for lifting hair away from the skin before you pull out the strand, which Fisher says is "extremely important for precision" and lets you get closer to the base, which means the hair will be less likely to break when you pull. Rebecca Hoffman, owner of Bespoke Brows NYC, adds that the slanted edge makes it less likely that you'll pinch yourself while tweezing. "You can also angle it to just use the pointy edge of the tool for really stubborn hairs," she says.
While Tweezerman may be pricey for a drugstore tweezer, it's actually much more affordable than other professional-grade tweezers. Rubis, another brand with a cult following, has a more expensive slant tweezer that was touted by our experts, but Tweezerman's beats it out because of the lower price and lifetime of free sharpening.
Best tweezers for eyebrows
Tip: Slant | Material: Stainless steel titanium gold coated | Sharpening Policy or Warranty: None
If your main concern is shaping pristine eyebrows, opt for these slightly more expensive Tweezerman tweezers. Both Elizabeth Taylor and Alix Shapiro, hosts of True Beauty Brooklyn Podcast, use them at True Beauty Brooklyn, which Taylor is the owner of and Shapiro is an esthetician at. Shapiro notes that they're "a little sharper [than the Slant Tweezers], thus grabbing hair better and faster." Lara Kaiser, an esthetician at Shen Beauty, also prefers them because they "easily grab all the little fine hairs and are just perfection," she says. When I tested them against the Slant Tweezers, I noticed that they grabbed those super fine vellus hairs better, and I rarely had to go over the same hairs twice.
Rather than being made out of plain stainless steel, these are coated in titanium gold. This not only makes them look a bit more luxurious, but this is supposed to make them last longer, too. The downside with the tweezers being coated is that it means Tweezerman's sharpening service doesn't apply, which is also why these didn't come out as the best overall pick. Instead, the company will provide a 50 percent off coupon for your next purchase in lieu of the service.
Best tweezer kit
Tip: Point and Slant | Material: Stainless steel | Sharpening Policy or Warranty: Neither
For a good all-in-one kit, Oscar-winning costume designer Ruth E. Carter pointed us to Tweezerman's brow-shaping set, which she uses for maintaining her natural brow shape. It comes with the brand's travel-size slant tweezer and pointed tweezer, as well as a mini angled brow brush and spoolie. The entire set costs less than most of the tweezers listed here, so you're getting a great deal and not sacrificing quality. Both tweezers in the set, while marketed as "travel size," measure 6.25 inches in length, meaning they'll fit comfortably in your hand. Note, though, that the Tweezerman lifetime-sharpening service doesn't apply here, so it could be a potential downside.
Best tweezers for ingrown hairs
Tip: Point | Material: Stainless steel | Sharpening Policy or Warranty: 14-Day warranty
Before you tackle an ingrown hair, it's important to treat the area first. That means cleansing, exfoliating (chemically or physically), and hydrating the skin before even reaching for a tweezer. Once you've done that, a point tweezer is going to be the most effective at grabbing an ingrown without causing as much damage as a slant or flat tip tweezer. These particular tweezers from the Swiss brand Rubis are recommended by Ania Siemieniaka, the manager and owner of the spa Freckle. "If we're talking about the hair that is partially hiding beneath the skin, this is the tool to get it out," she says. These stainless steel ones are, in her opinion, "probably the sharpest and narrowest pointed-tip tweezers out there, so be careful and maybe don't use it for your facial hair."
While Rubis's tweezers are the most expensive of the bunch, some experts are enthusiastic about the quality. Jimena, who's tried both Tweezerman and Rubis, appreciates "the history and craftsmanship Rubis represents." And Lowitt, who prefers the brand's Pro Grip tweezers for ingrowns, says, "The higher price point is just completely warranted in terms of durability and longevity of sharpness."
Best (less-expensive) tweezers for ingrown hairs
Tip: Point | Material: Stainless steel | Sharpening Policy or Warranty: Sharpening service
Taylor and Shapiro highly advise people with ingrowns to see a professional, but if someone needs to do it at home, they recommend cleansing and exfoliating your skin first. Taylor explains it's important to "hold the skin very taut" when you're dealing with ingrowns. "What you don't want to do is dig into your skin. You want to try to allow the hair to release in some way so that you can just grab the tip of it and pull it out," she says. Both of them recommend Tweezerman's Point Tweezers because they're stainless steel and provide a nice grip. When I tested tweezers myself, I actually preferred Tweezerman's Point Tip Tweezers because they have all of the mentioned qualities as the Point Tweezers but with a slightly wider body. That extra width gives you more control as you pluck, which I imagine would come handy when dealing with ingrowns. Since these aren't coated, you can also send them to Tweezerman for their lifetime sharpening service.
Best tweezers for coarse hair
Tip: Flat | Material: Stainless steel | Sharpening Policy or Warranty: 14-Day warranty
If you're dealing with more stubborn hairs, both Lowitt and Garcia recommend Rubis's Crab Universal Tweezers. "There's something about the angle of the crab claw that allows for even grip for coarser, more stubborn body hairs," says Lowitt who also notes that there's less breakage with these. Another benefit to the shape of the crab tweezers is that it "provides you with the ability to remove hair in difficult to see or hard to reach areas such as underneath the chin," says Garcia.
Best less-expensive tweezers for coarse hair
Tip: Slanted | Material: Stainless steel | Sharpening Policy or Warranty: Neither
Siemieniaka calls these tweezers from Anastasia Beverly Hills — a company founded by aesthetician Anastasia Soare, who made her name in Los Angeles by tweezing celebrities' eyebrows to golden-ratio perfection — an "all-around favorite." That's because these stainless-steel tweezers "have a slightly slanted tip that is perfect for facial hair (if you've noticed some chin 'adornments' lately), eyebrow grooming, and big-toe plucking, for those 'too late to wax, but refuse to shave' situations." Beauty columnist Rio Viera-Newton especially likes them for her "superthick, coarse" brow hairs, because they "always manage to pull out even the peskiest, grippiest, and hardest-to-grab hairs."
Best safety tweezers
Tip: Round | Material: Stainless steel | Sharpening Policy or Warranty: 14-Day warranty
"Round-tip tweezers are a good option for people with a lack of mobility, with a tremor, and for beginners," says Garcia. These Rubis round-tip tweezers provide an element of safety since they're not sharp enough to hurt yourself. While they're not as precise as slant or point tweezers, Garcia reassures that they still have the excellent grip and calibrated tension that Rubis is known for.
Bonus: Best coil hair remover
I'm someone who likes getting their whole face threaded but doesn't like shelling out $30 or more for every visit. I've tried learning how to thread myself with no success, so I was happy to find this coil hair remover. It's extremely easy to use, and it plucks out peach fuzz and baby hair fast. Kaiser is also a fan of this "little springy device" for getting rid of facial hair. It's not technically a tweezer, but, as Kaiser explains, "this is sort of like at-home threading. Hurts, but does the job much more quickly than tweezing. It's not to be used on the brows because it's not precise. You just twist the handles until you're smooth."
Some more hair removal tools we've written about
• Tammy Fisher, founder and CEO of Browtiste
• Jimena Garcia, Chanel eyebrow artist
• Rebecca Hoffman, owner of Bespoke Brows NYC
• Lara Kaiser, aesthetician at Shen Beauty
• Tina Lowitt, aesthetician and owner of The Wild Kind Beauty
• Alix Shapiro, co-host of True Beauty Brooklyn Podcast and aesthetician at True Beauty Brooklyn
• Elizabeth Taylor, co-host of True Beauty Brooklyn Podcast and owner of True Beauty Brooklyn
• Ania Siemieniaka, manager and owner of Freckle
• Rio Viera-Newton, Strategist beauty columnist
The Strategist is designed to surface the most useful, expert recommendations for things to buy across the vast e-commerce landscape. Some of our latest conquests include the best hair care essentials, whitening toothpaste, very black mascara, tinted lip balm, acne mask, magnifying mirror, and all-natural deodorant. We update links when possible, but note that deals can expire and all prices are subject to change.
Every editorial product is independently selected. If you buy something through our links, New York may earn an affiliate commission.