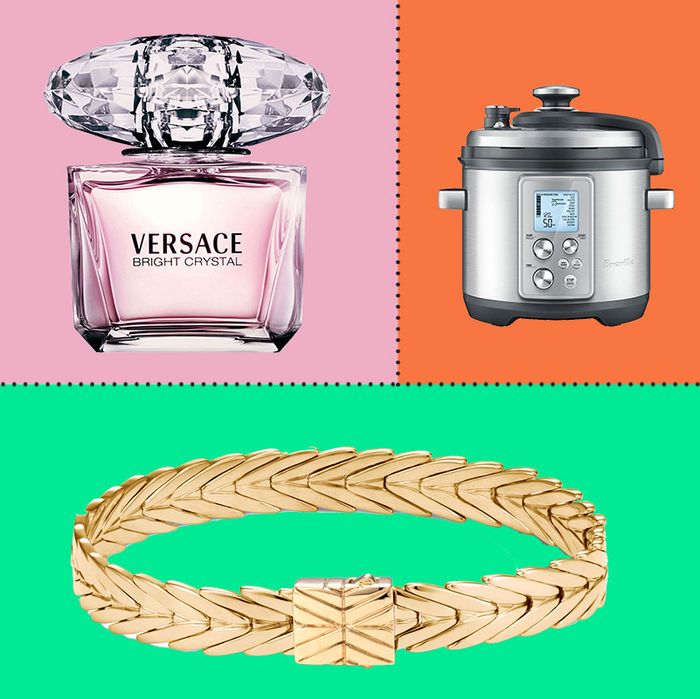 Even if you already have some ideas about what Valentine's Day gift to give the woman in your life, it can be tricky to know exactly what type of jewelry or chocolate or even giant teddy bear she really wants. To make things a little easier, and help you find the best Valentine's Day gift for her, we talked with 13 New York City women about the gifts they actually want to receive this Valentine's Day — all of which are readily available for purchase online, yet are still more thoughtful than a box of candy from the drugstore.
"I love curling up with something lovely to read in the winter, so an issue of a favorite magazine or a book of poetry would be a sweet surprise. My husband and I had a beautiful Jalaluddin Rumi poem, 'A Moment of Happiness,' as a reading at our wedding, so a collection of Rumi poems would also be a nice gift. That said, my favorite gifts from my husband are more personal, and last year he sent me big white lilies and five sealed letters to open for the whole week, with messages and drawings inside. So I would say always present a gift with a handwritten note and a kiss." —Amelia Brown, fashion designer
"Gifts are such a funny thing these days because I feel like everyone has access to everything … Honestly, on Valentine's Day, what I'd like more than anything is for someone to arrange for a babysitter and take me to a quiet dinner, and drop me off for a massage beforehand. Is that so lame? I like the doTerra roll-on essential oils; they've really helped me through this winter." —Molly Guy, founder, Stone Fox Bride
"My favorite thing to do on Valentine's Day is cook a meal with someone I care about, so for me, a perfect gift is a cookbook that I can use to make a great meal or fun dessert. If I didn't already have Alison Roman's book Dining In or Sweet by Yotam Ottolenghi and Helen Goh, they'd be at the top of my list. I'd also be thrilled with a big bar of very dark chocolate, like Chocolove's Extra Strong." —Rebecca Firkser, culinary editor, Extra Crispy
"I am allergic to fake metal, and my fiancé has been giving me one piece of delicate yellow-gold jewelry at a time for the last few years. I wear these pieces almost every day. There was an artsy snaky earring; a thin opal, stackable ring; a twisted gold, stacked ring; a watch with a note engraved on the inside, and most recently, an engagement ring. I wasn't anticipating how often I would wear everything together, but I love looking down at my hands while I type at work, and can see physical evidence of how long we have been together. I also know I'll wear almost all of it to our wedding in October. For Valentine's Day, I would love to add to the mix with a pair of Catbird's gold earrings, like the gold tomboy studs, or the yellow-gold Ballerina Bracelet." —Arielle Feldshon, lawyer
"I cook and eat for a living, so I always want kitchen stuff above all else. (I'm the nerd who asked her parents for a Vitamix for Christmas while my siblings got iPhones.) Right now, everyone is so into the Instant Pot, but if I were going to commit to a new appliance, I'd want the best version. Serious Eats called Breville's Fast Slow Pro the 'Cadillac of pressure cookers,' so I'm going to hold out for that one. Nothing says 'romantic' like the ability to cook everything more quickly." —Ali Rosen, host, Potluck With Ali; author, Bring It!
"I love Versace Bright Crystal. It's my signature. It's been my go-to for over five years. My boyfriend, Erick, loves it, too. Besides flowers, I would love this as a gift!" —Glori Ovalle, freelance floral and prop stylist
"I'd love round-trip tickets to Rome, Italy. My partner and I are obsessed with pasta; we eat it at least once a week in New York. Italy has always been on my wish list of places to visit, and after seeing it in Aziz Ansari's Master of None, it reinforced my desire to go. I love investing my money into new experiences, and I believe traveling with your partner is one of the best ways to test and strengthen your relationship. We're planning a trip to Rome this year, but until then, we can get creative and learn a new skill. I'd love this Imperia Pasta Machine in copper so that my partner and I can make fresh pasta together." —Sahra V. Nguyen, writer; filmmaker; and co-owner, Lucy's Vietnamese Kitchen
"With my wedding coming up, I've been really into beauty products: makeup, masks, conditioning treatments. This Valentine's Day, I'd love a thoughtful gift that would help enhance my beauty routine. Some products I've been eyeing lately include SK-II Brightening and Revival Mask and La Mer's Hydrating Serum. I'm also obsessed with Dior's Glow Collection, so anything from there would be awesome." —Alexa Mehraban, food and lifestyle blogger, EatingNYC