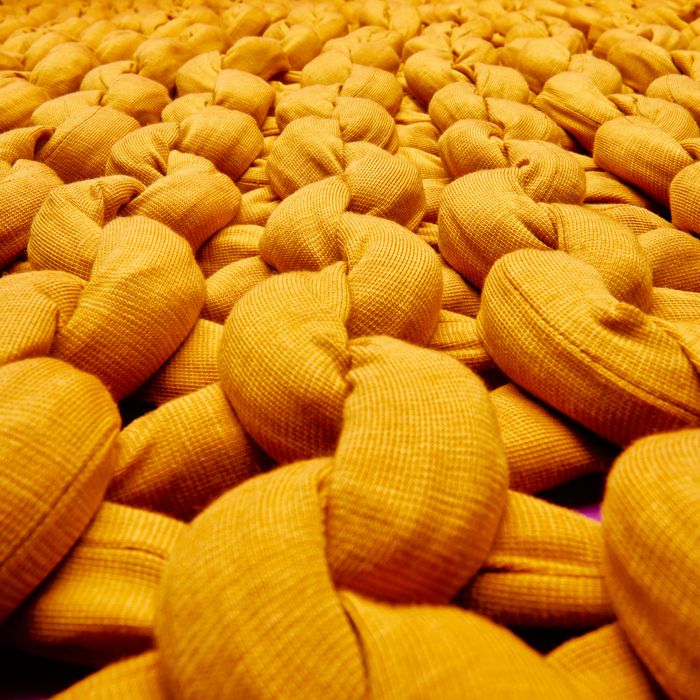 There are all kinds of reasons why people have trouble falling asleep or staying asleep, and seemingly as many ways to try to remedy sleeplessness. According to Logan Foley, a certified sleep science coach and managing editor at Sleep Foundation, weighted blankets can go a long way to support better sleep. "They can help reduce anxiety and promote feelings of relaxation, which can help you fall asleep faster," she says. These blankets weigh anywhere from 5 to 35 pounds, and the pressure they provide can put your autonomic nervous system into rest mode, which in turn reduces some symptoms of anxiety, like a rapid heart rate or heavy breathing. Plus, they're just plain comforting. As David Rubin, a certified sleep-science coach and director of product testing at the Sleep Doctor, explains it: "Weighted blankets offer evenly distributed weight, which creates a feeling of being swaddled or held in a firm hug, which can increase serotonin that influences how long and how well you sleep." But for the uninitiated, picking the best one for your sleeping style might seem a bit tricky. To help you out, I consulted 11 experts to figure out which ones you should buy and even tested a couple myself.
Weighted blankets come in a variety of different materials and knits, which we'll get to below, but the most important factor when shopping for a weighted blanket is the weight, says Foley. Dr. Raj Dasgupta, sleep specialist and clinical associate professor of medicine at the University of Southern California's Keck School of Medicine, advises buyers to choose a weighted blanket that comes in at about 8 to 12 percent of the user's body weight. Sleep specialist Dr. Brandon Peters gives this example: "For an adult who weighs 200 pounds, a 20-pound blanket would be appropriate." Any heavier and the blanket will be more uncomfortable than soothing. In our experience, most blankets weigh between 10 and 25 pounds, but occasionally you'll see a mere five-pounder or a hefty one up to 35 pounds. As Keith Cushner, the executive director of product testing at Sleep Foundation, put it, "As long as you get the weight right, you'll enjoy a weighted blanket." Relatedly, all the blankets come in a range of sizes, from ones meant for use by one person or those that can be used across a bed for two.
Much like comforters, material comes down to personal preference. Over the years, manufacturers have come out with more options in terms of colors and style, Cushner says, from knitted blankets to ones that look like standard comforters with duvet covers, so you can choose what works best for you.
Sweaty sleepers may think they'll forever be excluded from the weighted blanket club because, to state the obvious, weighted blankets are, well, a heavy layer and can feel very warm. However, there are a few out there that can actually feel cool during sleep. Made from materials like Tencel and bamboo, these versions tend to be more lightweight and temperature-regulating than their polyester or flannel counterparts. (For more specifics, I rounded up a bunch of cooling options here.)
Weighted blankets are most commonly filled with plastic, glass, or steel beads; grains; beans; or even sand. Occasionally, they have no filling and get their weight from the hefty fabric. As I wrote in the companion story on the best cooling weighted blankets, glass beads, besides being more environmentally friendly than plastic, are a bit more cooling than other fillings. Whatever the filling, to make sure it won't shift over time, it needs to be sewn into quilted squares or somehow made to stay in place. Even distribution is key to a functional weighted blanket; it won't work quite as well if all the filling falls to one end.
As far as how durable they are, Cushner says that weighted blankets "hold up as long as they look good," like any regular, non-weighted blankets. Most of them come with removable covers that can be machine-washed, and even knit blankets can, per some manufacturers, go in the laundry.
Best overall weighted blanket
Weight: 15, 20, 25 pounds | Material: Available in Tencel lyocell, organic cotton, velvet, and organic cotton-spandex blend jumbo yarn | Filling: None | Maintenance: Machine washable
Longtime Strategist readers shouldn't be surprised to find the Bearaby weighted blanket at the top of our list. It's our top choice for the best-overall cooling weighted blanket, a favorite of Strategist staffers, and even celebrity-approved. Unlike other weighted blankets, the Bearaby doesn't have a filling. Instead, it's handknit with thick, chunky layers that create the heft without added weight. And thanks to the knit construction, it's inherently breathable (and one of the few weighted blankets that you can wash as is). According to Cushner, who personally owns two Bearabys, it can be cooling, as it feels more "like a rope draped over your body as opposed to a blanket." Actress Kathryn Hahn agrees: "It's breathable and good for all seasons. I don't get so hot with it, so I can use it in the summer. I take the greatest naps of my life with this thing." And former Strategist senior writer Karen Iorio Adelson, a self-proclaimed hot sleeper, found that the smooth, loosely knit material keeps her cooler than any other weighted blanket she has tried, "while still making me feel enveloped in its calming, soft pressure." The brand sent me a 15-pounder to test, and while I am not necessarily the target audience for a weighted blanket — I, thankfully, sleep well — I found it to be extremely comforting and calming. I put it over my comforter during the winter and felt cozy and "pressed down" in a way that instantly put me to sleep. It's admittedly hard to move around underneath it, because it's so heavy, but that contributed to a deeper sleep. I will note that it's a bit cumbersome to store and carry, so you'll want to keep that in mind.
It's arguably the best-looking weighted blanket out there, too, which is what sold it for Strategist senior editor Jen Trolio. "I was so in love with the look of this one that it was hard to consider others," she says. Trolio, who has owned the velvet one for about two years and has gifted the cotton one to her father, is now "all in" on the Bearaby. As far as maintenance goes, she says washing it is easy enough, although it takes a while to dry, and while the loops require adjusting from time to time, it's held up well. For all these reasons, Robert Pagano of Sleepline agrees that the Bearaby is the best option "if you're looking for a high-quality weighted blanket that's safe — thanks to the natural materials it's made from — and easy to care for." We've shown the Tencel version here, but it's available in cotton, upcycled polyester, or velvet in a range of muted colors that would look just as nice on your bed as it would your sofa.
Best (less-expensive) weighted blanket
Weight: 5, 7, 12, 15, 17, 20, 25, 30 pounds | Material: Cotton | Filling: Glass beads | Maintenance: Machine washable
If you're looking for a reliable, affordable weighted blanket, consider YnM's original cotton option, which is a favorite of Strategist associate editor Jenna Milliner-Waddell, who calls it a dupe for the much more expensive Gravity Blanket. It's made of seven layers and is filled with glass beads that are distributed between 4.7" x 4.7" pockets. "Using the blanket, I couldn't tell you how long it takes me to fall asleep, because I'm actually sleeping instead of having nightly staring contests with my ceiling," she says. YnM labels the blanket as cooling because of its many layers of breathable fabric and glass beads. But Milliner-Waddell clarifies, saying, "lying under it doesn't feel like an ice bath, but as someone who sleeps hot, I will say using the blanket doesn't make me any hotter, even on warmer nights." As far as durability goes, after owning it for three years, Milliner-Waddell says that it's "held up great, with no tears or staining, and all the beads are still in the right spot." It comes in a bunch of fun colors, like sky blue and avocado, and cute patterns, depending on the size, and has among the widest range of weight options to choose from. While the instructions say that the entire blanket is machine washable (it does not come with a cover), reviews on Amazon are mixed on whether that's a good idea. Your best bet would be to get a separate removable duvet cover so you have to wash the actual blanket less.
Best cotton weighted blanket
Weight: 12, 15, 20, 25 pounds | Material: Cotton | Filling: Glass beads | Maintenance: Machine washable
Baloo's weighted blanket is made with both a 100 percent cotton interior and exterior that Adelson, who tested the blanket, reported was comfortable for a hot sleeper like herself. "I felt cooler sleeping under the Baloo than most of the other blankets," she says. While not specifically labeled "cooling," the cotton material actually plays a huge part in the breathability of the Baloo. "We sleep more deeply in a cool environment. Heat loss and temperature regulation often occurs from our feet at night. This is why people may kick their feet out from under the covers at night," explains Peters, adding, "A material like cotton is more breathable, allowing for natural cooling." The blanket boasts a thin profile, further contributing to its comfort, and the glass beads help with airflow because they're not as tightly packed. It's also machine washable.
Aside from four different weights, the Baloo comes in three sizes: throw, blanket, and comforter. The throw, their best-selling size, works best for an individual or twin-size bed. If you're looking for something to cover a full-, queen-, or king-size bed, try the blanket.
Best (less-expensive) cotton weighted blanket
Weight: 5, 7, 12, 15, 17, 20, 25, 30 pounds | Material: Cotton | Filling: Glass beads | Maintenance: Hand wash
For a more affordable cotton option — that comes in as many weight options as the YnM — consider ZonLi. Former Strategist writer Chloe Anello finds it particularly durable. "After four years of constant use, it doesn't look worn, and the beads stay in place throughout the night thanks to the quilting stitches on the blanket," she says. If you're concerned about its breathability Joe Auer, the founder of sleep-product review site Mattress Clarity, thinks it's among the cooler-sleeping weighted blankets because it's made from 100 percent cotton, and the glass beads it's filled with allow for some airflow. If you want to wash the blanket, the manufacturer recommends hand-washing it or using a separate removable duvet cover.
Best velvet weighted blanket
Weight: 12 and 20 pounds | Material: Cotton velvet | Filling: Glass beads | Maintenance: Dry clean
If you're going for something a little more luxe, Cushner recommends the weighted blanket by Saatva, which makes one of our favorite mattresses. Unlike the polyester velvet you find in many other blankets, this is composed of 100 percent organic cotton velvet, lending it a more upscale feel. The diamond quilting prevents the glass bead filling from shifting, which helps keep pressure evenly distributed throughout the night. It comes in only two weights, but it's a great choice for those who would like to have something a bit more elevated that looks more like a regular blanket for their bedroom.
Best (less expensive) velvet weighted blanket
Weight: 15 and 20 pounds | Material: Polyester from recycled water bottles | Filling: Glass beads | Maintenance: Machine washable, but spot clean recommended
Here's a velvety weighted blanket that's a fraction of the price of the Saatva but still comes highly recommended by the Sleep Doctor's Rubin. It's made from polyester that's manufactured from recycled water bottles, which accounts for the lower price, but that doesn't make it any less comfortable. In fact, Rubin likes it because it's "incredibly soft and cozy," and the brand calls it "Minky." It's filled with glass beads and comes in two weights (15 and 20 pounds) with 14 duvet loops so you can secure it to your favorite duvet cover. It's machine washable, and while the instructions recommend spot cleaning, Rubin says that it "holds up well even after multiple washes."
Best bamboo weighted blanket
Weight: 5, 10, 12, 15, 17, 20 pounds | Material: Bamboo viscose | Filling: Glass beads | Maintenance: Machine washable
Here's a weighted blanket made of bamboo viscose that Ben Trapskin, founder of Sleep Sherpa, has been using for the past year. "It is one of the smoothest-feeling weighted blankets I have used," he says, thanks to the bamboo fabric cover that, according to him, "has a silky feel and helps keep you cool." The glass-bead-filled blanket incorporates layers of microfiber, which Trapskin says "gives it a more consistent feel, more like a regular blanket." The extra padding "makes it so that you don't hear the glass beads shifting when you move," he adds. Another feature he calls out is the fact that it comes with a travel case. Because of it, "It's easier to fold and put away than other weighted blankets I have used." It's machine washable, but you can buy a separate cover for added protection.
Best cooling bamboo weighted blanket
Weight: 15, 20, and 25 pounds | Material: Bamboo viscose | Filling: Glass beads | Maintenance: Dry clean
Rubin recommends Nolah's weighted blanket, which, like the Aricove above, is made from bamboo viscose. He calls it "a good value for hot sleepers," as the bamboo shell is "relatively breathable and moisture-wicking." It comes in three weights — 15, 20, and 25 pounds — and is filled with glass beads. As Rubin explains it, the combination of the bamboo cover and glass beads, which don't retain as much heat, means "You'll get the comforting sensation of the weight in the blanket without too much extra warmth."
Best starter weighted blanket
Weight: 10 pounds | Material: Polyester sherpa fleece | Filling: Glass beads | Maintenance: Machine washable
If you're curious to dip your toe in the world of weighted blankets, consider trying out a throw. Luna, which makes our favorite Lyocell cooling weighted blanket, sent me its newest product to test. It's a double-sided sherpa fleece throw that weighs ten pounds. If you didn't know it was a weighted blanket, you might not even notice that it has a bit more heft to it than your standard fuzzy coverlet, making it an ideal introduction for someone who might not be ready to commit just yet. It's plush, soft, and not too heavy, and I found it great for cuddling with on the sofa while still feeling a nice amount of pressure. It's filled with glass beads that I barely heard shifting and is easy to fold up and put away — unlike the Bearaby I tested. I will note, however, that five pounds makes a difference: The 15-pound Bearaby I tried felt significantly heavier (and more substantial) than this ten-pound throw. But those five pounds — in combination with the Bearaby's open-weave, chunky knit — make it much more cumbersome to handle. I would say that a standard glass-filled weighted blanket (like this Luna blanket and most of the other options on this list) would be the better starter choice for novice users.
Some more bedding essentials we've written about
• Karen Iorio Adelson, former Strategist senior writer
• Chloe Anello, former Strategist writer
• Joe Auer, founder of Mattress Clarity
• Keith Cushner, executive director of product testing at Sleep Foundation
• Dr. Raj Dasgupta, assistant professor of clinical medicine at the University of Southern California's Keck School of Medicine
• Logan Foley, certified sleep science coach and managing editor of Sleep Foundation
• Jenna Milliner-Waddell, Strategist associate editor
• Robert Pagano, co-founder of Sleepline
• Dr. Brandon Peters, sleep specialist
• David Rubin, director of product testing at the Sleep Doctor
• Jen Trolio, Strategist senior editor
Additional reporting by Chloe Anello
The Strategist is designed to surface the most useful, expert recommendations for things to buy across the vast e-commerce landscape. Some of our latest conquests include the best women's jeans, rolling luggage, pillows for side sleepers, ultra-flattering pants, and bath towels. We update links when possible, but note that deals can expire and all prices are subject to change.
Every editorial product is independently selected. If you buy something through our links, New York may earn an affiliate commission.