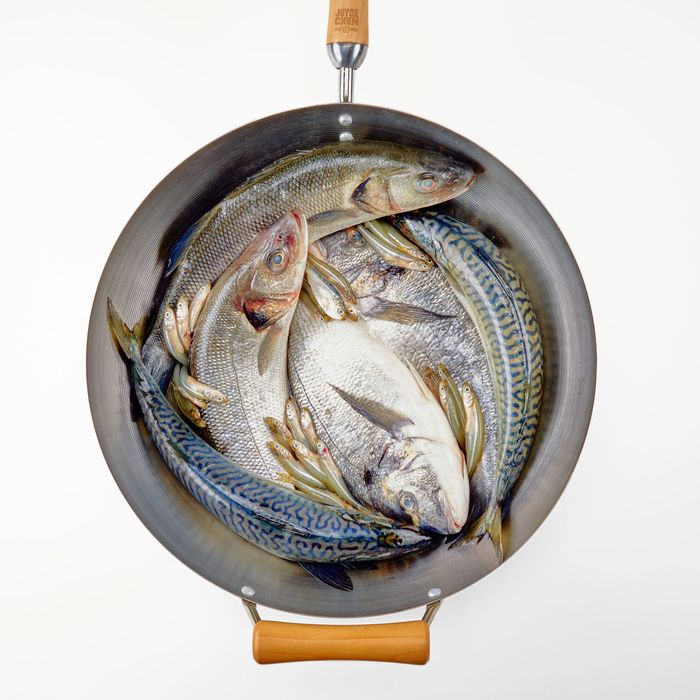 Woks can be used to steam fish, make fried rice, boil stew, and even pop popcorn — but there's a reason you see them employed most ubiquitously for stir-fries. J. Kenji López-Alt, whose most recent book is dedicated to cooking with woks, explains that while Western skillets are more concerned with heat retention, woks are built to dial in on heat reactivity. This means they get hot really fast and stay that way if you want them to — but also cool down quickly as needed. What's more, the bottom is hotter than the sides because of the V shape, further assisting each component of a given dish to get to the temperature it should be. Bottom line: Woks seamlessly cook large quantities of vegetables, meat, noodles, and whatever else you like in a matter of minutes. "If you are quick-cooking, make sure you have all your ingredients portioned out and ready to go," advises Brandon Jew, owner of Mister Jiu's in San Francisco. "The process goes fast." Calvin Eng, owner of Bonnie's in Brooklyn, also suggests not overcrowding. Every time you add in an ingredient, it brings down the overall temperature, and "the high heat is crucial." We chatted with López-Alt, Jew, and other chefs and cookware experts to get their recommendations for their favorite woks.
Woks come in carbon-steel, cast-iron, anodized aluminum, stainless steel, nonstick, and enamel-lined cast-iron. Most experts prefer carbon-steel because, as "stir fry guru" and cookbook author Grace Young explains, it "impeccably sears ingredients and gives stir-fries the elusive, smoky essence prized by Chinese gourmands." She's not the only one with a preference for that particular material. Nearly every wok on this list is made of carbon-steel. López-Alt notes that "it is strong, but not brittle." This is "unlike cast-iron, which will crack if you make it thin enough to be lightweight." Eventually, the surface of carbon-steel will develop a nonstick patina.
Woks are traditionally round-bottomed, meant to be placed on burners that specifically hold that shape (you'll often see full ranges like this in Chinese restaurants). But many have flat bottoms designed to work on standard home burners, whether gas, induction, or coil. "Home stoves vary in heat and BTUs," says Sohui Kim, owner and chef of Insa in Brooklyn. "But the great thing about a flat bottom is that you can get a ripping-hot heat. It mimics restaurant-quality technique." You can, in fact, convert a regular burner with a wok ring if you prefer that style (or do like López-Alt and buy an outdoor setup for round-bottom wok use).
When it comes to handle shape, Mandarin-style woks (the majority of woks on this list) have an extended handle on one side, similar to the skillets you're likely familiar with. This is helpful for maneuvering the wok around a burner and tossing ingredients with ease. Cantonese-style woks have two smaller handles on each side, good for fully picking the vessel up off the stove. Handle material is also a matter of preference. There's the aesthetic of metal versus wood, plus you have to take into consideration that metal tends to get hotter than wood, but is also a more durable material in the long run.
Best overall wok
Material: Carbon steel | Shape: Flat bottom | Handle: Mandarin style with wood handles
"Introduced by Joyce Chen, flat-bottomed woks allowed the cookware to be used on any stove and made stir-fry a far more common dish in American households," says Taylor Erkkinen, co-owner of the Brooklyn Kitchen cooking school. The carbon steel makes it perfectly sensitive to heating up and cooling down, while the comfortable wood handles grip well and stay cooler than the body of the wok. "The loops on metal woks get superhot and you need pot holders to handle," says Matt Rodbard, founder of Taste and co-author of Koreatown: A Cookbook. Kim, meanwhile, has had her Joyce Chen wok — a fairly standard 14-inch size that comfortably feeds two to four people — for over two decades and doesn't see herself ever having to replace it. "It can handle a ton of vegetables," she says. "I especially like it for greens that start so giant in volume. You can add everything in and then move them around easily as they shrink." She notes that the ring at the top of the handle allows it to hang nicely in her kitchen.
Best customizable wok
Material: Carbon steel | Shape: Flat or round bottom | Handle: Mandarin style with wood or metal handles
López-Alt's recommendation comes from San Francisco's Wok Shop, which has many options for sizes (as small as 12 inches and as big as 16) and handles (wood, metal, loop, extended), should you want to customize. "Personally, I like a long handle," he says. "It makes it easier to toss your ingredients." Recipe developer and cookbook author Hannah Che is another fan; she bought a wok from the store about five years ago and says "the precise way it heats up, retains heat, and cools down makes you able to tell that the metal is really high quality." Young loves Wok Shop too, calling Tane Chan "the most knowledgeable person selling woks in the world." Wok Shop is also the best place to peruse wok accessories, such as a wok spatula that López-Alt calls nonnegotiable. The material doesn't matter so much; the important part is the specialized shape, which "fits the curve of the wok and is good for scooping," he says. And if you want to use your wok for making a stew or homemade popcorn, you'll need a lid. Young recommends a domed shape over a flat one because it will divert condensation away from your food.
Best wok with steel handles
Material: Carbon steel | Shape: Flat bottom | Handle: Mandarin style with metal handles
Josh Grinker, co-owner of Brooklyn's Kings Co Imperial, likes this Five Two wok because it's made from carbon steel and has a flat bottom, his build of choice, as he's not particularly keen on wok rings for converting round-bottomed models. Perhaps most of all, he appreciates the two metal handles because they're more durable than wood, which would certainly burn in the oven. Metal, on the other hand, holds up — and is a breeze to clean.
Best round-bottomed wok
Material: Carbon steel | Shape: Round bottom | Handle: Mandarin style with one wood handle, one metal handle
As stated above, traditional woks have round bottoms, which allows them to reach intense temperatures over burners that shoot the flames straight up rather than in a circular pattern. If you're serious about your wok game and have the ability to modify your home range, a wok ring like this one costs only $10 and replaces the grate and metal disc on a gas burner pretty easily. Amelie Kang, co-owner and chef of New York City's MáLà Project, recommends the Pow Wok, which is made from conductive carbon steel. "It's suitable for quick, high-temperature stir-fried dishes," she says. But be careful: "It's especially easy to burn the dishes if you are not fast enough."
Best Cantonese-style wok
Material: Cast iron | Shape: Flat bottom | Handle: Cantonese style with cast-iron handles
This cast-iron Cantonese wok, heavier than its carbon-steel counterparts and with two smaller loop handles on both sides, isn't so easy to maneuver around the stove. But "nothing retains heat like cast iron," says Jew. And unlike with stir-fries, this is an important attribute when it comes to fried rice, the success of which depends on the grains staying hot throughout the whole cooking process. "With a home stove, you're simply not going to get to that same level you do in a restaurant," he says, so you might as well set yourself up the best you can.
Best less-expensive Cantonese-style wok
Material: Carbon steel | Shape: Flat bottom | Handle: Cantonese style with metal handles
If you don't want to invest quite so much but are intrigued by the idea of a Cantonese-style wok, this hand-hammered one from Webstaurant (one of our favorite online retailers that sells as many commercial kitchen goods as your local restaurant-supply store) fits the bill. Many of our experts mentioned that such shops are the perfect places to snag an inexpensive wok — just like sheet pans, there are a lot of great options out there, but you won't be worse off for going with an affordable and practical option. It's hand-hammered from carbon steel (just like the round-bottomed model above), which means it's also lighter than Jew's recommendation.
Best wok with a lid
Material: Carbon steel | Shape: Flat bottom | Handle: Mandarin style with wooden handle
Chef and writer Lauren Joseph has been using this Jia Inc. wok for several months now and says she reaches for it any time she wants a pan with a wide surface area and high sides. Like other pros, she appreciates the lightweight carbon steel that heats up quickly and evenly — even on her induction burner, which she says "doesn't get as hot as gas and makes high-heat cooking really hard." She calls the lid a particularly handy feature, useful for braising a load of greens, steaming dumplings and cabbage rolls, and simmering fish curry. "You can see what's going on because it's transparent, too," she says.
Best less expensive wok with a lid
Material: Carbon steel | Shape: Flat bottom | Handle: Mandarin style with wooden handle
When Che was shopping for a new wok about five years ago, she knew she wanted one with a lid because it makes the pan much more versatile. Like Joseph, she uses a wok to simmer liquids and to steam (for the latter, she notes the lid helps the water boil faster). But she also finds the lid useful when making stir-fries. In the first steps, moisture is released from aromatics and vegetables, but right at the end, Che always introduces some liquid for added tenderness and flavor. "That's when the lid goes on for 30 seconds to a minute," she says. This brand also makes an even less expensive set without the steamer grate and spatula.
Best woklike frying pan
Material: Carbon steel | Shape: Flat bottom | Handle: Mandarin style with metal handle
If you simply don't have the space for a dedicated wok, Lucas Sin, chef at Junzi Kitchen, stands by Made In's carbon-steel frying pan. The high-sided shape and carbon-steel material make it similar enough. "To achieve high heat for stir-fries, I prefer flat bottoms for as much surface contact as possible," he says. "Tall walls mean that the same pan can be used for braising, steaming, and boiling." As for the size, it's slightly smaller than the woks on this list, but Sin likes the size, saying that it "comfortably cooks for two."
Some more pots and pans we've written about
Our experts
• Hannah Che, recipe developer and cookbook author 
• Calvin Eng, owner of Bonnie's
• Taylor Erkkinen, co-owner of The Brooklyn Kitchen
• Josh Grinker, co-owner of Kings Co Imperial
• Brandon Jew, chef at Mister Jiu's
• Lauren Joseph, chef and writer
• Amelia Kang, co-owner of and chef at MáLà Project
• Sohui Kim, owner of and chef at Insa
• J. Kenji López-Alt, chef and writer
• Matt Rodbard, founder of Taste and co-author of Koreatown: A Cookbook
• Lucas Sin, chef at Junzi Kitchen
• Lesley Téllez, journalist and cookbook author
• Grace Young, cookbook author and "stir-fry guru"
The Strategist is designed to surface the most useful, expert recommendations for things to buy across the vast e-commerce landscape. Some of our latest conquests include the best acne treatments, rolling luggage, pillows for side sleepers, natural anxiety remedies, and bath towels. We update links when possible, but note that deals can expire and all prices are subject to change.