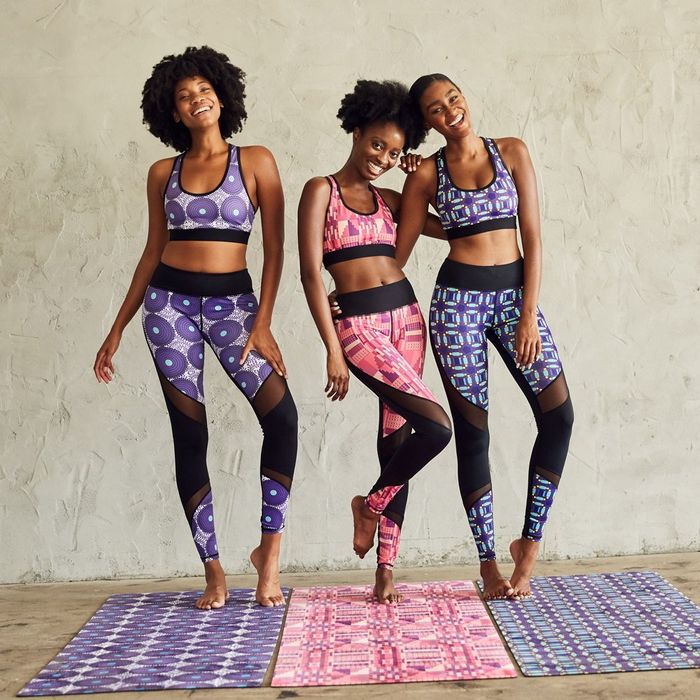 Our ever-expanding list of Black-owned businesses has no shortage of fashion and fitness brands — but these standout 20 Black-owned brands are expertly combining fashion with fitness, making some of the coolest activewear on the market. So whether you're looking for bike shorts to wear on your Peloton (or Peloton dupe), running shorts for your next 5K, or a sweat-wicking T-shirt for hitting the gym (may we suggest these 14 Black-owned fitness studios, while we're at it?), these companies have you covered.
Vertical Activewear
Vertical Activewear founder Tia Robinson describes her brand as "slow fashion." Each piece is made sustainably and ethically and produced on-demand to prevent excess stock ending up in landfills. It might mean your order will take a little longer to arrive (depending on the product, delivery estimates are between one and three weeks), but the brand's moisture-wicking and supportive leggings, sports bras, and one-pieces are worth the wait.
Melt Fit
Based in Detroit, Melt Fit's size-inclusive activewear (most pieces go up to size 3X) includes mix-and-match leggings, sports bras, and jackets in both solids and limited-edition prints. One of the latest collections is the Flintstones-inspired Bedrock line, which features animal-print pieces in fun colors like "Pink Wilma" and "Tan Bam Bam."
Roam Loud
When she founded activewear line Roam Loud, Toyin Omisore sought to honor her Liberian grandmother's legacy by capturing her bold spirit. The brand includes pieces for all types of activities — from high-waisted leggings for high-intensity workouts to relaxed-fit joggers (in a definitely bold lime-green print) for not-so-sweaty exercise or just hanging out.
Aktive Fitness
The monochrome sets in Aktive Fitness's latest Country Club collection, available in bright and more neutral hues, are a far cry from stuffy golf-club staples. Along with workoutwear, the brand offers meal plans and training programs.
Full Court
As a production designer, Marguerite Wade has created sets for photographers like Annie Leibovitz and brands including Marc Jacobs. It's not surprising, then, that when she turned her eye to launching the tennis-inspired line Full Court, the pieces would be as stylish as they are functional.
Solely Fit
Photo: O'Shea Tometi/O'Shea Tometi
Photo: O'Shea Tometi/O'Shea Tometi
After years as a reporter, Stefania Okolie took her storytelling skills and interest in design to create Solely Fit, an activewear brand designed to give women functional athleticwear that's stylish, too. Her current collection features bodysuits, leggings, bike shorts, and sports bras that are all made in the U.S.
Zoezi Sport
Kenyan-born Yvonne Bulimo couldn't find any athleticwear brands she connected with while living in Kenya — so she started her own. Zoezi Sport, which means exercise in Swahili, honors her Kenyan heritage. The line is meant to withstand workouts, but it looks really lounge-worthy, too.
Farever Art
Artist and barre instructor Faren Collins combined two of her interests by putting her artwork onto athleticwear. She also sells "museum-quality" posters of the designs that are blown up onto her leggings, jackets, and sports bras — so, in other words, you can buy prints for your wall to match your wardrobe.
Lukafit
Lukafit's founder Mbali Ndlovu started the brand to give women of color in all sizes — her clothes go up to 3X in leggings and 2X in sports bras — athleticwear that's designed for them. Her leggings have bright colors with cheeky prints and are made from "squat-proof" material, so they're not sheer and stay in place no matter what moves you do
CultureFit