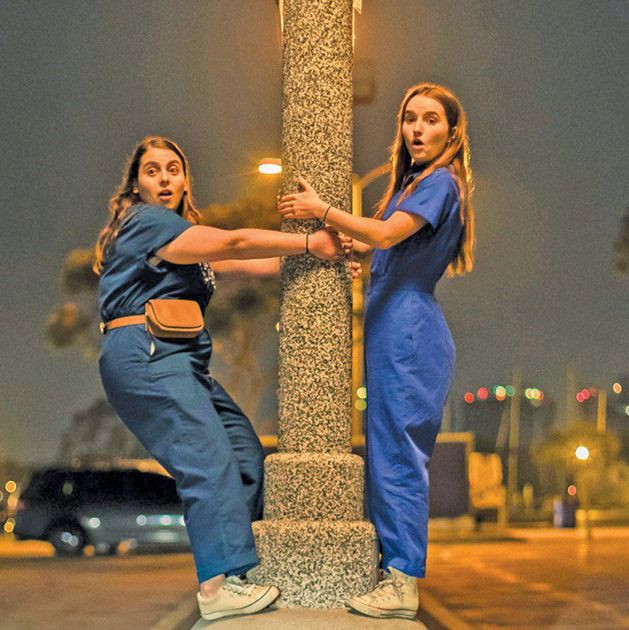 Photo: Annapurna Pictures
Of the many scenes in Booksmart that had me feeling very seen, my hands-down favorite is when besties Amy (Kaitlyn Dever) and Molly (Beanie Feldstein) are trying on outfits together as they get ready to go to their first high-school party the night before graduation. Watching it, I (and likely many others) time-traveled back to my teenage years, when my BFFs and I would agonize over whether to go out, and what to wear if we did (almost always, the answers were a reluctant "yes," and jeans).
Anyone who has seen the movie (or even a trailer) knows that Amy and Molly opt for near-identical navy-blue boiler suits, revealing their matching looks to each other in a triumphant twinning moment. The besties really look like a team — and a totally badass one at that. Seeing them rock the utilitarian jumpsuits, which Amy accessorizes with a beret and Molly with Mace and a fanny pack, immediately made me want one (and wish I had suggested that my book club get matching boiler suits instead of jackets). So I reached out to Booksmart costume designer April Napier to find out where she found them.
Turns out, Napier picked up Amy's and Molly's going-out outfits from two different vintage stores in Los Angeles, Please and Thank You and Virgo. That sourcing was intentional, according to Napier. "You can see the life and the history in them, that's important for character development and story," she says of the vintage clothes. The style was just as deliberate — right down to the color. "I was trying to get in the mindset of those girls, like what would they wear to go out and kick ass. They're both very political and ambitious and well read; they conjure Rosie the Riveter or Jane Fonda in Hanoi," she says. "And I kept them in blue because they're such hard-core Democrats."
The one downside to vintage (for me and my besties, at least), is that we can't simply go out and buy Molly and Amy's jumpsuits. But Napier tipped us off to some very good dupes (and we added a few more based on her suggestions), which any friends who want to go out in style can buy right now.
For a new, not vintage, take on Amy and Molly's looks, Napier suggests Rachel Comey's Barrie jumpsuit — which she wears herself. It zips all the way down the front and has a small gather in the back, making it "a contemporary take on that vintage style," she says.
This less-expensive but similar-looking gray-blue BDG jumpsuit also features a zipper front and oversize pockets, making it a great budget-friendly alternative.
For a comfier but still stylish-looking option at an even lower price, this relaxed-fit mint-colored number is basically pajamas that you can wear outside the house.
For a sportier look, this half-zip navy-blue jumpsuit features a cinched waist and an adjustable funnel neck.
Napier also recommends Big Bud's snap-button jumpsuits, which come in a range of colors in addition to this very Booksmart cornflower blue. "Big Bud has a whole rainbow collection of coveralls, and they go up to 5X, so they're made for women of all sizes," she says.
If you're looking for a snap-button style at a lower price, Strategist managing editor Maxine Builder prophetically declared these "surprisingly formfitting" coveralls (which feature an elastic waist) the "best outfit for uniform dressing" back in 2017.
The vintage look of this (on sale) Madewell jumpsuit is very Amy and Molly, and its pale blush shade is perfect for summer.