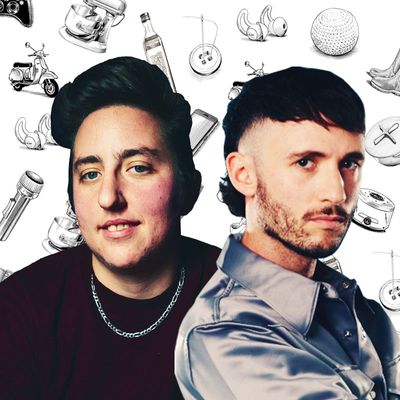 From left,
Celebrity Book Club
hosts Lily Marotta and Steven Phillips-Horst.
Photo: Courtesy of Steven Phillips-Horst and Lily Marotta, Illustration: Joe McKendry
If you're like us, you've probably wondered what famous people add to their carts. Not the JAR brooch and Louis XV chair but the hairspray and the electric toothbrush. We asked comedians Lily Marotta and Steven Phillips-Horst, who this week launched their new podcast Celebrity Book Club, about the sneakers, storage baskets, and face masks they can't live without.
I love white sneakers, but I have an issue with keeping my laces tied. My girlfriend tells me non-stop to tie my shoelaces, and I feel like whenever I'm on the street, people are like, "Tie your shoelaces." I don't know why I have this issue, but everyone else in the world seems to be able to keep shoelaces tied more than I can. So when I came across the velcro Stan Smiths, I was like "Okay, this will be a gorgeous solution to my never-ending issue that still has that fresh classic look." I describe my style as trying to look like a young Mark Wahlberg/Matt Damon/Boston Guy, and I always wore Adidas shell-toe sneakers. These feel like an update of that and also mean I don't trip as much.
I'm Italian and I love to show off my heritage with merchandise. In the winter, I crave espresso, so I love my Italian-flag espresso maker. I want people to come into my home and say "Okay, an espresso maker with the Italian flag, she's the real deal." My sister is a master Bialetti user, but I was nervous when I got it because it seemed complicated. It's super simple, though: You just pack the coffee in, add water, and turn on the heat. And when I want a cold drink, I'll brew two or three espresso shots in this, pour them over ice, and stir.
This is probably my favorite movie of all time. It defined my sense of humor and had a lot of influence on my comedy. The vibe is late '90s/early 2000s-single-women-going-to-the-club-and-getting-Cosmos, but it's naughtier than Sex and the City. It's a total comedy of errors about friendship and the search for romance. I have the DVD and watch it twice a year. Steven actually introduced me to the movie in high school, when we were still very DVD-based.
I have a 2008 Honda Fit – a great car with great gas mileage – and I wanted to spice it up. I found this decal sticker at Walmart. I was like, "This is going to give me confidence every day when I drive, because people are going to think I'm the queen's chauffeur." And it does up my confidence when I hit the road.
Inspired by Ace Ventura: Pet Detective and Elvis, I've been doing a pompadour hairdo since I was 16. As a teen, I was attracted to Aqua Net because it seemed retro and I love the '80s. But I've found it to have the strongest hold out there and it has been serving me well ever since. I've tried other fancier products, but Aqua Net does the job. It just keeps my hair in place: I use the hairspray and then a super large bobby pin to get my hair up, then spray again to keep it settled. I prefer it unscented because the scented one smells how you'd imagine it would — stuffy and a little bit like grandma.
If you're shopping online a lot, you're opening a lot of packages, and I find that keeping a Swiss Army Knife by the door is really great for that. It's so functional and the perfect size: You pop it out, pop it in. You don't need to grab a dull Ikea butcher knife from the kitchen, which is actually quite dangerous. A Swiss Army Knife gives you a lot more flexibility in terms of the many different sizes of packages you're receiving, and it's also got a corkscrew on it, so if you ever lose yours, you've got an extra.
This is my hand-sanitizer spray. Your typical hand sanitizer is a goopy gel that gets all over your hands, but this mist is very Apple product-y and feels nice on your hands. It comes in a whole range of scents, but I'm partial to the Aloe Vera — the others are a little Jolly Rancher. You just spritz it and rub it in; there's no residue, it absorbs so fast, and it is also moisturizing. Sometimes I use it even when I'm not afraid of getting germs, because I enjoy the feeling so much on my hands. They are very soft; I've been told I have the hands of a 22-year-old.
I love a black disposable mask. It goes with everything, so from a fashion perspective, it's great. And since they're disposable, you don't have to worry about losing or washing them. To me, in this cold weather, a mask — on top of stopping the spread of Covid — is also a nice way to keep warm without wearing a scarf. You don't have to be a Scarf Gay. No offense to Scarf Gays, but you can still achieve some warmth on the face just by using one of these.
This is my favorite wine. It's an Italian merlot that's super tannic with a lot of cherry flavors. It's somewhat light and goes great with everything. I discovered it at wine bars before the pandemic. Everywhere I'd go, I'd tell the sommelier I wanted a wine that tasted like it had just been on a hike: Sinewy, sweaty, rugged; lean, with muscle to it. And folks at multiple wine bars brought out this wine. It's pretty inexpensive and I can't recommend it enough.
These baskets by Open Spaces are a great way to declutter your home. There's nothing I hate more than a hideous bin from the Container Store. They just reek of dorm. And those woven wicker baskets are so live, laugh, love — you feel like a wine mom in the midwest. It's hard to find something to just toss books, or the clicker, or blankets, or a sweatshirt into that feels chic and elevated, but I think Open Spaces really hit the nail on the head. I have the medium basket in dark green and the large basket in light blue. Each has a little leather tab that I feel is a premium touch. I got a pair for my brother for Christmas and my boyfriend and I also got them for his brother.
This is like Lily's Sweetest Thing DVD in that it was a formative cultural experience for me. It inspired us to make this podcast, because when you first encounter it, you're like, "She is not that famous an actress, maybe this book is boring." But as you delve into it, you find all these unchecked neurorses and this unmitigated spiral of a B-list actress who never got to where she wanted to go. It reveals so much, like her sad date with Ryan Seacrest — who's obviously closeted — which you can tell is a weird set up by Seacrest's publicist as you're reading it. But Teri can't see that. Celebrities are supposed to be these very impervious people and you're not supposed to see who they really are. But this person is so unaware of how unguarded she is being and, as a reader, you come away feeling impressed at the vulnerability. You realize that she is braver than most of us can ever hope to be. The title, Burnt Toast, is all about how her mother would eat burnt toast instead of making new toast, and always put others before herself. So I constantly say to myself, "Don't eat the burnt toast." Don't settle.
The Strategist is designed to surface the most useful, expert recommendations for things to buy across the vast e-commerce landscape. Some of our latest conquests include the best acne treatments, rolling luggage, pillows for side sleepers, natural anxiety remedies, and bath towels. We update links when possible, but note that deals can expire and all prices are subject to change.