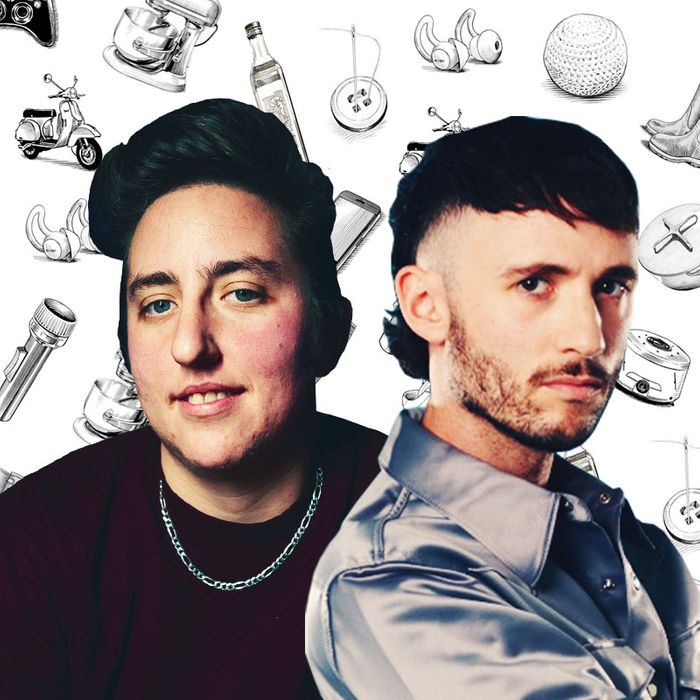 From left,
Celebrity Book Club
hosts Lily Marotta and Steven Phillips-Horst.
Photo: Courtesy of Steven Phillips-Horst and Lily Marotta, Illustration: Joe McKendry
If you're like us, you've probably wondered what famous people add to their carts. Not the JAR brooch and Louis XV chair but the hairspray and the electric toothbrush. We asked comedians Lily Marotta and Steven Phillips-Horst, who this week launched their new podcast Celebrity Book Club, about the sneakers, storage baskets, and face masks they can't live without.
Lily
I love white sneakers, but I have an issue with keeping my laces tied. My girlfriend tells me non-stop to tie my shoelaces, and I feel like whenever I'm on the street, people are like, "Tie your shoelaces." I don't know why I have this issue, but everyone else in the world seems to be able to keep shoelaces tied more than I can. So when I came across the velcro Stan Smiths, I was like "Okay, this will be a gorgeous solution to my never-ending issue that still has that fresh classic look." I describe my style as trying to look like a young Mark Wahlberg/Matt Damon/Boston Guy, and I always wore Adidas shell-toe sneakers. These feel like an update of that and also mean I don't trip as much.
I'm Italian and I love to show off my heritage with merchandise. In the winter, I crave espresso, so I love my Italian-flag espresso maker. I want people to come into my home and say "Okay, an espresso maker with the Italian flag, she's the real deal." My sister is a master Bialetti user, but I was nervous when I got it because it seemed complicated. It's super simple, though: You just pack the coffee in, add water, and turn on the heat. And when I want a cold drink, I'll brew two or three espresso shots in this, pour them over ice, and stir.
This is probably my favorite movie of all time. It defined my sense of humor and had a lot of influence on my comedy. The vibe is late '90s/early 2000s-single-women-going-to-the-club-and-getting-Cosmos, but it's naughtier than Sex and the City. It's a total comedy of errors about friendship and the search for romance. I have the DVD and watch it twice a year. Steven actually introduced me to the movie in high school, when we were still very DVD-based.
I have a 2008 Honda Fit – a great car with great gas mileage – and I wanted to spice it up. I found this decal sticker at Walmart. I was like, "This is going to give me confidence every day when I drive, because people are going to think I'm the queen's chauffeur." And it does up my confidence when I hit the road.