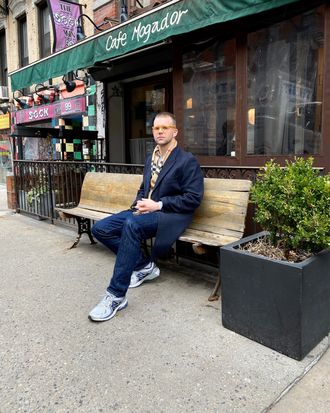 If you're looking for the most powerful hair dryer or the handiest chef's knife, those things can be easy enough to find. Other objects of desire are a little more taste-based. What's the next status water bottle or hand wash, for instance? If you have a burning question about the next fanny pack or Noah rugby shirt, Chris Black is here to answer it in a regular column.
Thoughts on tasteful — but not too expensive — Valentine's Day gifts for him and her?
Valentine's Day, a fake holiday invented by a greeting card company, is, well, pretty dismal. Every restaurant has a shit pre-fixe menu, so it's much better to stay home with bae and exchange small gifts to show how much you care. No tacky red roses or cheap chocolates here!
Your man's flophouse probably doesn't smell exactly like you want it to. The Woods candle from Byredo is the perfect solution. Mr Porter describes it as, "Opening with Ambroxan and White Cedarwood, it reveals smoky Tuscan Leather blended with a pinch of White Jasmine." I am salivating! It's like being outdoors without leaving the couch. Perfect.
For all you skater daters, why not get your man a REAL belt? Something that will hold up those baggy Dickies. The shoestring ain't going to cut it in 2020. Instead, I suggest this excellent, technical, utilitarian strap from Snow Peak. Looks cool and serves the purpose. Fashion AND function!