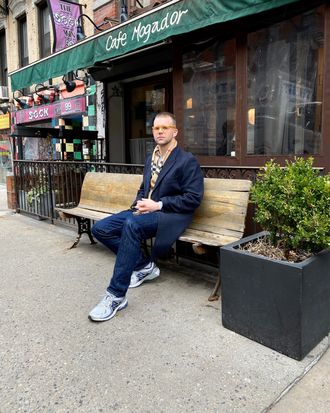 If you're looking for the most powerful hair dryer or the handiest chef's knife, those things can be easy enough to find. Other objects of desire are a little more taste-based. What's the next status water bottle or hand wash, for instance? If you have a burning question about the next fanny pack or Noah rugby shirt, Chris Black is here to answer it in a regular column.
Thoughts on tasteful — but not too expensive — Valentine's Day gifts for him and her?
Valentine's Day, a fake holiday invented by a greeting card company, is, well, pretty dismal. Every restaurant has a shit pre-fixe menu, so it's much better to stay home with bae and exchange small gifts to show how much you care. No tacky red roses or cheap chocolates here!
Your man's flophouse probably doesn't smell exactly like you want it to. The Woods candle from Byredo is the perfect solution. Mr Porter describes it as, "Opening with Ambroxan and White Cedarwood, it reveals smoky Tuscan Leather blended with a pinch of White Jasmine." I am salivating! It's like being outdoors without leaving the couch. Perfect.
For all you skater daters, why not get your man a REAL belt? Something that will hold up those baggy Dickies. The shoestring ain't going to cut it in 2020. Instead, I suggest this excellent, technical, utilitarian strap from Snow Peak. Looks cool and serves the purpose. Fashion AND function!
All women LOVE to moisturize, it's a scientific fact. Lotion is over, oil is in. Susanne Kaufmann is a new favorite of mine and her essential bath oil will help bae relax after a long day. Soaking in a hot tub while breathing in the zen mix of ylang-ylang, patchouli, and lavender … NAMASTE!
Photo: Retailer
If bae's all set with bath products, some simple and wearable everyday jewelry is always the right choice. Vancouver-based Wolf Circus does a cool pair of hoop earrings plated in 14-karat gold that are neither too fussy, nor too expensive. Right now, they're almost 40 percent off as part of an ongoing sample sale. (A note that samples, according to the brand, "may have slight imperfections" — which, put another way, means they're unique! — and are final sale.) [Editor's note: Wolf Circus lists prices in Canadian dollars, so the price shown is an approximate conversion in U.S. dollars.]
Can you help this aspiring Parisian Cowboy navigate the world of denim button-down shirts?
Yeehaw! I love a denim shirt. Maybe it's my Southern heritage? Perhaps it's Serge Gainsbourg (if only I could pull off white Repettos). Anyway, most of mine are vintage Levi's, but they have taken years to accumulate. Luckily, there are a lot of good options available so you can get the look immediately!
Most of my denim button-downs are vintage Levi's, but not all. I also own this, from J.Crew, which I am sporting here. And I'm not the only one — multiple Strategist staffers past and present also own the shirt, which former Strategist writer David Notis called "vintage-looking, but cut in a contemporary style so it's still slim and form-fitting and cropped enough to wear untucked."
Our Legacy did an excellent update on the classic Western style. The color is right (will age nicely), and it has snaps. It's also 100-percent cotton, which will make it a little more comfortable.