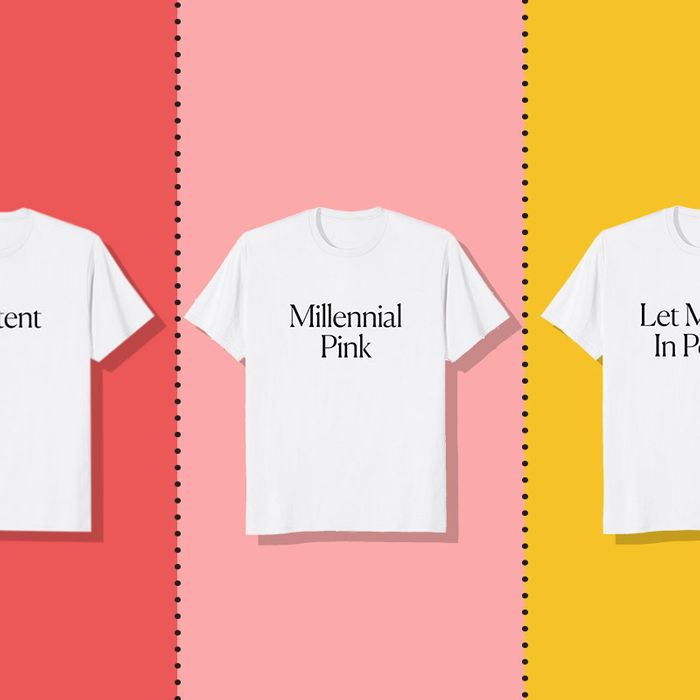 You may have heard the news already: Our friends at the Cut are now doing merch! The Cut Shop is a print-on-demand T-shirt store over at Amazon, where you can find $25 all-cotton tees with Cut headlines and phrases like "All My Exes Live in Texts" and "Millennial Pink" among many, many others (a new one will be added each week). We're big fans of white T-shirts around Strat, so of course we had to go through the options and pick our favorites (would you believe none of us chose the same shirt?).
I love Tiffany Haddish like Tiffany Haddish loves Groupon. Her bold and brazen performance in Girls Trip stole my heart, and her real-life adventures (the swamp tour! the Beyoncé bite!) solidified my devotion. Like Tiffany's white Alexander McQueen dress, this T-shirt warrants lots of re-wears.
I like when we can give a little bit of space to appreciating things that are weird, personal, and mostly forgotten by others — like the I Think About This a Lot column so satisfyingly does.
I particularly love this one: Partially because the whole incident has taken on a new meaning now that we know Cardi B was actually pregnant when she wrote this Instagram comment, but also because it's how I feel most days. It's the most 2018 way to say, "Mind Your Own Business."
I actually still frequent Union Pool (they book great music!) but I may as well get this T-shirt anyway to commemorate (1) Allison's intrepid reporting on everyone's favorite "horny Utopia" and (2) the time my former roommate went on record talking about how he once got laid at Union Pool. He will never live that down.
I love some good self-referential internet merch and this one's perfectly minimal and up for interpretation. Perhaps it's saying, "Hello, I am a creator of #content," maybe it's an ode to #content itself (always doing it for the 'gram, as they say), or maybe it's a tongue-in-cheek "insert joke here" type thing. Who can really say?