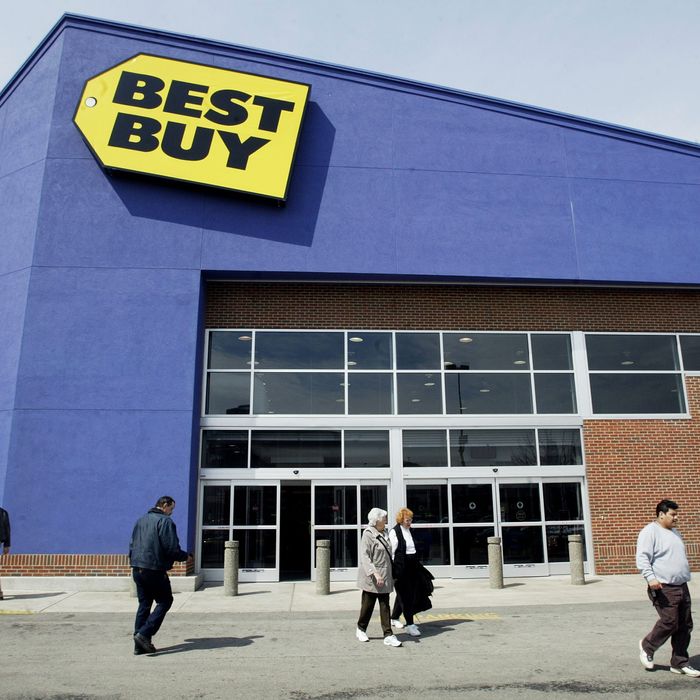 Our colleagues at the Verge are technology experts. So when they tell us that there are good Cyber Monday deals at Best Buy  — well, we look through those deals, add a few finds of our own, and bring the more-useful-to-the-average-non-technophile stuff to you.
There are substantial discounts to take advantage of, like an Ultimate Ears bluetooth speaker for $40, a MacBook Air for $200 off or an iPad for $80 off, a completely wireless pair of bluetooth earbuds for only $30, and a 65-inch LG OLED TV (which is seriously one of the best TVs we think you can buy). But act quickly, because things are selling out fast! Once an item's stock is low enough online, it becomes an in-store purchase only.
We should note that Best Buy is constantly updating its deals, and we're constantly watching. So check back here frequently for updates of sales on big-ticket appliances, vacuum cleaners, home security systems, smart speakers, and phones. Incidentally, for more early tech deals, check out our Cyber Monday coverage of the Amazon and Walmart sales.
Speakers
The U.E. Boom Bluetooth speaker has long been one of the top speakers you can buy. This four-inch-tall sibling is ultraportable — and water-resistant, for any dreams you may have of listening to music poolside.
Another great water-resistant speaker with a slightly different form factor and a 12-hour battery (as opposed to the ten-hour Ultimate Ears above).
A smart speaker with full sound and beautiful design, now for $100 off.
As TV sets get thinner, their sound gets worse. This speaker from Sonos, who make the best multi-room sound system we've ever tried, is an upgrade for any set.
Earbuds and headphones
You're not going to get the best audio quality from these, but $30 is practically stocking-stuffer territory. And if you lose them, which we all do eventually, you won't feel that bad.
Also a great option for those with big earholes. They're lighter than the Jabras and will stay in better during workouts.
Appliances
There really is no more enjoyable way to vacuum than by letting a robot do it for you.
This kitchen staple has never been cheaper. This model doesn't have a the typical tilting head, which means it is more powerful. (For more great gifts for bakers, click here.)
If the person you're shopping for already has a mixer, why not get him a great accessory, like this pasta cutter that's 60 percent off?
You deserve a bigger fridge. Or at least a better one. This full-depth French-door option from Samsung can fit all of your holiday meal prep. (The adjustable shelves will accommodate a Christmas Ham.) And it even has an ice-maker with a bin that's actually big enough to handle company.
If you want an actual Instant Pot, you can expect to pay between $50 and $100 for it. Or you can get Best Buy's house-brand equivalent, which has nearly 2,000 reviews and a 4.7-star rating.
Doing your own pour-over in the morning may make you feel like a home barista, but a K cup is fast and simple.
Makes it easy to get a close shave wherever you are — although most of us would prefer that you stick to the bathroom.
Video game systems and accessories
Comes with a huge 1 TB hard drive for $100 off the original price.
Save $150, and it comes with Star Wars Jedi: Fallen Order.
These joy-con controllers for Nintendo Switch also come in a lot of other colors.
Laptops, desktops, tablets, and accessories
This lightweight MacBook Air, which should be good for most users who don't plan on editing a full-length film on their computers, is $200 off.
8GB of memory and a 256GB solid-state drive (SSDs are quieter than traditional hard drives). Plus it's a touch screen, which is nice for some programs.