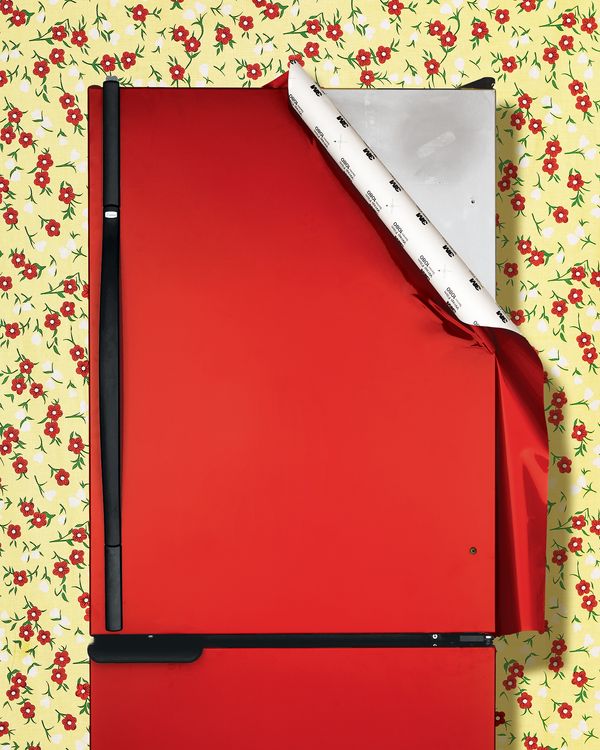 At some point during a home renovation, designer Leanne Ford decided the olive-green color of the oven she had ordered no longer fit the overall aesthetic. Her first though was to paint it. Her brother Steve Ford had another idea: Wrap it like a car in 3M vinyl. With a custom-color sheet (you can order rolls online), a utility knife, and a felt squeegee (to smooth out any bubbles), she quickly transformed the oven color into a warm terracotta. A few months later, using the same technique, the siblings covered the front panel of a run-of-the-mill stainless-steel dishwasher with a muted pistachio. (We tried it ourselves — this bright-red refrigerator was once a stained white.) There are many such ways to improve a kitchen without taking it down to the studs, which is convenient, as contractors are next to impossible to come by at the moment. And by talking to designers, food-world people, and others with great taste, we've unearthed more than a dozen of them — from workbenches turned islands to Julia Child–inspired pot storage.
Paint your floors in classic checkerboard
You don't need tile to get a classic checkerboard floor. First, decide on the size of your squares. I went with ten-by-ten-inch. Then choose two tones of paint. I did two tones of green from PPG Paints — Rattan Palm and Heavy Hammock. You can also just choose to use one color and have the other "color" be the natural one of the floor you are working with. Draw the pattern on your floor with a measuring tape and a level (24-inch
Aluminum I-Beam Level, $13) as guides. Then paint it on and seal it with an oil-based polyurethane, which you can get at Home Depot. —Leanne Ford, designer
Or reconsider linoleum
We love using old materials in new ways, so we've gotten very into linoleum. It's super-affordable, readily available, and often made from recycled materials. We installed it recently over concrete at Reparations Club, a bookstore in L.A. We bought composition tiles from Forbo, duct-taped them together, and made them into a linoleum mat. You only need a pair of scissors and a bunch of rolls of tape. —Katy Burgess, co-founder of Wall for Apricots
Hide the unsightly stuff in a stealth stairwell pantry
As soon as my food creator business took off in 2020, I knew that my pantry would not suffice. I decided to turn this empty stairwell into the pantry of my dreams. Again, IKEA to the rescue with these two bookshelves I placed side by side. One is for food and the other is lifestyle-focused, with cloth napkins, my puzzle collection, endless bottles of nail polish, and all the stuff I don't want anyone to see. It's basically a vertical kitchen junk drawer. You could also put one in your kitchen if you do happen to have the room. — Dan Pelosi, food and lifestyle creator 
Store your pots on a pegboard like Julia Child
I visited Julia Child's kitchen while visiting France a number of years ago, and her wall-mounted pegboard with hanging pots, pans, and utensils always stuck with me as an open storage solution I want for my future house. She painted large sections in a variety of colors, and her husband did drawings wherever the objects were supposed to go, so all who cooked there would remember how to put things back correctly. It creates an amazing exposed assemblage that becomes very collage-like. I am hoping to paint mine either a strong sunshine yellow, like the main wall in my LikeMindedObjects shop, or just keep it glossy white, like the material comes. —Elise McMahon, sustainable furniture designer 
Then put all your lids in one place
I save a lot of room in my cabinets with this pot lid organizer and everything now has a designated place, making it a whole lot easier to find what I need. — Melanie Masarin, founder of Ghia
Replace your upper cabinets with a floating shelf
Getting rid of your upper cabinets is much easier than it sounds. Grab a drill and you can have the whole thing done in 30 minutes. To make a floating shelf, find brackets from Crate & Barrel, Home Depot, or Anthropologie. I typically like to use salvaged wood to add lots of character to the space, but if you're opting to paint the surface of your shelf, a piece of pine from Home Depot or Lowe's will do the trick. Make sure the wood is at least 12 inches wide so that your plates will fit. —L.F.