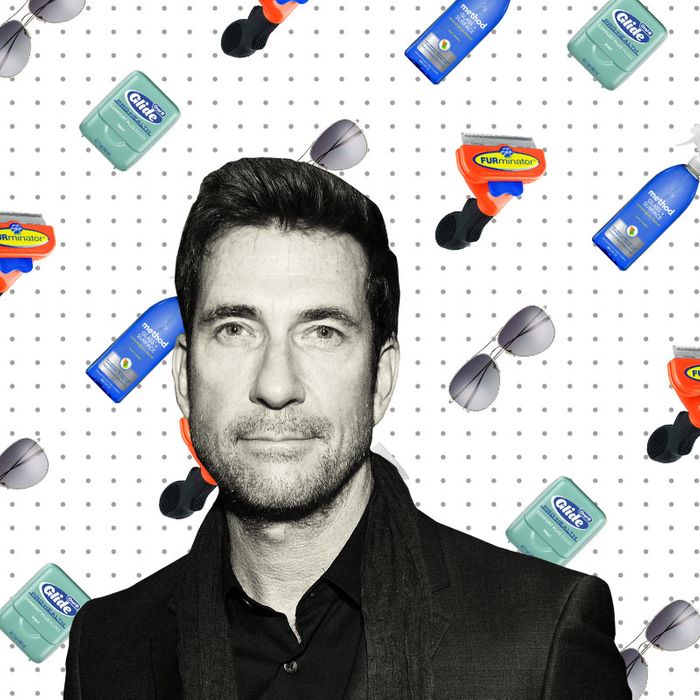 If you're like us, you've probably wondered what famous people add to their carts. Not the JAR brooch or the Louis XV chair, but the hand sanitizer and the electric toothbrush. We asked Dylan McDermott, who stars in the new film The Clovehitch Killer (now in theaters and on Amazon Prime), about the sunglasses, vitamins, and dog accessories he can't live without.
The FURminator is a specialized deep brush that lets you actually take out the bottom hair from a dog's coat. [Editor's note: We've written about this brush before.] Let me just give you the preamble for why I have so many dog things on my list. I was allergic to dogs my whole life, and then I met Maggie [Q (McDermott's fiancé)]. She is the biggest dog lover in the entire universe. I told her I would tear up and get asthma attacks around dogs, and she said, "Actually, I feed my dog raw food, which makes a big difference. The regular dog food is what causes the allergic reaction." And it was true! So here I was, a man in his 50s who was allergic to dogs his whole life, and then I met the love of my life and had to learn about dogs. So now I am brushing the dogs, and I'm feeding the dogs and walking them. Anyway, the FURminator goes to the deepest core of the hair and pulls it all off, especially if they're shedding.
I'm a compulsive cleaner, so I need a cleaner you can use all the time that won't damage your lungs if you're breathing it in all day. I always go with natural things if I can, and the Method glass cleaner is the perfect thing for that. Plus it just smells nice.
You have to have the dog boots for winter, which I didn't know. The dogs' feet get cold, especially if they have metal in their legs. Our littlest dog, the terrier (or the terrier-ist, I'll call him) has metal in his legs because he was hit by a car and had to have surgery, so now he definitely needs these boots.
These are very good California-made sunglasses that have a classic shape. They've lasted me a long time, and I like that they were made in the U.S.