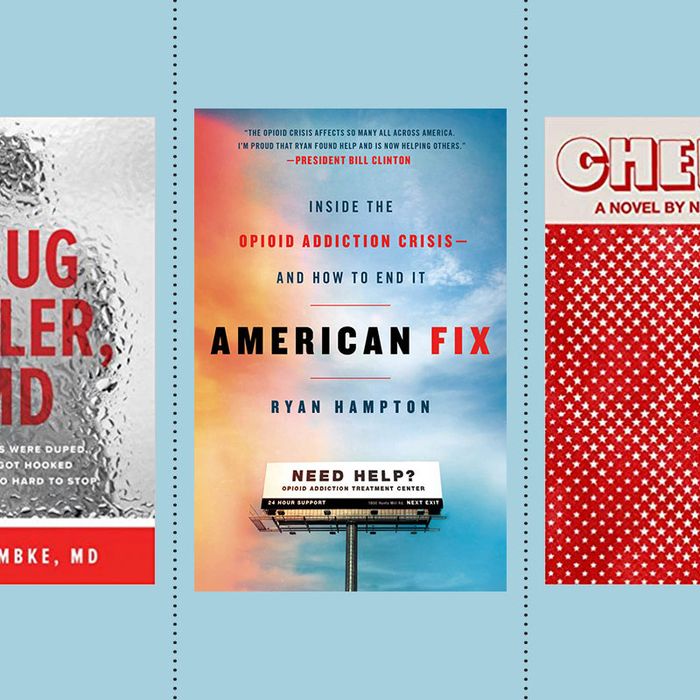 Photo: Courtesy of the publishers
Welcome to Reading Lists, comprehensive book guides from the Strategist designed to make you an expert (or at least a fascinating dinner-party companion) in hyperspecific or newsworthy topics. This week: a selection of books about the opioid crisis.
Last month, two books that each shed light on America's ever-widening opioid epidemic were published: Dopesick, by journalist Beth Macy, which provides a scrupulously reported explanation of the drug's history, the influence of corporate greed on the drug's proliferation, and interviews with addicts and their families. The second was Cherry, a novel that tells the story of an Army medic turned heroin addict turned bank robber in Cleveland, Ohio.
These two new releases are the latest in a new (and distressing) canon of writing about an epidemic — "the epidemic of epidemics," according to Michael Brumage, executive health director at Charleston Health Department — that is predicted to claim over 500,000 lives in the next ten years. That kind of scale can't and really shouldn't be ignored, but it's obviously not the whole story. To find that out, we polled a variety of experts on the books to read to better understand this crisis. That list includes Robert L. DuPont, president of the Institute for Behavior and Health and author of Chemical Slavery: Understanding Addiction and Stopping the Drug Epidemic; Sam Quinones, author of Dreamland: The True Tale of America's Opiate Epidemic; Ann Marlowe, author of How to Stop Time: Heroin From A to Z; Maia Szalavitz, author of Unbroken Brain: A Revolutionary New Way of Understanding Addiction; Perri Peltz, the director of HBO's Warning: This Drug May Kill You; Eve Marson, the director of Dr. Feelgood; and Barry Meier, the Pulitzer Prize–winning author of Pain Killer: An Empire of Deceit and the Origin of America's Opioid Epidemic. Their replies were remarkably consistent, making this a tighter-than-usual edit of books, all of which were recommended by multiple experts.
Essential reading on the opioid crisis
Tracey Helton Mitchell's 2016 memoir chronicles the decade she spent addicted to heroin and on the streets of San Francisco's Tenderloin District, as well as her eventual recovery and subsequent life as a mother of three and PTA treasurer. Beth Macy, author of Dopesick, calls the book "a call to embrace the principles of harm reduction," and an illustration of how "addicted individuals respond differently to different treatments. While Mitchell didn't ultimately use medication-assisted treatment in her journey, she does believe in its efficacy, and her story gives real hope to others struggling to achieve remission." Author Maia Szalavitz agrees: "Mitchell details why we need to help people even if they aren't drug abstinent, or even seeking drug abstinence," she says.
For Drug Dealer, MD, Anna Lembke interviewed health-care providers, pharmacists, social workers, hospital administrators, insurance-company executives, journalists, economists, advocates, and patients and their families, all in an effort to unpack the many forces driving the opioid crisis. Ultimately, she blames our dysfunctional health-care system. "Dr. Lembke, a Stanford addiction-medicine specialist, holds her physician colleagues' feet to the fire in this book," says Macy. "It's a scorching rebuke to the 'pill for every ill' culture adopted by too many Americans, from children who are overdiagnosed with ADHD — and end up trading Ritalin for harder drugs when they get to be teens — to Lembke's belief that doctors who helped usher in the worst drug epidemic in the history of our nation ought to be the ones now guiding us out of it." Perri Peltz, the director of Warning: This Drug May Kill You, calls the book an indictment. "Lembke takes on the comfortable myth that our opioid crisis can somehow be laid at the feet of those who become addicted," she says. "Instead, she shows us how well-meaning but misinformed physicians, and patients conditioned to trust them unconditionally, all played a role in this devastating epidemic."
Pain Killer, which was recommended by three of our experts, tells the story of Purdue Pharma — the company that turned OxyContin into a billion-dollar drug, and unleashed a public-health crisis — and the family behind it. "Pain Killer was way ahead of its time when it came out in 2003, before heroin really hit hard," Sam Quinones says. "It is the pioneering work on this topic." Lembke called the book riveting, as did DuPont.
Quinones tackles two stories of capitalism in Dreamland, a book recommended by four of our experts: (1) Purdue's relentless marketing of OxyContin and (2) the simultaneous inundation of black tar heroin from Mexico's west coast. The book contains interviews with pharmaceutical pioneers, Mexican entrepreneurs, narcotics investigators, as well as addicts and their families, and it shows how the collision of these two events led to an unmitigated disaster that has devastated communities across the country. Eve Marson, the director of Dr. Feelgood, says the book paints "a devastating picture of Americans whose lives have been destroyed by both prescription opiates and street heroin. [Quinones] carefully reveals how these two epidemics are intrinsically linked." "The writing is taut and meticulous," says Peltz. "And the portraits he paints of the humans affected are powerful and painful. Quinones documents in this book how America's two powerful addictions — opioids and greed — combined to create one of the most devastating epidemics in the country's history."
Unlike Pain Killer, Dopesick was an immediate New York Times best seller. Like Pain Killer, it was recommended by almost all of our experts. Macy spent three decades reporting in central Appalachia, which she calls the birthplace of the modern opioid epidemic. The book explores the lives of heroin users, drug dealers, cops, judges, doctors, and health activists, and describes in detail the criminal case brought against OxyContin and Purdue that pushed them to change their formula (and consequently led more people to move from Oxy to street heroin). "The book's power comes from the focus on individuals and communities suffering in this epidemic," says DuPont. "Macy focuses on West Virginia, and tells the story from the point of view of a community affected."
Strat picks for additional reading
Nico Walker wrote Cherry, his debut novel, from a federal prison in Ashland, Kentucky, where he's been serving time since 2013. The book is semi-autobiographical; like his unnamed narrator, Walker is a former army medic, addict, and bank robber. The book describes heroin addiction (and withdrawal or "dope sickness") in such painful, intimate detail that New York's book critic, Christian Lorentzen, described it in a recent review as "the first great novel of the opioid epidemic."
American Pain tells the story of Chris George, the 27-year-old son of a South Florida home builder who became the so-called "King of the Florida Pill Mills," which are the pain clinics that dispensed meds without tracking the patients. Within two years, George raked in $40 million and moved an untold amount of unregulated OxyContin. "Temple chronicles the rise and fall of a massive pill mill and its owners in Florida, at a time when pills were the new gold in that state," says Quinones.
For a (slightly) shorter primer on Purdue and the Sackler family that founded it and still reaps the benefits of OxyContin, you can't do much better than this feature from The New Yorker, from last fall. Patrick Radden Keefe covers the lives and careers of the three Sackler brothers, two of which founded Purdue. The story then maps out how the company developed and studied its drugs, and — crucially — how it pioneered the trade of pharmaceutical marketing and employed an army of workers to push OxyContin on physicians throughout the company, even when they had reason to believe it could be dangerous.
The Strategist is designed to surface the most useful, expert recommendations for things to buy across the vast e-commerce landscape. Some of our latest conquests include the best acne treatments, rolling luggage, pillows for side sleepers, natural anxiety remedies, and bath towels. We update links when possible, but note that deals can expire and all prices are subject to change.
Every editorial product is independently selected. If you buy something through our links, New York may earn an affiliate commission.