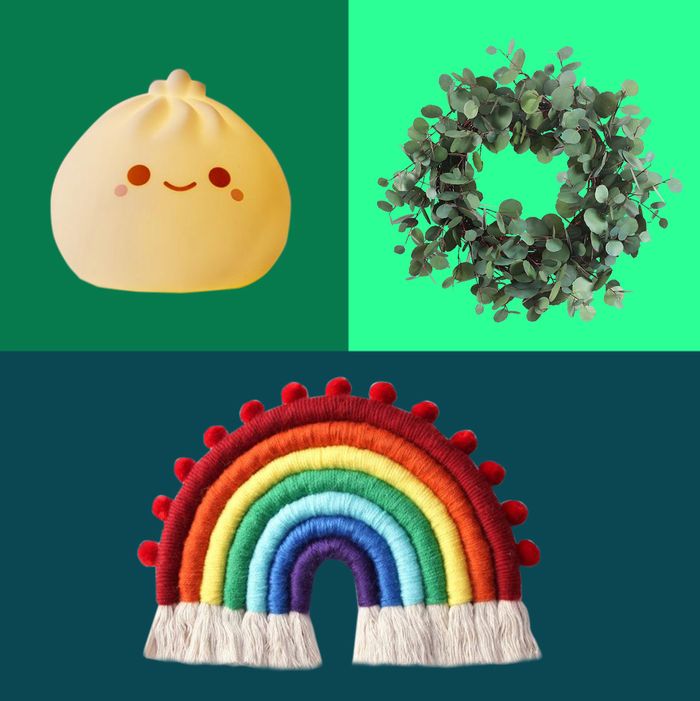 Photo: Courtesy of Retailers
About two years ago, in search of the perfect second-anniversary present for my boyfriend, I turned to Etsy, the online marketplace that connects makers to buyers looking for all sorts of things, from wonderfully weird tutus for bearded dragons (that can fit other reptiles, in case you're in the market) to aesthetically pleasing, actually useful things like sustainable wood clocks and cashmere sweaters. This truly all-encompassing inventory now attracts some 44.8 million buyers and 2.6 million sellers annually, according to Etsy trend expert Dayna Isom Johnson (a judge on NBC's Making It), who says that "our sellers, because they work with small batches, can react to trends very quickly or even bubble up trends on their own." Johnson adds that she and a team of merchandisers and trend-spotters regularly compile data on what's bubbling up on Etsy and share them via a blog.
If, like me, you always maybe thought of Etsy as a sort of niche place to find super-specific, somewhat sentimental gifts (like a second-anniversary present), you might be surprised to hear that the products in the retailer's trend reports are actually not niche at all. After taking a deeper look at the shopping trends in Etsy's latest holiday report, I noticed that lots of the most popular products on the site are also popping up at larger retailers — like Urban Outfitters, West Elm, Nordstrom, and even Amazon — this season. To get the scoop on the gifting trends that Johnson thinks are going to keep growing, I asked her about the eight most-popular types of things people are buying based on Etsy's data. The list below includes items from Etsy that fall into those eight categories, as well as things from other retailers that seem to have gotten in on the trends.
Indoor herb gardens
Of all of Etsy's growing shopping trends that Johnson has recently tracked, indoor herb gardens — a product we are no stranger to — have had the most exponential growth, with a 1,978 percent increase in searches in the past three months compared to this time last year. Johnson suspects that surge is partly due to the simple fact that growing your own plants is fun, especially if you have kids. But she says there are other reasons, including that "more than ever, everyone wants to become more sustainable. And this is certainly one of those items that allows you to be sustainable." She also points to the growing number of people seemingly itching to become plant parents. "It's really only becoming a stronger movement every month," she says. "Plants make you happy." Indoor herb gardens also fall into the realm of wellness and self-care, two seemingly ever-popular trends that get even more popular around the end of one year and the start of a new one. But, for families, the prospect of growing something together is really what makes these such popular gifts, according to Johnson. "People are really devoting that quality time to one another." Etsy didn't necessarily invent indoor herb gardens — over the last year or so, we've seen them on Amazon and at Nordstrom and Food52. But, like most things it sells, Etsy's have a special handmade vibe that adds another layer to an already thoughtful gift.
If you want your herbs on the wall.
A low-maintenance herb garden we've written about before that waters your plants with just the press of a button.
A smaller garden if you're limited on space.
This expert-recommended indoor herb garden has a white LED light, instead of the typical red or blue, making it more aesthetically pleasing.
Dried flowers
Johnson admits that the concept of dried flowers as décor has been around for "thousands of years." And yet, she's seen a 27 percent increase in Etsy searches for them over the past three months than in the same period last year. "What's interesting," she says, "is how they're making a comeback — now they've got this modernized take." According to Johnson, this means that instead of shopping for potpourri bowls to put dried flowers in, she's seeing shoppers gravitate toward things like candles made with dried flowers or artfully framed dried flowers you might hang on a gallery wall. Of course, a big part of their appeal — both then and now — is their practicality, especially when giving dried flowers as a gift. "Real flowers go away, but these are functional pieces that can last. They are a forever gift."
An unscented candle filled with flowers for a coffee table, dresser, or wherever.
These delicate winged flowers will sit nicely in a vase, almost like real flowers would.
A bundle of dried flowers that we think would make an excellent hostess gift.
These suspended flowers would add a rustic touch to any kitchen.
Eucalyptus wreaths
Eucalyptus wreaths are somewhat of a micro trend within the larger greenery one: Over the past three months, searches for them (dried and fresh) increased by 171 percent compared to the same time last year, Johnson says. She thinks part of their appeal is that, unlike your typical wreaths made with pine branches, eucalyptus ones bring the plant's soothing smell to a space. "Eucalyptus really allows you to feel calm and grounded," she explains, adding that these wreaths would make for slightly more personal hostess gifts than, say, a bottle of wine. Like with any wreath, she notes that these should not just be thought of for hanging. "Yes, it can be tied on a door, but pop a candle in the middle of it, and it could be a beautiful centerpiece."
A perfectly bushy, fragrant wreath filled with fresh eucalyptus and lavender.
If you want a wreath that will last for more than one season, this Pottery Barn one is made with faux eucalyptus — which looks just as nice as the real thing (but, of course, won't smell like it).