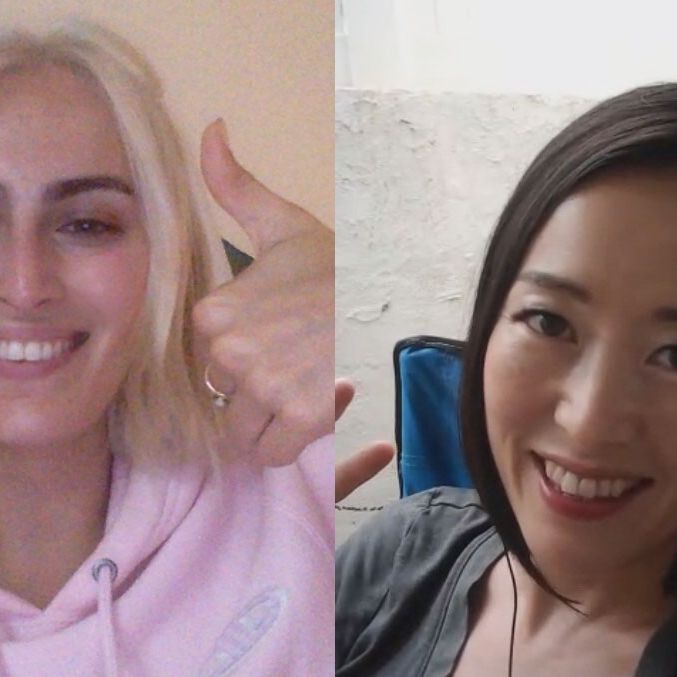 Jude Chao is a skin-care legend. I first stumbled upon her blog, Fifty Shades of Snail, two years ago; I can only liken the experience to hitting the jackpot. There were pages and pages of intriguing products I knew next to nothing about, all accompanied with how-to instructions, before and after photos of Chao's skin, and information on the product's active ingredients. She left nothing up to the imagination: every detail — from packaging to smell — was described so clearly, I felt as though I had actually tried the product myself. In other words: You best believe that if Fiddy Snails, as she's known colloquially among her fans, writes an approving review of a product, I am buying that product. In fact: It's on Chao's blog that I found my beloved Cosrx Snail Mucin Essence, which I use daily. A couple of weeks ago, after years of admiring Chao and her work from afar, I mustered up the courage to slide into her DMs and ask if she'd be willing to chat with me about all things beauty. She warmly agreed, and a week later Skyped me from her cozy backyard just south of Los Angeles to discuss the rise of K-beauty in the states, and to share some of her beauty all-timers.
Before we really start, I just have to tell you what a huge influence you've had on me. You were one of the first skin-care bloggers I ever really started following. Some products you recommended are all-time Holy Grails of mine.
Oh my God! That makes me super happy.
I've been wanting to ask you this forever: How did you first get into K-beauty, and when did you start noticing that the trend was blowing up in the states?
I've always been interested in skin care. My mom is a really typical Asian mom, by which I mean she took amazing care of her skin, and had a long daily routine she followed. But I didn't get actively into learning about skin care until I was about 33. Because that's when I got a good job, and finally had the resources to invest in nice products.
So your job wasn't in beauty at the time? I know you're now the marketing director at Beautytap.
No. This was around 2013 — I was a tech journalist, but in my spare time I was getting really into Reddit's Skincare Addiction forum. At the time, K-beauty was just starting to pick up steam in the U.S. I'd see a lot of people on Skincare Addiction mentioning snail-based products, and all sorts of other Korean beauty stuff. That blew my mind; I was like, People in the U.S. are talking about Korean products? How strange!
Why do you think there is such a wealth of incredible products being made out of Asia?
In Asia, there's a huge focus on skin. I think in the United States the beauty standard for skin is smooth, not wrinkled, and not broken out. But in Asia, there has always been this desire for the skin to have perfect texture, and this difficult-to-achieve glow as well. Because of that, the beauty industry in Asia is driven to innovate and produce new products fast.
What product or brand made you really fall in love with skin care?
The first product I got really into is the Benton Snail Bee High Content Essence. I'd read a ton about it on Reddit, and then went through three or four bottles — it does so much for redness and soothing. And then Benton had this massive contamination scandal. A straight-up fungal contamination of one of their batches of product.
Wait, WHAT! I'm freaking out. So do we have to go and put all Benton products in the trash immediately?
I'm sure they cleaned up their act since then, but I don't use their stuff or talk about their stuff anymore. But that was the jumping-off-point product, and then from there, sheet masks. And especially My Beauty Diary sheet masks.
I love MBD. Even if you put it on at midday, it never makes your makeup pill afterward, which a lot of masks will do. What's your skin type, by the way? Are you breakout-prone or not really?
I would say pretty normal. But I use tretinoin — a prescription acne medication — so I have to kind of watch it because if I overdo it with skin care it'll dry out. Plus, I get a ton of rashes.
Ah, I see. Okay, so this is very fun for me: Let's go through your top five skin-care products of all time.
Okay, so the first thing is the Cosrx Snail Mucin hands down. It makes your skin so resilient, it makes every imperfection heal so much faster, and it just puts your skin all-around in a really healthy state.
And it's just so deeply moisturizing as well; it makes me feel like my skin is drinking water. I think that's what I love so much about Cosrx as a brand. I just feel like there aren't that many brands that combat acne while also nourishing the skin.
Totally. The second thing is the Sulwhasoo activating serum. It stimulates circulation; it makes my cheeks rosier; it just brings more life and more color to my skin. I've never seen another product do that.
Wow, I love that. Since going platinum, my skin has been so beige and single-toned. I've been packing on so much blush.
You should really try it. The third thing I love is the Sulwhasoo overnight revitalizing mask. It's the fastest way to get that ultraglowy effect on your skin. I love using it when my skin is looking really tired and dull.
I've never tried that. Do you put on moisturizer afterward?
Sometimes. It depends on how dry my skin is. The next product would probably be the LJH Vita Propolis Ampoule. Propolis is a sealant that bees use to close up unwanted gaps in their hives — so my totally unscientific theory is that it acts similarly in those little microscopic crevices in your face. Just seals and fills everything in so that it reflects light really smoothly.
Ah, I haven't tried that either! And what's your last one?
The final product I hope isn't too boring — it's a sunscreen. The Pure Block Aqua Sun Gel. It's good protection — SPF 50 — but it's super light with no white cast. I can put it on two or three times without any pilling.
Have you tried the Cosrx Sunscreen?
I have. The product itself isn't bad at all, but I'm sensitive to the way sunscreens feel on my skin, and it's just a little heavy for my taste.
I get that. Let's talk makeup.
I'm not as big of a makeup person as I am a skin-care person, but my favorite foundation is the Giorgio Armani Face Fabric Foundation.
Oh wow. I've only tried Luminous Silk, but it's a staple of mine.
So it's more matte than Luminous Silk, but it's megasheer. It blends really well and shade No. 2 is the perfect shade match for me; it blends so well. The second one is the Shu Uemura brow pencil. A lot of brow pencils pull really red on me — something about my undertones — and then the whole thing just looks super weird. I use the shade stone gray; it's a cool gray.
Yeah, I have that, too. My eyebrows are so dark, I actually like using a lighter pencil on them. It gives them definition without making them look like caterpillars.
I also love the Urban Decay Naked 3 palette. I just like it because it's so soft and blendable and the color actually shows up.
I also love the Etude House Eye Proof 10 eye primer, which you use on your lids to protect your eyeshadow from creasing or smudging; it's cheap as shit. The tube is kind of a stupid shape, which annoyingly prevents you from getting every last drop of the product out. But I love using it as eyeshadow primer, and also in the bald spots of my eyebrows so that my brow pencil stays put. I also use it on the bridge of my nose so that my sunglasses don't slide. I get like four tubes at a time off of Amazon.
Whoa, that's such a life hack! My sunglasses always slide off my face. I need to try that.
My last product would probably be Glossier Boy Brow. The combination of an eyebrow pencil and Boy Brow makes my brows look so dimensional and real.
The Strategist is designed to surface the most useful, expert recommendations for things to buy across the vast e-commerce landscape. Some of our latest conquests include the best acne treatments, rolling luggage, pillows for side sleepers, natural anxiety remedies, and bath towels. We update links when possible, but note that deals can expire and all prices are subject to change.
Every editorial product is independently selected. If you buy something through our links, New York may earn an affiliate commission.
For more Rio-approved beauty products, check out The Strategist's store on Amazon.