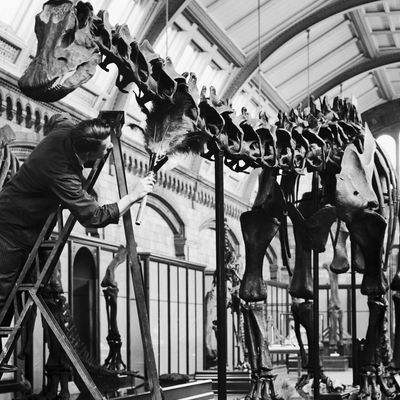 Dust is a problem for multiple reasons: Tiny particles of skin, dirt, pollen, and dander can coat the surfaces of your furniture and walls (making things look dingy), and as gross as it sounds they can also fill your lungs, which is why dust is often the underlying cause of allergies. Consistent cleaning is essential if you want to rid your home of dust and mites. And the most efficient plan of attack is to clean from the top down to avoid contaminating the areas you just dusted.
But to really rid your home of dust you need to do more than just wipe down countertops, bookshelves, and electronics (notorious dust magnets). You'll also want to avoid clutter, wash linens and curtains frequently, and vacuum your floors, carpets, furniture, and even your mattress on a regular basis. Here, we asked sixteen professional cleaners to weigh in on the most efficient ways to get rid of dust in the home, and the best tools for the job.
All of the professionals we spoke with suggest dusting tabletops, counters, bookshelves and other smooth surfaces about one a week. They also all agree that the best tool for doing that is a microfiber cloth. "Microfiber, thanks to its microscopically tiny weave, holds ten times more dirt per square inch than its cotton counterparts, so you will collect more dust and keep it from redepositing as you clean the next surface," says Melissa Homer, chief cleaning officer for MaidPro. The classic feather duster isn't all that effective either. Jack Prenter, owner of Toronto cleaning company Chore Bliss, says dusters "don't attract and trap dust, they just displace it and move it around your home." Microfiber cloths not only do a better job, they last longer because once you're done dusting you just pop them in the laundry. Lauren Simonelli, the co-founder of eco-friendly cleaning product company ThreeMain, likes microfiber cloths but warns that they "tend to release more fibers when washed, so they aren't quite as eco-friendly as those made of cotton." As an alternative, she recommends ThreeMain's Cotton Paperless Towels (which are, unfortunately, currently sold out).
No matter what you choose to use, to make sure you're working efficiently, you want to dust from the top down, say Prenter and Homer, since particles can fall to the floor and circulate in the air when you're wiping them from door frames and shelves. A few spots that would be good to hit first are the tops of fan blades, blinds, paintings, door frames, and picture frames, says Kadi Dulude, owner of New York's Wizard of Homes cleaning service. They're often the most neglected. The inside of your radiator and the filters of your AC unit are two other places she calls out as dust traps.
Though all of our experts agree that you'll pick up a good amount of dust with a dry microfiber cloth, several of them suggest dampening your microfiber cloths with water or spraying them with an all-purpose cleaner before use, to help them grip and remove dust better. Here's a biodegradable cleaner, which Dulude calls an "all-time favorite," and which will disinfect surfaces as well as remove dirt and dust. Just don't use it on items that can't tolerate water, such as collectibles or art pieces, says Homer. Those should be "tickle-dusted with a fluffy microfiber duster over a surface you can wipe clean afterward."
For those really high places, you might need something with a little more reach than a microfiber cloth. "For walls and ceilings, it's best to have a long-handled microfiber duster or a mop with a microfiber cloth attached," says David Seville, CEO of Crewcare, a commercial cleaning company in Aukland, New Zealand. This set of microfiber dusters includes three different shapes and textures to use in different areas. They also come with an extendible pole to help you reach high ledges and corners, plus they're washable so you can use them over and over again. Gary Downing, owner of Happy Happy Cleaning in Pennsylvania, says he always carries a ball-shaped microfiber duster because it can squeeze through small areas, like in between the slats on your bannister, and it adjusts to the shape of narrow crevices where dust collects the most.
Blinds are among the hardest spots to dust in a home because there's so little surface area to them and dust tends to cake on them over time. "It's really important to keep up with blind care or you'll end up with a very messy, hard-to-clean blind," Dulude says. "In some cases, it takes us so long to scrub it clean that it makes more sense for a client to buy new blinds." Nelson suggests using a Swiffer duster to reach between each blind and remove dust. Dulude also likes weekly use of Swiffers and says reusable microfiber dusters (like the set we mentioned above) work well too. And Anna Harasim of Anna's Cleaning Service NY says Swiffers are "a life saver at each cleaning. With one piece you can work with it over and over, and you don't need to change it after each use. It won't damage anything and can be used on surfaces like glass, frames, toys, and collectibles."
For removing dust from hardwood floors
Corners, baseboards, and blind spots under furniture are a dust bunny's favorite place to hide. So you'll want to start with those hard-to-reach areas before addressing the center of your floor. "We like to use the Swiffer Mop with a Swiffer microfiber dry cloths to clean under furniture," says Dulude. Nelson and Downing agree that Swiffer cloths work well, but Nelson notes that you should try to avoid the scented ones. "They are wonderful," she says. "They excel at attracting and picking up dust and allergens, but the scented ones contain synthetic fragrances, which are toxic in and of themselves." Dulude also recommends using the mop to dry-dust walls and ceilings before you vacuum. "Though obviously, use a different microfiber cloth from what you used for floors," she says.
Now that you've collected all the dust from the edges and corners of your room you can move on to vacuuming, which is by far the preferred method of our experts over sweeping. "Always vacuum your hard floors, never sweep," says Homer. She explains that sweeping kicks as much dust back into the air as it does into your dustpan, while using a vacuum hose with a horsehair floor brush sucks everything up without scratching your hardwoods. "It will protect even the most delicate floors, like fine wood and marble, but actually extract and remove dust."
Prenter, Downing, and Marilee Nelson, an environmental consultant and co-founder of nontoxic cleaning formula Branch Basics, mention Shark vacuums. "They are essentially cheaper clones of Dyson, with similar longevity, at a fraction of the price," Prenter says. Nelson likes Shark vacuums because they're economical and designed with a completely sealed canister and a HEPA filter to trap and prevent dust from spraying back into the air. This upright Shark model converts to a handheld version, has a microfiber dusting brush for hardwoods, and comes with a built-in HEPA filter.
Harasim is also a fan of Shark Vacuums and says lately she's been loving this cordless one, especially if you're a city dweller short of storage space. "The container-type vacuum cleaners are the best — like Kenmore or Miele — but in New York, people don't have the storage to keep that big vacuum cleaner with a lot of attachments," she explains. This one saves on space without sacrificing the extras. Harasim says it comes with multiple attachments and two batteries, so one is always charging and ready to go, but the standout feature is the flexible arm that allows you to "fold it in half so you can vacuum under the bed, under the couch, or under the table without bending over," she says. The top also comes off and turns into a handheld vacuum cleaner, which is great for getting dust off upholstered surfaces.
After you've Swiffered and vacuumed, our experts recommend mopping to remove any remaining dust and prevent it from settling in. If you have a Swiffer for your hardwood floor, you could probably just throw on a Swiffer wet pad, but on tile floors, a traditional mop and pail with a cleaning agent would work, too. Summer Shadforth, a cleaning expert at Fantastic Cleaners Australia, suggests mopping the floors at least once a week, "as water is very effective in keeping dust at bay."
"I always follow up any dusting with mopping my floors to ensure the remaining dust that stirred into the air or fell to the floor is also removed," says Simonelli. She mixes her brand's surface cleaner with water and cleans with this sponge mop, which she says is a nice eco-friendly option. "The body is made with minimal plastic, and the sponge is made from cellulose, making it more sustainable than some of the other options available."
For getting dust out of rugs and carpets
Carpets are a little trickier than hardwood floors. For those, the experts we spoke to steered us toward heavy-duty canister vacuums with enough power to lift deeply embedded particles from your rugs and carpets, or to pet-specific options if you're dealing with more hair and dander. Nelson suggested this Nilfisk commercial vacuum, which she says is abatement graded, meaning it's been tested and proven to remove dust and mold. "There's nothing like it on the market, which accounts for the high price," she says. If you suffer from bad allergies or if you feel your carpet needs some industrial-strength cleaning, you may want to try it. For your rugs, Bailey Carson, Head of Cleaning at Handy, says you need to shake your rugs out frequently: "If you have thick rugs in your house, you'll want to take them outside once or twice a month and beat them with a broom for a deeper clean."
Nelson also likes the more affordable Miele Complete C2 Hard Floor Canister Vacuum Cleaner. It's a favorite for cleaning carpets among experts, including Dulude and Don Ham, VP of strategic partnerships at Refresh Smart Home, and for vacuuming without recirculating dust. That one is basically sold out now, but this similar model — and favorite of Harasim's — has the same wattage and six suction settings to work on a variety of surfaces, and it's even cheaper.
For getting rid of dust on fabric furniture
With something less porous, like a leather couch, you could easily clean up crumbs and dust with a vacuum, or perhaps wipe it with some leather cleaner, and call it a day. Fabric furniture, however, as we've written before, is more delicate. Here, a large lint roller could come in handy for picking up surface-level stuff in between sessions with the upholstery brush attachment on your vacuum. "Lint rollers are useful, but far less efficient than a vacuum or damp cloth, and therefore only recommended for caring for soft furnishing and clothing," says Prenter. "Your couch, bedding, and lamp shades would all benefit from a quick sweep with a lint roller."
For getting rid of the dust in your air
Many allergists recommend a HEPA air purifier for removing airborne particles if you suffer from allergies. Homer says they're redundant if you have a home cooling or heating system that already includes filtration, but "a lovely solution if you don't have central air or central heating." She recommends Germ Guardian Air Purifiers, but suggests ensuring that the model you're buying is actually big enough to handle the square footage of the space you plan to use it in.
Nelson's high-end choice for air filtration is this Austin Air model because it's not made with plastic, so there's no chance of any chemical off-gassing into the air you are trying to purify. The Austin Air also gets top marks from Nelson because it picks up very fine particulates, is rated A for mold, which means it's picking up the very small dust particles that have mold on them, and it also has a carbon filter that picks up chemical pollution as well.
For a stylish choice, there's this Blueair model. According to Simonelli, the brand's "Pure line gets the job done and has an automated setting to make running it easy, without being an eyesore." The 411 auto adjusts its fan settings based on real-time conditions. Plus, the grey fabric on the outside also acts a pre-filter, and it can be swapped out for another color to best match your decor.
If can't afford an plug-in air purifier, Nelson let us in on a budget but effective hack: She says you can create your own air purifier by pairing a HEPA filter (she recommends these from Filtrete), which are usually used in the return vent of household heating and cooling systems, with a simple box fan. "Hold a 20x20 inch Filtrete filter against the back of the fan and turn the fan on. The suction from the fan will hold that filter in place without any tape or anything and you've got a great filtration for dust right there," says Nelson.
The Strategist is designed to surface the most useful, expert recommendations for things to buy across the vast e-commerce landscape. Some of our latest conquests include the best acne treatments, rolling luggage, pillows for side sleepers, natural anxiety remedies, and bath towels. We update links when possible, but note that deals can expire and all prices are subject to change.