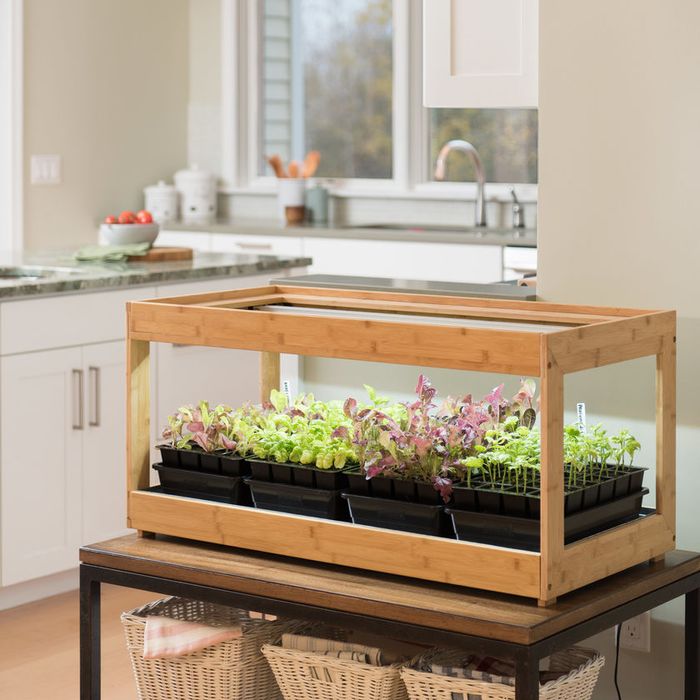 Photo: Courtesy of the retailer
Between the convenience of having flavorful herbs on hand whenever you need, and the satisfaction that comes with knowing you grew them yourself, there are lots of reasons to consider starting an indoor herb garden. Imagine seasoning your fresh tomato sauce with a few leaves of freshly picked basil, sprinkling a pinch of cilantro in your homemade guacamole, or tossing a sprig of rosemary on your roasted vegetables. As idyllic as it sounds, though, these little herbs pose big challenges for the aspiring indoor gardener. Most require at least six to eight hours of bright light each day and enough water to thrive — but not so much water that their roots will rot.
Fortunately, thanks to growing interest in indoor gardening (and a boost from the legalization of marijuana in many states), it's easier than ever to find grow lights and other tools that'll help your herbs grow. "Right now there's a lot of money being put into this technology as more people are eager to grow plants indoors," says Adam Dooling, curator of outdoor gardens and herbaceous collections at the New York Botanical Garden. Below, Dooling and four more gardening experts share their recommendations for everything you need to start your own herb garden, from soil and seeds to pots and pruners.
Best herbs to grow indoors
"The best herbs to grow indoors are the ones you find yourself reaching for most often with everyday cooking," says Emily Murphy, author of Grow What You Love: 12 Food Plant Families To Change Your Life. With seeds for five of the most common kitchen herbs, including cilantro and parsley which Murphy calls "the best herbs for low-light conditions," this set is a good place to get started. It also includes basil which is great for new gardeners just getting a feel for how often to water their herbs. Dooling explains, "you'll know from a mile away if your basil plant needs water because it'll start to wilt and flag. If you water it quickly enough it should bounce back and be fine."
An annual plant (one that lives for one season and produces seeds for the next), basil is a popular herb garden choice and one that's easily grown straight from seeds. Outdoors, basil plants can grow quite large, but if you continually prune leaves from your potted plant as needed, you'll control its size and grow it as a "microgreen." Gayla Trail, author of Easy Growing: Organic Herbs and Edible Flowers from Small Spaces, explains, "microgreens [are] very young plants that are harvested as seedlings or just after. They make a flavourful and fresh addition to salads, sandwiches, and as soup or meal garnishes." Along with High Mowing Seeds, Botanical Interests is one of Murphy's favorite sources for seeds.
Unlike annuals that are best grown from seed, experts say that perennial herbs — ones that live and regrow over multiple years — should be grown from starters, or parts of existing plants. "Many perennial herbs such as sage, rosemary, lavender, mint, and thyme are best started from transplants or cuttings since they can be more difficult to grow from seed or are slow growers that take a few years to get to a meaningful size," says Trail. Murphy agrees and says, "the new gardener might get frustrated growing perennials from seed because it can take a really long time." Barry Tonkinson, director of culinary research and development at the Institute of Culinary Education, likes these Mediterranean herbs, like rosemary, thyme, and sage, because they're "heartier herbs [and] they give off a really nice scent so they're perfect for also scenting your kitchen or your apartment."
Also a perennial that's best grown from a starter plant, cuban oregano is Trail's favorite herb for indoor gardens, and one that's especially easy for new gardeners. "This plant has succulent-like leaves and is practically unkillable," she says. "Cuban oregano will survive anywhere."
Best soils for indoor herb gardening
Once you've selected which herbs you'd like to grow, it's important to make sure you're growing them in the best possible soil. "Don't cheap out on soil, start with the best soil and your garden will thrive," says Murphy. "The best soil for container gardening is an organic potting mix that's peat-free." Often added to soil for improved water retention, experts recommend steering clear of peat because it's not a sustainable resource. Instead, they suggest looking for soil with coconut coir which, Murphy says, "is a natural byproduct of the coconut industry and far more sustainable than peat." Murphy and Dooling are both fans of the peat-free soil from Organic Mechanics. Dooling likes that "it's all made from completely recycled biosolids."
Another one of Murphy's favorite potting mixes, this soil from the Humboldt County-based FoxFarm also features coconut coir to keep plant roots moist. "Another neat thing about coconut coir," she says, "is that it's pH neutral. Most herbs prefer pH neutral soil. That's the range in which they uptake the nutrients the best."
Not technically a soil, Growstone is a hydroponic (soilless) grow medium made from recycled glass. Sarah Burrows, co-founder of Modern Sprout, likes it for growing herbs indoors because while "soil has a tendency to compact over time and cut off oxygen to roots, [Growstone] creates really nice pockets for the roots to continue to breathe and … [holds] water right next to the roots instead of taking away from it which is what soil does because it's super absorbent." The lightweight and porous blend also contains coconut coir, creating an ideal environment for seeds to grow.
Best pots and planters for indoor herbs
Picking pots for your herbs is certainly an aesthetic choice, but also one that should have your plants' best interests in mind. "The important thing with pots is just that [they] allow drainage and that they don't dry out too quickly," says Tonkinson. For most herbs with the exception of Mediterranean ones (more on that below) experts recommend choosing glazed clay over terracotta pots since, as Burrows says, "the problem with terracotta is it's actually very porous so it pulls moisture out of the soil to the pot which means it's pulling moisture away from your plant." With drainage holes and a saucer included, these colorful glazed pots are a nice-looking option.
This little tray and three planters with drainage holes would be perfect for a windowsill herb garden.
For Mediterranean herbs like rosemary, sage, and thyme, though, you do want a terracotta or clay pot that will drain and dry out quickly. "Plants from the Mediterranean like to be watered well and then allowed to dry out thoroughly between waterings," says Murphy. "So, it's important to put these plants into containers that breathe and wick moisture."