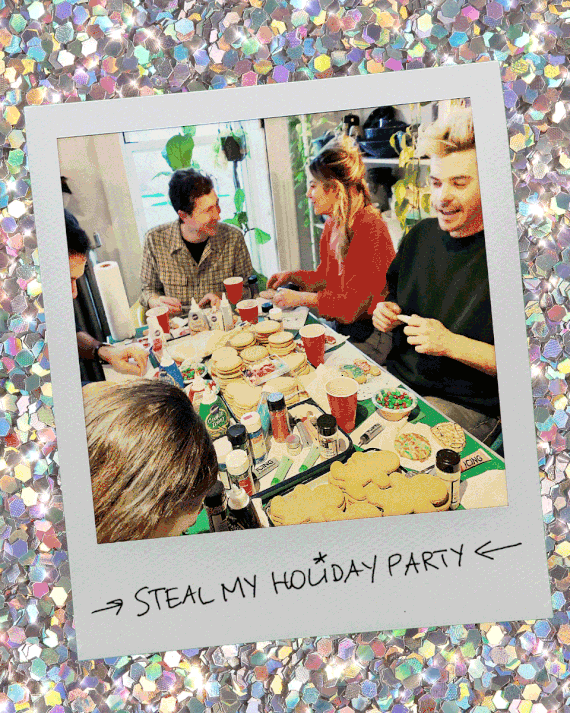 Photo-Illustration: The Strategist; Photo: Dan Pelosi
The holiday season is much more fun when there are parties to attend, but actually hosting a holiday gathering is another story (especially if you've forgotten how to entertain after a year of sitting at home alone). In this series, we ask veteran party-throwers to walk us through their process for a foolproof celebration — from baking cookies two weeks in advance, to greeting their guests with tarot cards, to, finally, hitting the Hanukkah-themed shotski.
The premise for Dan Pelosi's holiday party is simple: Arrange several dozen naked cookies on a long table, with options for toppings, and invite all your friends to stop by and decorate. More commonly known as the recipe developer and content creator GrossyPelosi, he has been hosting a cookie party out of his Brooklyn apartment for close to a decade now, and it costs him less than $300. He buys premade sugar-cookie and gingerbread dough, bakes them up a couple weeks in advance (because "the harder they are, the better they are for decorating"), then lets people have at it, with a rotating crew of as many as 60 guests coming and going between the hours of 2 p.m. and 6 p.m.
There are some ground rules. In addition to the decorating table, Pelosi sets up a cookie-tasting table loaded with the various homemade creations of his guests. And he is clear from the moment he sends out the invite a month beforehand: "It's either bring your own homemade cookies or don't bring cookies at all." Not to say he forces anybody to prebake — they can feel free to "bring a drink, bring me holiday ornaments, bring me the best milk you can find at the store" — but "I will literally not put a store-bought cookie on the table," he explains. "This is not a cookie party to just eat cookies for the sake of cookies; the act of making them is very much a part of the conversation, and I think you can feel that when you're in the room."
Three
weeks
before:
Order
the
tools
For the cookie-decorating table, I have a lot of tools in my apartment already — a big bag of cookie cutters, icing, candy eyeballs, sprinkles — but I take a look at everything and figure out if there's anything that needs a refresh or anything I want new for this year. I go to New York Cake in person, which is a shop in Chelsea. It's basically the cake-decorating warehouse, a maze of all the tools you never knew you needed. But they have tons available online too. The point is you want to have fun picking this stuff out, and they have such a great selection. It really sparks your imagination.
Finally, I go out to the store and get premade sugar-cookie dough and sometimes gingerbread dough. My point of view on the cookie-decorating table is take it easy on yourself because the focus here is on the decorating, not the taste, and it would be a waste of time to make the cookies and icing myself. This is where I give myself a little bit of relief.
Two
weeks
before:
Start
baking
The decorating cookies get rolled out, cut, and baked far in advance. I'm making four to five dozen of these. The harder they are, the better off they are for decorating. They might as well be pieces of cardboard.
I also start baking off what I call the "edible cookies." I know which ones have the best shelf life and can last a week or two. There's what is actually called Italian holiday cookies, sort of a dense biscuit with frosting and sprinkles, and then there's my pignoli cookies and my peanut-butter blossoms. Those three are at every party and then I try to bring some newness every year with a few others. I usually make one batch each of six types of cookies on my own, and a typical batch yields about four dozen. I feel like it really gets the energy of the table going. They go in tins and get labeled "Do not touch" until the day of the party.
A good tip is if you put a piece of basic white sandwich bread in your tin on top of your cookies, it helps them stay fresh. The bread goes stale instead of the cookies. Every couple days, replace the slice, and the air will not touch your cookies. Also, keep them in a cool part of your house.
10 a.m.: Prep the cookie-decorating table
The cookie-decorating table comes in the form of a green folding table I usually store in my laundry room. The exact one I have isn't available online, but I like it because it's green and festive. The red one would work great too. It's not as generic as your standard folding table, but it's still durable and easy to clean. I steal about eight chairs from my ten-foot-long dining-room table — which will not have any seats around for the party — and put them around the folding one. There's only so much room, and those are the hottest seats at the party.
I put out all the cookies and tools on top of these enamelware trays. They're great because they keep things organized, aren't precious, and are easy to clean at the end of the day. They're also sold as artist palettes, which I like because they're inherently a tool for creativity; you can mix your own frosting colors on them.
11 a.m.: Prep the cookie-tasting table
The main cookie table is the aforementioned giant dining-room table. I cover it fully with a sheet of brown kraft paper from a roll I bought like seven years ago. It will probably last me until the apocalypse. It's great because not only can you write directly on it (more on that in a moment), but at the end of the night, you just crumple the whole thing up and your table is clean.
I plop down like six Sharpies, a stack of brown paper lunch bags, and a roll of washi tape. I write on the kraft paper "Take some home" so that people remember to get extra goodies before they leave. (The tape is for sealing them up.) I put out stacks of napkins on each end of the table too. There are no plates, no utensils. Just napkins.
I also set out my own cookies in really neat, kind of narrow piles about halfway deep. I label directly on the kraft paper adjacent to those, too, with my name, the type of cookie, and my Instagram handle — that way, people know to do the same when they arrive.
12 p.m.: Prep the drinks area
Our kitchen becomes the drinks area for the party. We put a cutting board over the stove to create extra counter space, and on top of that, a dispenser with a spout that has a big-batch cocktail in it. I don't drink, so my two roommates take care of making that. We put plastic cups next to it, and everyone can just help themselves. It's nice not to have to think about mixing or serving drinks while entertaining.
I'm in charge of the hot chocolate. Like six years ago, I bought one of those machines that stirs the hot chocolate and keeps it warm. (The one I have is slightly different from the one above.) I'm using Swiss Miss. I'm not melting chocolate. I've gone down that road before. Nothing hits quite like 20 packets of mix and five pounds of milk. It's just the way to go. It's not a fancy moment. So I'll get the hot chocolate warmed up; I'll put it in the machine; I'll have that going. And I set out marshmallows and straws and liquor next to it too.
I put my big Yeti cooler on the kitchen ground, which I fill with ice. People often bring beer and wine, and those bottles go in there as they arrive. Yeti keeps things cold for longer than any other cooler.
1:30 p.m.: Light the "fire"
Right before people start arriving, I turn on the TV in our living-room area to one of those fireplace channels, I plug our Christmas-tree lights in, and I start the music. The playlist is always pop Christmas — like Christina Aguilera, Kelly Clarkson, Britney Spears, and Mariah Carey covers.
2 p.m.: Party time
There are probably about 60 people who come over the course of the party, but because it's an open house, it's not all of them at once. Some people end up staying the whole time — or even after it ends — but you can also kind of breeze in; say hello; kiss, kiss; shake hands; eat cookies; take cookies; and leave.
The range of cookies that ends up on the table is amazing. It becomes this gallery on top of a really simple surface. Some people go completely ham and do the most. Like, one year Molly Baz made her dog out of gingerbread, and I was like, "Molly, these are too big. You're taking up too much space." Some people make really simple delicious cookies. I always love the people who make savory cookies. To have a cheesy or herby cookie is amazing. Someone always makes a cookie with M&M's in it. People end up having conversations like, "Oh my gosh, can I have that recipe? Can you email it to me?" That's why I love having Instagram handles written out, too, because it's just like, Let's get you guys connected.
The Strategist is designed to surface the most useful, expert recommendations for things to buy across the vast e-commerce landscape. Some of our latest conquests include the best acne treatments, rolling luggage, pillows for side sleepers, natural anxiety remedies, and bath towels. We update links when possible, but note that deals can expire and all prices are subject to change.