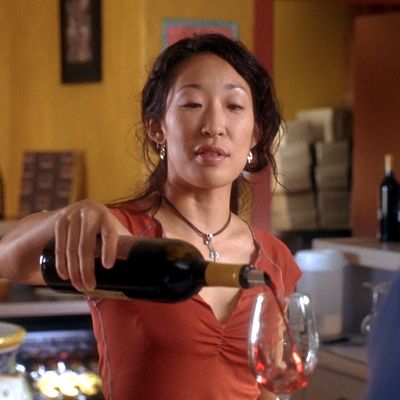 If you ever caught a glance of your purple-tinged teeth in the mirror — or worse, in a photo — after a night of drinking red wine, you know the very unappealing effect it can have on your smile. "Strong pigments in red wine are instant stain-makers for porous surfaces like your teeth," says New York–based dentist Dr. Lana Rozenberg. "These pigments, called chromogens, give it that deep, intense hue, and leave their mark on your teeth after just a few sips." Dr. Marc D. Schlenoff, director of advanced education in the general dentistry program at Columbia University College of Dental Medicine, explains, "If you look at, or rub your finger across a tooth, you would think it is very smooth, maybe like a plate or a glass. The truth is though, that the outer layer of the tooth, the enamel, contains many thousands of microscopic pores," which can be filled with staining debris from substances like coffee and wine.
Because no one wants their teeth to match their Syrah, we asked six dentists — and one wine-bar proprietor — to recommend strategies for keeping your smile bright, no matter how much you indulge. While no home remedies are as effective as professional whitening, their suggestions below, along with keeping up with your regular dental checkups and cleaning, can help you reduce stains on your own.
Best for preventing stains
Before you even pour your first glass of wine, dentists recommend making sure your teeth are as clean as possible. Rozenberg says, "brush your teeth before you go out so there is no plaque or tartar on the teeth, since stains like to adhere to the plaque film." Dr. Ruchi Sahota, an American Dental Association spokesperson, agrees that cleaner teeth are less vulnerable to stains: "When we brush our teeth we're disrupting bacteria and not allowing it to settle in one location. When it does, it becomes hard and [forms] tartar — a rough surface that can be easily stained." Nora O'Malley, owner and beverage director at Lois wine bar, says, "I learned the hard way that prevention is the only thing that works for me." She uses Sensodyne Pronamel, an enamel-strengthening toothpaste, plus an alcohol-free enamel-strengthening mouthwash to clean her teeth before drinking and build up stain resistance.
Along with teeth, red wine likes to leave its mark on lips, especially if they're cracked and dry. Keep your lips moisturized — or as O'Malley says, "massively hydrated" — to block stains from seeping in. "Petroleum-based lip glosses will act as a barrier to the tannins," says Rozenberg, and she even advises applying a thin layer of Vaseline on your teeth for added protection.
Best for treating stains on-the-go
If you've already started drinking and are noticing your teeth and lips taking on that tell-tale purple shade, try one these convenient wipes to brighten up on the go. They come recommended by both Rozenberg and Dr. Elisa Mello of NYC Smile Design. "Swipe them on your teeth to instantly erase embarrassing purple tinges," says Rozenberg. Mello likes that using these soon after drinking helps "get [the stain] off before it really gets embedded." In a pinch, you can also wipe your teeth with a cloth napkin after sipping a dark red. It's a trick O'Malley says she learned while living in Italy.
A quick brush with one of these mini toothbrushes, also recommended by Rozenberg, can wipe away a new stain, and freshen your breath, without water or toothpaste. "They remove the film that builds up on a tooth surface," she says. When you don't have your electric toothbrush and toothpaste with you, it's the next best thing for getting in a full brushing.
Like a Tide pen for your teeth, this pocket-sized whitener is another convenient way to instantly erase stains. "A Zoom whitening pen is a great quick item to have in your purse," says Dr. Victoria Veytsman, of Cosmetic Dental Studios. "You can literally click it a few times and paint on teeth. This will help stains from settling in."
What you eat while you're drinking also plays a role in keeping teeth white — and choosing cheese, which you're probably already pairing with your wine, is actually a very smart move. According to Rozenberg, "eating cheese causes calcium to build on your teeth and closes the micro-pores on the surface of your enamel, which makes it harder for red wine to stain them." Dr. Ramin Tabib, also of NYC Smile Design, adds, "calcium coats the teeth a little and prevents the tannins [high tannin wines like Cabernet Sauvignon are more staining than lighter wines like Pinot Noir] from binding," and he gives some sage advice: "Don't have the wine until you've had the cheese." Get indulgent with your next cheese plate with this selection from Murray's.
Besides the tannins and chromogens present in wine, its low, acidic pH level leads to staining. "An acidic environment makes the teeth more prone to staining," says Veytsman, and Tabib points out that swirling wine around in your mouth — which you may do if you're trying to get a taste for a new wine — is like "bathing the mouth in acid." Saliva, with its neutral pH, counteracts acidity, but red wine also has astringent properties that dry out your mouth, making it more difficult for saliva production to keep up. Rozenberg says, "chewing gum stimulates salivary flow and cleans teeth naturally," and she and Veytsman both recommend keeping sugar-free gum on hand. If gum isn't an option, try swishing some seltzer or water around in your mouth in between sips. "Aside from helping you stay hydrated — and avoid a hangover — water can prevent wine from lingering on your teeth," says Rozenberg.
Best for treating stains at home
Once you get a chance to brush your teeth and get rid of surface stains, make sure you're using an effective toothbrush and toothpaste. "My favorite toothbrush is, by far, the Sonicare," says Rozenberg. "While most toothbrushes require mechanical contact with the tooth surface to remove plaque, the Sonicare operates at such a high frequency that it creates a force that blasts plaque off the teeth without actually touching the tooth, which means it's gentle to teeth and gums and removes stains beautifully."
Tabib also likes electric toothbrushes but says some people use them improperly, moving around the mouth too quickly or using too much pressure. If you're just transitioning from a manual toothbrush, he likes the non-bulky Quip brush which feels like a traditional brush in the hand and pulses every 30 seconds when it's time to move to a new quadrant of your mouth. "If you're using it, it's a good idea to make sure you're using it effectively," he says. "Brush for two minutes and really angle the brush toward the gum line."
You'll obviously see a more dramatic improvement from in-office whitening, but brushing with a whitening toothpaste gets rid of fresh stains. "Whitening toothpastes work to remove surface stains on your teeth that naturally occur over time, and prevent new red wine teeth stains from forming," says Rozenberg. Both Mello and Veytsman recommend Crest 3D White as a solid, affordable choice.
When you can't make it into the dentist for a professional whitening procedure, or you're in between sessions, Veytsman calls Crest Whitestrips "a great way to maintain the whiteness." Mello prefers them to over-the-counter trays which may put too much pressure on the gums if not used correctly. Plus, they carry the ADA Seal of Acceptance, which Sahota says shows a product has been scientifically proven to be safe and effective.
The Strategist is designed to surface the most useful, expert recommendations for things to buy across the vast e-commerce landscape. Some of our latest conquests include the best acne treatments, rolling luggage, pillows for side sleepers, natural anxiety remedies, and bath towels. We update links when possible, but note that deals can expire and all prices are subject to change.
Every editorial product is independently selected. If you buy something through our links, New York may earn an affiliate commission.