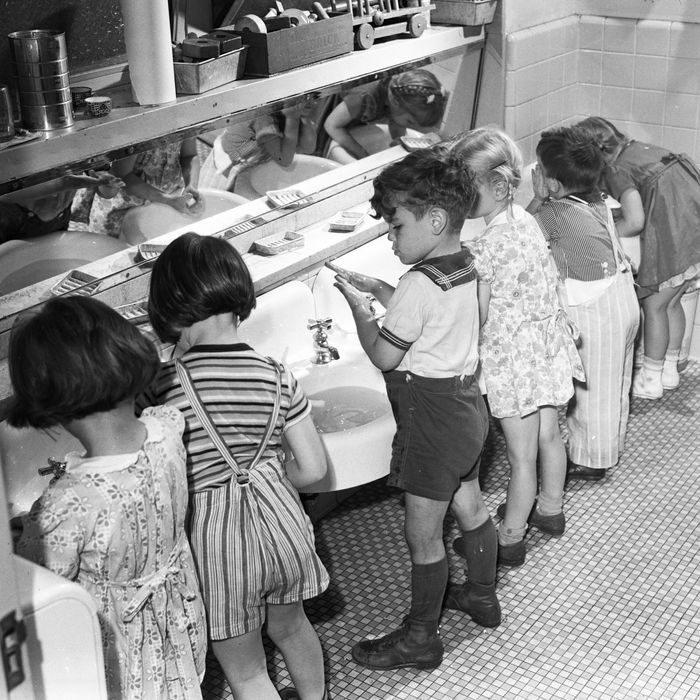 Photo: Bettmann/Bettmann Archive/Getty
With panic over the coronavirus spreading faster than the illness itself, it's tempting to stock up on face masks or barricade yourself inside your apartment with a year's worth of canned food. However, the actual advice offered by public-health officials everywhere, including the Centers for Disease Control and Prevention and the World Health Organization, is far less dramatic: Stay home if you're sick, keep your distance from someone who's coughing or sneezing, try not to touch your face, and wash your hands frequently. It may not feel as proactive as that hazmat suit you've been eyeing, but thoroughly washing your hands with soap and water for around 20 seconds (which feels way longer than it sounds) is the best thing you can do to protect yourself and others around you.
Since doctors say any standard soap will do the job — in fact, dermatologist Jennifer MacGregor of Union Square Laser Dermatology cautions to "stay clear of antibiotic cleansers, which can lead to bacterial resistance" — you might as well get something that feels nice on your skin and has a tolerable, maybe even pleasant, smell. All that handwashing will likely dry out your hands, too, so it's a good idea to pick up some cream or lotion to keep them feeling soft.
For most of us, this is likely the most attention we've ever paid to washing our hands. But for people in certain professions where sanitation is essential — like doctors, chefs, and teachers — it's, pardon the pun, old hand. To help the rest of us out in these times of frenetic ablution, we asked a panel of experienced hand-washers about what they use to stay clean and avoid dry, cracked skin.
Best hand soaps
Marc Bauer, a chef and senior director of culinary and pastry arts at the International Culinary Center, estimates that he washes his hands as many as 40 times each day. Although he often doesn't have a choice about what soap is available in the kitchen, at home he likes Trader Joe's orange or lemon hand soap because of the "very subtle fragrance."
Chef Frank Proto, director of culinary operations at the Institute of Culinary Education (who says he washes his hands up to 35 or 40 times daily), says he has "yet to find a soap that prevents my hands from drying out." But he has found bar soap to be less drying than liquid. MacGregor also recommends bar soap, specifically this ultragentle, unscented option from Dove. Whatever soap you use, she recommends avoiding "soaps with harsh ingredients and fragrance."
We learned about this soap from Robyn Coval, co-owner and vice-president of Bowery Kitchen Supplies, back when we went in search of the best products for cleaning cutting boards. Coval says her customers and co-workers love the plant-derived soap, which has moisturizing coconut extract and vitamin E, for washing their hands too. "We can't keep it in stock," she says. She describes the lemon verbena scent as "clean, bright, and fresh."
Note: Stock appears to be running low on Amazon, too, so if you miss out, there's always this lemon-scented, longtime Strategist favorite from Mrs. Meyer's.
Best handwashing accessories
According to Proto, contaminating material can get caught in your fingernails, which means they shouldn't be an afterthought when washing your hands. He keeps a fingernail brush at the sink to get under his nails and scrub away any germs or lasting food residue.