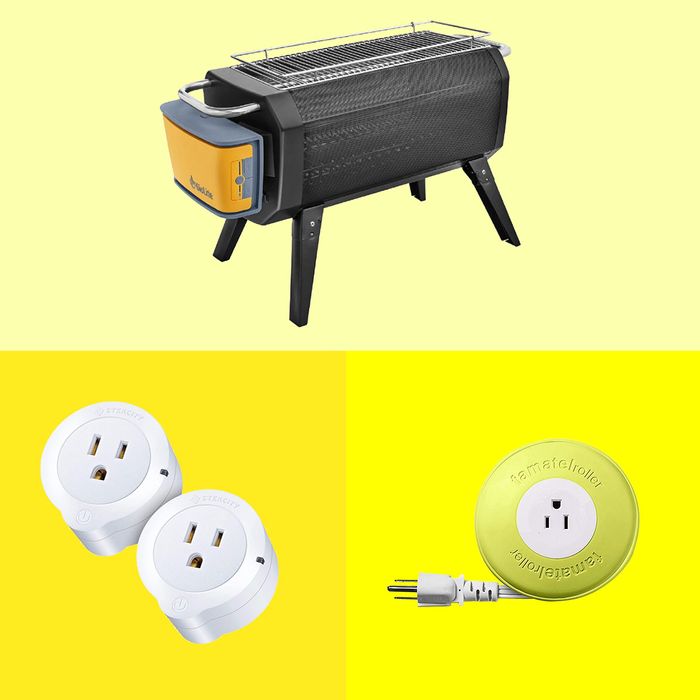 When truly wireless earbuds were first released, it felt like a breakthrough technological moment. This wasn't quite the moon landing, but it was an innovation that streamlined a cluttered part of our everyday lives. In honor of Ingenious Design Week, we tracked down products, both from our archives and beyond, that can simplify or improve our lives. There were plenty to choose from. Earbuddyz Earpod covers will keep your AirPods in your ears no matter how far you run or how much you sweat. The donut-shaped Famatel roller is an extension cord (and extension cord holder) that isn't an eyesore. And the Anker Nebula Capsule projector has everything you need to turn your backyard into a movie theater, contained in a device the size of a soda can. What connects them all is their ingenuity. Features big and small that may not save the world but just might save the day. Here are our favorites.
"For most of my life, I have held a decidedly 'who cares' attitude toward extension cords," says Strategist writer Liza Corsillo. "I appreciated their utility, but my feelings stopped there." Then she discovered the Famatel. "It comes rolled up inside a compact, bagel-shaped, silicon spindle. The lime-green halves of the bagel are flexible and can be turned inside out for quick winding and flipped back down to keep any unused cord neat and tidy." Plus, unlike other extension cords, it doesn't have that garage-only aesthetic: "My Famatel Roller is almost a decorative item," Corsillo says.
This powerstation has 11 outlets — two AC ports, four USB ports, two type-C ports, two DC 12V ports, and a vehicle 12V output — all of which can be used at the same time. Strategist contributor Steven John says it rendered all of his old camping battery packs obsolete.
"I typically lug all manner of chargers — a bunch of little guys for phones, a slightly bigger one for larger devices, plus a generator in case of a storm. But the River takes the place of all those," he says. Once it's charged up, the device can hold that charge for a year.
Most charging cables stick straight out from your phone while in use. So if you're checking Twitter in bed, the cable is bent against your stomach. If you're charging your phone while driving, the cable is probably bent back on itself in the cupholder. It's not comfortable for you, and it's not good for the cable, which will eventually fray and break. But that's not the case with Aukey's right-angle cables, John says. Since the bend is built into the connector, there's no stress on the cable. Even if there were, "the cables have been rated to last more than 10,000 bends," he says.
With this outlet, whether you're using a space heater or a flat iron, you'll never forget to turn it off. "You push a button to turn the power on, use your device as you ordinarily would, then walk away when you're done," says Strategist contributor Alison Freer. "It's like an egg timer for your electronic devices and comes in a power-strip version, too."
If you're outside on a hot day, a personal fan can be the difference between being comfortable or stewing in your own sweat. For Strategist contributor Maggie Coughlan, this miniature fan saved her from the sweltering subway platforms of NYC. "At $5, this little gadget is the least amount of money I've spent for the most comfort," she says. It has a very simplistic design. There's no on or off switch, you simply pop the fan into your phone's lightning port. "It weighs in at barely an ounce and is made of soft plastic, so if you catch your fingers in its blades, you'll survive unscathed. It will affect your battery, but no more than frantically reloading your Instagram feed."
Strategist columnist Chris Black says his first days of using AirPods were strange and unsettling: "The left AirPod did not feel secure, I was afraid that with one wrong nod I was going to lose it, and I would have to return, defeated, to the corded masses." After his left airpod flew out of his ear and tumbled into oncoming traffic one day, he turned to Earbuddy AirPod Covers. "They are basically grippy condoms for my AirPods, made from 'high-performance elastomers," he says. "The real magic lies in the extra little piece of plastic that conforms to the groove of your inner ear. I strapped them on and took them for the ultimate test: a sweat-drenched run. They didn't budge. I didn't even have to adjust them once! It was a miracle."
"For $15 apiece, you can sync your outlets with your Wi-Fi and thus control them with your phone," says Strategist contributor Lindsey Weber. "All of my lamps can now be turned on and off with a swipe — I even set timers so that they turn on automatically, both to avoid arriving home to a dark house and to give the appearance that someone's home even when no one is." You can get your AC blasting before you get home or turn your slow cooker on from the couch, before you head to the kitchen. "Anything you can imagine plugging in and turning on can be controlled with an app."
Watching shows in bed can be a great experience — unless you're the kind of person who gets uncomfortable sitting in the same position for too long and at some point you end up in a bizarre yoga position, holding the iPad over your head until your hands start to shake. Strategist contributor Jinnie Lee solved that problem with this oddly designed iPad stand. It "can comfortably hold up to a ten-inch device, and its malleable but firm arm can extend 30 inches, making it effortless to stretch, bend, and tilt based on your preferred lying-down position," she says. "For me, the stand is perfectly sturdy attached to my headboard, though other mounting options could include nightstands or overhead shelves."
This water-resistant portable speaker has an eight-hour battery life and uses a magnet to attach to the back of your phone, your fridge, or any other metal surface. (It also has a mount for nonmagnetic surfaces.) The Mo expands to create its own sound chamber, which enhances the bass and gives you a fuller listening experience. When you're done with it, just collapse it back down. It's only an inch thick — perfect for throwing in your bag or even putting in your pocket.
The size of a can of soda, the Anker Nebula Capsule projector can display your favorite movies, TV shows, and YouTube videos at up to 100 inches. It even has a built-in 360-degree speaker. Pair it with a bare wall or sheet and a good chair and you're ready for a cozy movie night.
This tech-enhanced fire pit "will make even the most inept fire builder look like Prometheus himself," says Strategist contributor James Lynch. Once you light the kindling, "just tap a button in the app, and airflow in the burn chamber increases automatically. If you want more heat, just turn the fan up," Lynch says. "The best part is that with all of that oxygen, the fire burns more efficiently, which means you basically get no smoke."
Hear us out: The Apple Watch Series 5 may feel like just another iteration of a nonessential piece of tech — an overpriced device to sit on your wrist and annoy you with constant notifications. But the updates that come with the Series 5 have finally turned the Apple Watch into a legitimate health-monitoring device. It can track your heart rate and warn you if you have irregular heart rhythms, or tell you when you're in an environment that's loud enough to damage your hearing. It can even notice that you've fallen and alert an emergency contact. Plus, the new iOS being launched this fall will have automatic handwashing detection, helping you know you've actually scrubbing your hands for the recommended 20 seconds.
Code Jumper helps students who are blind or visually impaired gain an understanding of computer coding. Students can learn basic sequences and computational problem solving skills by physically maneuvering the blocks — known as pods and plugs — to create computer code. There are 19 lessons and 25 hours of instruction, which include tutorial videos about the basics of computer science.
"This is a complete reinvention of the flashlight," says Strategist contributor Dan Dubno. The Nitecore is tiny — less than three inches long — but despite the size "it gives off a brilliant, powerful beam up to 1,000 lumens in brightness," Dubno says. "My favorite feature is the LED display, which lets you know exactly how much battery you have remaining at any of the five brightness settings you've selected. I can take a look at that display before [my dog] Charlie and I leave the house and know there's no chance of running out of juice in the middle of our walk."
The Strategist is designed to surface the most useful, expert recommendations for things to buy across the vast e-commerce landscape. Some of our latest conquests include the best acne treatments, rolling luggage, pillows for side sleepers, natural anxiety remedies, and bath towels. We update links when possible, but note that deals can expire and all prices are subject to change.