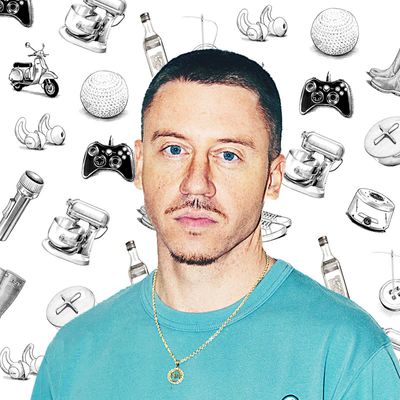 Photo-Illustration: The Strategist; Photo: Bogey Boys
If you're like us, you've probably wondered what famous people add to their carts. Not the JAR brooch and Louis XV chair but the hair spray and electric toothbrush. We asked rapper Macklemore — who just released a new album, Ben, and is the founder of a golf and lifestyle brand called Bogey Boys — about the candle he burns to set a "vibe," the versatile dad sneakers he wears with everything, and the massage gun that gets him into tussles with the TSA.
I love a candle. I love this Oud candle especially. I'm looking at it right now, I've got it in my office. They're all over the place. There's something about the smell. It's very masculine. It doesn't smell like a steakhouse, but it smells like how a steakhouse looks. It's dark and smokey. There's some undertones of tobacco in there. Whenever I burn it, it's a vibe.
I don't know what it is about the 550s, but they're just easy. I can wear them with anything. The white ones are very similar to wearing a white Air Force 1 to me. They're super-comfortable — great arch support. It's a design that reminds me of the '80s, and I love that era. It's a classic dad shoe, but I don't really think of the 550 as a dad shoe. I mean, it kind of is, but I think of the [Nike] Monarch as the most quintessential dad shoe. And there's other New Balance models that I think are more dad shoes. Like maybe dads in the '80s were wearing this, but no dads are busting out the 550s these days. They're busting out them Velcros and getting on that lawn and starting up that mower.
I love a tortoiseshell frame. These ones are a little bit darker in the lens, but they're just classic. They fit my head shape very well. They're a style that's going to be around for a while, that's going to work forever. I was just talking to my mom and we were guessing how many pairs of sunglasses I have. It might be over 100. It's a problem. I need to stop. But the rationalization is that I do wear them daily, these ones in particular. It's also tough to say because I give stuff away a lot. Like if it's been a couple years and I'm not wearing it, I'm like, Yo, I need room for the new, and someone else would love this. If it's just sitting in my closet collecting dust, I would much rather somebody else be able to wear it.
I use the Theragun all the time. If you spend, like, five, ten minutes with a Theragun, your body is going to feel better. I gave the Minis to everyone for Christmas, because when you find something that changes your life, you're like, I need to share this with everyone. The Mini is great for traveling since it fits easily in a bag or carry-on. The only problem with the Theragun Mini or any Theragun is TSA. They hate a Theragun at TSA. They're gonna make you feel weird. They're gonna make you feel awkward. They're gonna make a joke. They're gonna pretend like it's a sex toy, even though at this point they should definitely know that it's a massage gun. I've had frequent awkward encounters over trying to get a Theragun through the X-ray machine.
So the other day, I wanted to get myself something nice for the album. I wanted to treat myself. Now, I've probably treated myself, during the course of completing this album, around four times with watch purchases in the last year. So my rationalization is becoming a little bit played out, but I was like, You know what? The album's coming out, I'm just gonna get a classic two-tone Daytona. I've always loved that watch. I'm like, Okay, that's what I want to treat myself with. Then my friends Zach and David — David's from Rolex, Zach's from Ben Bridge Jeweler in Seattle — came over to my house and I thought they were bringing me this watch to purchase. I went into the other room and I came back out and sitting on the table was a 2022 Rainbow Daytona, which I have wanted forever. Never had the opportunity to purchase one. Never had the opportunity to even see one in real life. And there it was in all its glory, sapphires sparkling in the Seattle light. Right there on the table was the grail, the watch of all watches. I mean, it's a unicorn. It is absolutely gorgeous. I dropped to the ground. That was a moment where I literally felt like a 7-year-old kid at Christmas. It's the happiest I've ever been to write a really big check.
I love cherries. Cherries as a symbol represent recovery to me. And I love duffel bags and I love Louis, so it's like the best of all worlds. It's a beautiful bag. It's a piece of art. I have all my bags displayed in my closet and I love to look at them, but I also love to pick out which one we're running with for the season and develop a relationship with that bag and travel around the world with it. I do think that the flavor of anything comes from when you wear it and use it — the tactile information it gathers as it collects scars throughout life. That's what makes something authentically yours. I never want to be the type of collector that's so precious about things that they don't even look at them, just bring them out of the safe every once in a while. It's like, no, wear that shit. Wear the shoes, wear the watch, wear the things that are so precious because we'll be gone in a few years, so we might as well enjoy the things that we love.
I've been a fan of the Kraken from the jump. I was at a game last night. I had a great time. The team is awesome, we're going to the playoffs this year. Most of the games, if not all of them, are sold out. Climate Pledge Arena is phenomenal. It's just a fun environment. It's been a very cool opportunity to not only be a fan, but also to be part of the ownership group. It's something that I still pinch myself over — I can't believe that making music got me a seat at the table of professional sports ownership. I grew up watching hockey, though I didn't play, and I'm not trying to pick up any sports I didn't play as a kid. I went out on the ice once and there was a moment where I was like, You know what? I could get good at this. And then all of a sudden you lose your balance and tailbone meets ice and you're out of commission. There's a bit of a risk-reward thing when you get a certain age. It's just not worth it.
I've always been inspired by fashion and design. That energy got put into merch and music videos, but I've always wanted to do something in the actual cut-and-sew, produce garments, build-a-brand space. In 2019, I got dragged out to a golf course and immediately caught the bug, and shortly after that I realized there was a massive hole in the golf space for clothing that I'd want to wear, with personality and substance, that you wouldn't necessarily find at a sporting-good chain. Bogey Boys calls back to an era of golf where people actually showed out on the golf course, they didn't look like they were about to sell insurance. The hoodie is fantastic, and of course I'm biased, but it's one of the nicest hoodies I have, and I have a lot of hoodies. The weight of it is super-heavy. The hood and the pockets are the perfect shape. All of these aspects I had no idea about, prior to building Bogey Boys, but these decisions are lengthy ones. So we crafted from scratch one of, I think, the best hoodies in the game.
The Strategist is designed to surface the most useful, expert recommendations for things to buy across the vast e-commerce landscape. Some of our latest conquests include the best acne treatments, rolling luggage, pillows for side sleepers, natural anxiety remedies, and bath towels. We update links when possible, but note that deals can expire and all prices are subject to change.