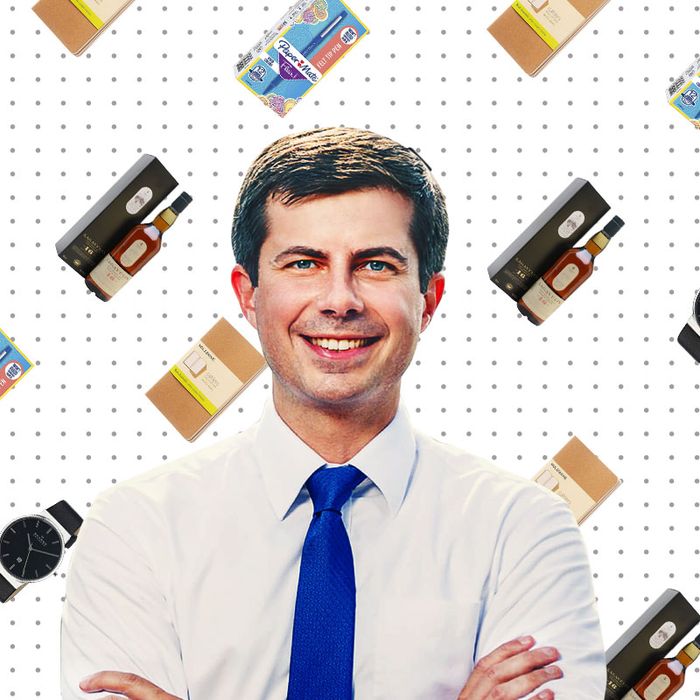 Photo: Courtesy of Pete Buttigieg
If you're like us, you've probably wondered what famous people add to their carts. Not the JAR brooch and Louis XV chair, but the hand sanitizer and the electric toothbrush. We asked potential Democratic presidential candidate Mayor Pete Buttigieg, author of Shortest Way Home, about the boot socks, beef jerky, and backpack he can't live without.
I was on my way to Afghanistan, so I wrote a friend who had already deployed for some advice, and he told me to make sure these socks were on my list. I asked him, "What about the standard socks?" and he said just wait. You need good boot socks when you're out there, and you get these Army-issue socks that are whatever. I'd only gotten three pairs of these, and my day always went better when I wore them. If I'm on a red-eye now or if I'm doing anything where I'd care about my socks, I wear them. I actually still have the same pairs I first got five years ago. I'd recommend them to anyone deploying but also just anyone in the general public.
This is the best stuff. It's really dry so you gotta chew on it for a while, which lets the flavor really soak in while you chew. It's not the stuff that's sweetened to make it all chewy and mushy — instead it almost breaks up in your mouth. I first had it when I would go on road trips through New Mexico with my family to visit my grandmother in El Paso.
Eagle Creek makes this backpack that comes with a roller board — you can stick them together or you can use them separately. I'm obviously on the road a lot and I'm not going over very rough terrain as often now, but it's nice to have something that can handle everything. It's the same backpack I had from my deployment. My backpack now always has my computer, some snacks, and something to read. Right now I'm reading Armageddon Averted, a really good book abut the collapse of the Soviet Union. It's not new, but I think this is a moment we have to think about how Russia got to where it is now. I also am reading Jill Lepore's book These Truths about Americanism as a different kind of nationalism.