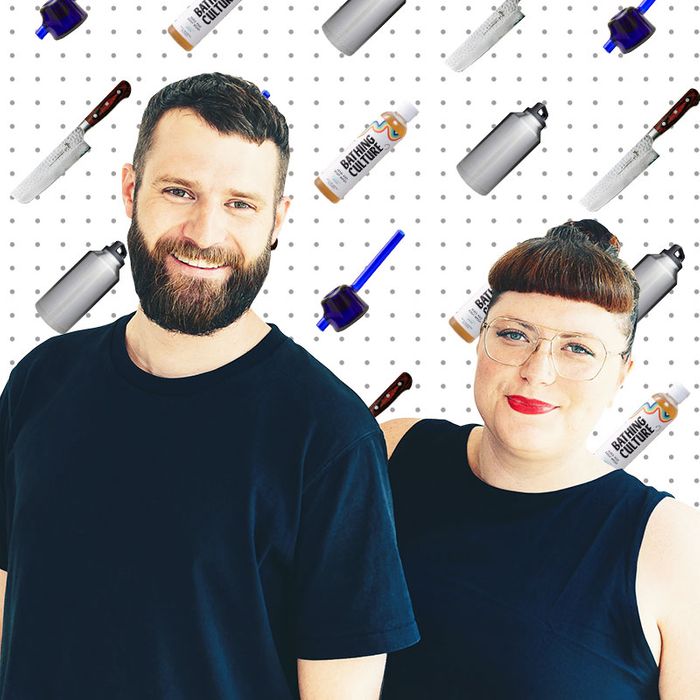 Photo: Courtesy of subject
If you're like us, you've probably wondered what famous people add to their carts. Not the JAR brooch and Louis XV chair, but the hand sanitizer and the electric toothbrush. And in celebration of New York Taste, we're going to be asking some of the 40-plus chefs and mixologists whose food and drinks will be served on October 21 about the things they can't live without. (You can learn more about New York Taste and buy tickets here.) Here are Bill Clark and Libby Willis, co-owners of MeMe's Diner in Prospect Heights, on their favorite body wash, and the extra-large water bottle they use to bring wine to the beach.
Bill Clark
My boyfriend and I adopted a dog about four months after we opened the restaurant. Kate's a fantastic dog, she's truly the love of our lives. Super well-behaved. But the one thing — she was so, so, so awful on a leash. Like crazy, wild beast dog. So this changed our lives. It changed our relationship with our dog. The Gentle Lead wraps around their nose, so if they pull, it pulls their head to the ground, and it was immediately night and day, no training involved. Put the Gentle Lead on, she stopped pulling. And it comes in lots of colors, so you can coordinate it to the color of your dog. We have it in khaki, because our dog is white and tan.
We discovered it like a year and a half ago, and it is one of life's true, small luxuries to have really wonderful soap in your shower. It does seem expensive, but it's so concentrated that it lasts for a long time. And you can use it for everything. You can use it to wash hands, items of clothing, sometimes I'll wash the dog with it if I'm feeling really extravagant. It's just a wonderful biodegradable soap made in San Francisco. It smells like a walk in the woods. It's like a millennial Dr. Bronner's.
This is kind of a recent find. I had filtered through a million natural deodorants, and many of them were irritating or just didn't work. This one is just fantastic. During a brunch service, when you're running around for hours, or sometimes I'm on the line with Libby, and it's 900 degrees in the kitchen, it still works. The scent is light, it doesn't stain clothing, it does not mark me up. It's not too floral, it's really kind of herbal and nice.