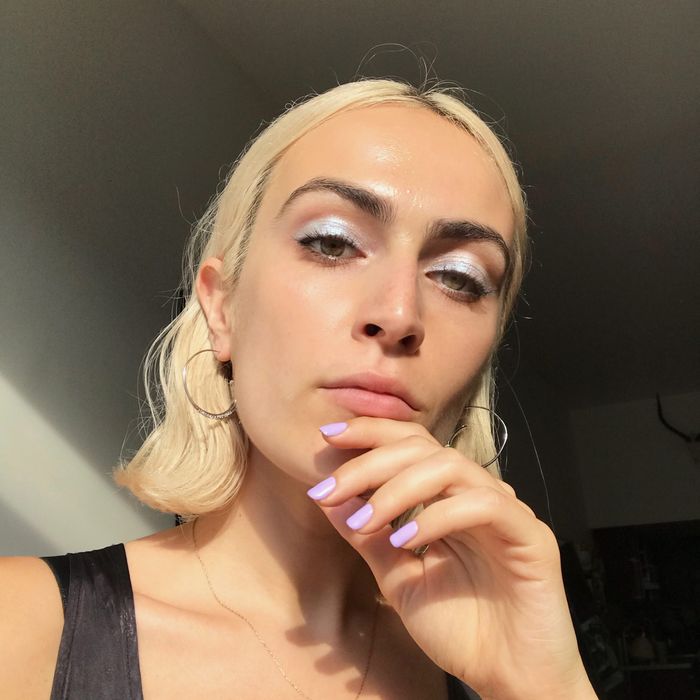 Glam-rock eyelids made easy.
Photo: Rio Viera Newton
I love experimenting with fun eye shadows, and am fairly bold in terms of what I'll wear out: a bronze smoky eye with a copper accent, or a brightly colored glossy lid. The problem with both is that, since I'm not a professional makeup artist, they tend to take me a lot of time to get right — about 20 minutes each. I first apply a primer, then put a base shade down to make sure the the colors don't get washed out, and then blend and buff with multiple brushes to make sure the colors all seamlessly blend in. While I usually don't mind carving out the time to get glam, a "can you be ready in 10?" text can quickly dash any plans for a fun makeup look. Because of this, I'd long yearned for an eye product that was fast and easy to apply. When Glossier released Lid Star I thought I'd found it. But it's a bit subtle for the dramatic, colorful lid I tend to favor.
Last week, I went out looking for a silver eye shadow to match my newly platinum hair, and stumbled upon Milk Makeup's at Sephora. Their silver color Rager looked like it might be just the thing. I decided to give it a whirl.