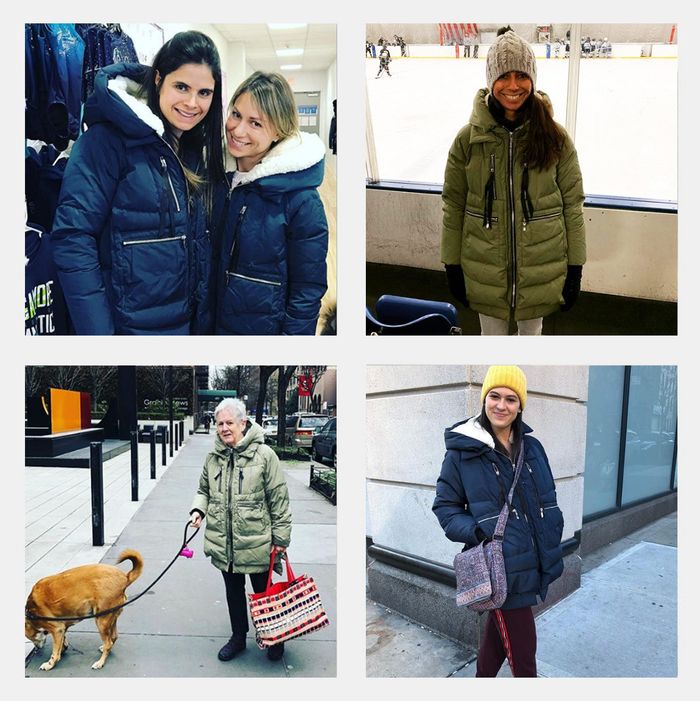 A sampling of Orolay coat enthusiasts from @theamazoncoat's Instagram account.
Photo: Courtesy of @theamazoncoat
Last March, contributing writer Amy Larocca appeared behind my desk. "There's this coat I need you to look into," she said. "It's $89, and every woman I know on the Upper East Side has it." I reached out to a handful of women who Larocca told me owned the jacket to ask where they'd initially spotted it; a robust whisper network, I quickly discovered, had propelled the thing into dozens and dozens of well-appointed uptown closets.
In the nearly one year since the article went up, the humble Orolay jacket has gone mainstream (and also up in price). It's ubiquitous here in the city, and not just between East 59th and 96th Streets: riding the F train without seeing it has become impossible, and dozens of publications have written their own reviews of the thing ("stylish!" "cheap!" "cultish!"). The New York Times recently referred to it simply as "the Amazon jacket" in an article dissecting the style preferences of Brooklyn moms. Indeed, it has amassed almost 6,000 reviews on Amazon, and even has its own Instagram account (with some 600 followers) dedicated to pictures of women — and even some men — wearing it across the country (from a lady sitting next to Alec Baldwin at brunch to a pair of friends in Florida). Lauren Posner, the women behind the account, says commenters have spotted the jacket in Minnesota, Detroit, Toronto; "black version in Philadelphia," "navy in New Jersey," "army green in Atlanta."
The coat is popular in Philadelphia and Detroit and Canada for the same reason it became popular uptown: it has a slightly (but only slightly) avant-garde effect (Fernanda Niven, an Upper East Side–based creative director, told me that someone on the street once asked her if it was Sacai), it hovers at just over $100 (inexpensive for a winter coat, especially if you've ever considered purchasing a Canada Goose), and it is extremely easy to order. Plus there are the pockets. "I can leave my house without a bag," Posner said, when I asked her why she started an account dedicated to it. "But the account is just to show that the coat is everywhere. Commenters write me to say they saw three in a single day in some Connecticut suburb."
And yet, despite its ubiquity, the coat has endured among the original Upper East Side set. Ana Maria Pimentel, the fashion director at Neiman Marcus and one of the Orolay boosters from my original story, still puts it on: "The novelty has worn off, but I still get a kick out of wearing it out and getting that you have the Amazon coat, too grin from strangers." Niven does, as well. "I wear my navy one daily, still," she says, "and am hoping they make it in a dark gray for next year." Larocca, though, succumbed to Orolay fatigue. She started seeing so many every day — 14, once, she said, on a trek from Brooklyn Heights to the Upper East Side — that she abandoned hers on a recent trip to London, where she was visiting her in-laws. "I couldn't take it anymore," she said. "So I said to my mother-in-law, Here, wear this in London, start the trend there."
More Orolay coat options
There's a black version, too.
We also like the look of the less ubiquitous navy.