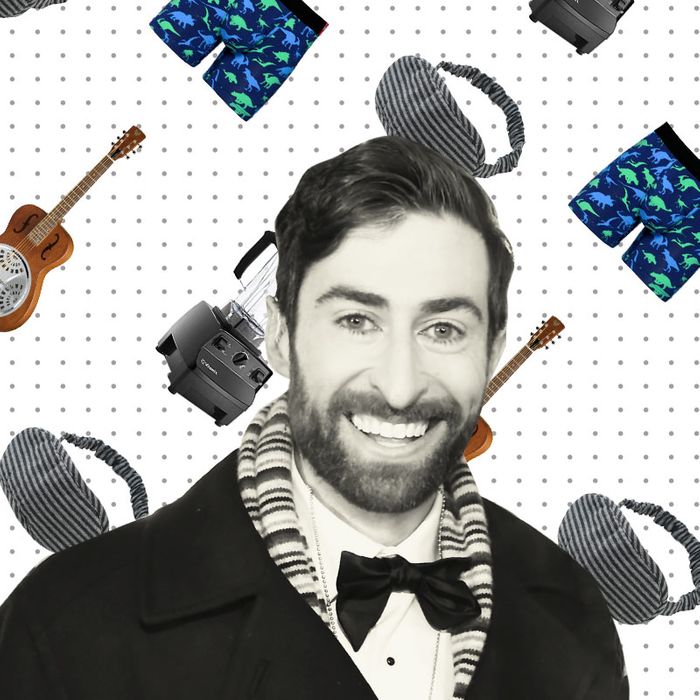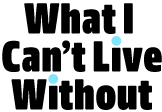 If you're like us, you've probably wondered what famous people add to their carts. Not the JAR brooch and Louis XV chair, but the hand sanitizer and the electric toothbrush. We asked HQ host Scott Rogowsky about the translucent glasses, dinosaur boxers, and, uh, snug-fit condoms he can't live without.
I have pretty bad vision and wear contacts most of the time, but I actually now wear glasses more and more. When I was a kid, I got bullied and called four-eyes, and now it's cool? It's annoying because people who don't even need them wear glasses to look stylish now, and it's like, screw you! I got these Haskells because I never had clear frames before, and then I saw them and thought they were kind of cool and trendy. I'm feeling it.
I went to the dentist and felt like, "If the dentist is using electric tools on me and an electric toothbrush themselves, then I should use one, too." I bought myself a midrange Sonicare, and it's good. It really gets in there. I wouldn't say it's life-changing, but it's certainly teeth-changing. It's certainly getting my whites whiter. I actually noticed how much I love my Sonicare because my friend got me a Quip, which I'll take with me when I'm traveling, but is not as great a toothbrush. I notice it. The only thing with the Sonicare is that I'm used to keeping my mouth open when I brush my teeth, and this thing spins so fast, the toothpaste sprays all over the mirror. My mirror is filthy now, so I have to close my mouth when I'm brushing.
I'm not, uh, exactly blessed in the crotch department, and when I first became sexually active and started using condoms, I found the standard issue to be a little … baggy. But then I discovered this "snugger fit" brand. Have you heard of these? They manage to hold on for even the bumpiest of rides. Total game changer, like going from JNCOs to skinny jeans.
I am a very bad sleeper. There are lots of times when I'm trying to fall asleep at someone's place, and if they don't have blackout curtains, I am waking up with any amount of sunlight. So I've tried a lot of sleep masks over the years, and they're hard to get right. So many are uncomfortable or slide off. Someone gave me this one as a gift recently, and it's great. It keeps the light out, but doesn't feel like a rubber band around your head. I'd buy it with my own money if I had to.
I was trying to think really hard about what I loved in my life, and this was near the top. I had an entry-level guitar in high school, and maybe 12 years ago in college, I thought I should get more serious about it (or as serious as you can be without being a professional musician) and went to Guitar Center to get a new one. I saw this hanging on the wall, which didn't look like any of the other ones. It's a Dobro, which means it's a guitar with this metal hybrid resonator, so it sounds slightly different. You can also plug it in electrically, so I'll play it whenever I can in my apartment. I'm screwing around and have never even been in a band, but I like it.
Well, T.J.'s is a game changer. I grew up as a Food Emporium and Waldbaum's and A&P kid, and Trader Joe's came with their own line of products that all seem healthy, even though they probably aren't. That said, I do love the dried fruit because it's made without the sulfates and the sulfur dioxides and preservatives and is totally delicious. I love the dried baby bananas, but the one that really got me, though, was the dried persimmons because I love persimmons, but they're so hard to eat fresh. Apparently, there are only two varieties of persimmons — one kind is completely bitter until it's totally ripe, and the other bruises too easily. These dried persimmons are dried at the peak of freshness, and I will go through a bag in a single sitting. This is what I spend money on, dried fruit. I'm calling you right now from CES, and I couldn't give a shit about this stuff. I don't want drones or HDTVs. I want dried fruit.
I was working at this vegan convention maybe four years ago because I was working the booth of some chia-seed company. It was some easy money, and I was walking around the convention and came upon the Vitamix booth. They sort of give you the whole demo and tell you how you can make peanut butter and smoothies and ice cream, and I was feeling good about making my money working the booth and bought the floor model. I thought I'd be making all of my money back because it'd be a lifelong investment. Well, I've had it for four years now, and it still works, but I just wish I used it more. I really should buy more fruit.
This underwear is from a company called Shinesty out in Boulder, Colorado, and they make these ridiculous printed suits and boxers and swim trunks (the Hanukkah blazer I wore on HQ was a Shinesty). I like that the boxer briefs are sort of silly — I have them in Buffalo plaid and dinosaur print, and then there's one with a camel face where the crotch is. What I really like is the fit. I've been wearing boxer briefs for 20 years probably, and these fit soft and snug in the right places, and has a pouch for some room. It's strange to talk about boxers!
The Strategist is designed to surface the most useful, expert recommendations for things to buy across the vast e-commerce landscape. Some of our latest conquests include the favorite shopping items of Lena Dunham, Olivia Wilde, Carole Radziwill, Courtney Love, John Cameron Mitchell, Whoopi Goldberg, and Linda Rodin. We update links when possible, but note that deals can expire and all prices are subject to change.
Every editorial product is independently selected. If you buy something through our links, New York may earn an affiliate commission.