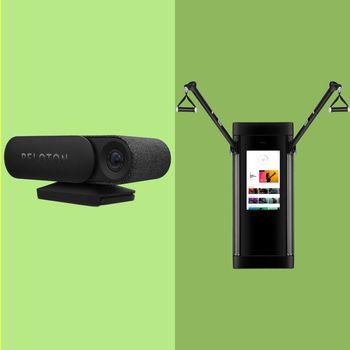 Photo-Illustration: The Strategist; Photos: Retailers
Lots of us are still working out in our living rooms and bedrooms post-pandemic. Thankfully, at-home workout equipment has gotten more sophisticated over the past few years. Some of these workout stations are so complete that they make you question if you need a gym membership at all. Plus, a handful of fitness brands have launched promising at-home workout classes to go with the equipment that have all of the energy and community of in-person studio gatherings (and will track your performance and even adapt to keep up with your fitness gains).
Since nearly all of these machines will set you back at least a couple hundred dollars, we tested out some of the most exciting options and talked to fitness experts to see which ones are worth the cost. Whether you want to go on a guided trail run, cycle, lift weights, or even row with a world-class trainer in your living room, there truly is something out there for all kinds of exercisers.
Unfortunately, there's no piece of equipment on the market that lets you do it all: A "cycle, run, lift, box, row, and yoga" machine would be amazing, but most equipment is targeted to one exercise category. But if you're investing over $1,000 in something, it's nice if it's multifunctional. We've noted below what workouts you can do with each machine (and the associated app).
Most of the smart systems in this article work with digital fitness sessions — but not all are free with your new equipment. We make note of the total cost subscriptions.
Heart-rate monitors, weights, workout mats — some of the equipment we're featuring offers add-ons that upgrade your workout. While you might be able to use your own standard gym accessories, like cycling shoes or weights, accessories that seamlessly pair with your equipment might be worth the investment, depending on your fitness goal.
Best overall smart home-gym equipment
Versatility: strength workouts, cycling, running, yoga, stretching, cardio | Subscription cost: $24/month with no pre-existing Peloton membership. No additional cost for paying Peloton members / Accessories: None included with base package; dumbbells and mats available with other Guide bundles
While it's hard to pick one "best" piece of smart home-gym equipment, the Peloton Guide comes closest for its affordability, access to a wide variety of guided workouts, and size. It's not a bulky machine — it's a camera that hooks up to a monitor or TV. (It requires a power outlet, and you navigate the Guide with the included remote.) It tracks your movements while you take Peloton classes, like weight training, yoga, or cycling (you can follow along with any Peloton class on the Guide), and provides detailed feedback on each session you take — like how many sets you completed and what muscle groups you activated.
After testing the Guide for a month of mainly strength and weight-training workouts, I found the tracking feature to be much more effective than I expected. The screen displays a half-circle meter that fills only when you hold a pose or do a rep. In this way, the Guide encourages you to commit to each rep and set within the workout. I found that reinforcement much more encouraging than following along with a YouTube workout on my own.
People who are familiar with Peloton's network of classes and instructors will find the Guide a handy companion. It offers metric tracking and syncing with the Peloton app, just like it does with the Peloton Bike and Tread. The Guide, like other Peloton classes, replicated being in an in-person class, too, by displaying small icons of the other members who are currently taking that class or session. Aparna Surapaneni, a home-fitness enthusiast based in Houston, Texas, has used her Peloton bike since 2017, but thinks the best part about the experience is the app and the Peloton ecosystem. "Even if you don't have a Peloton bike, the app is kind of a no-brainer," Surapaneni says. "They've hired a broad range of instructors, even from physical body types. Before, fitness instructors all looked one specific way."
The Guide is a bit of an anomaly in this roundup, since it's not really a fitness machine. But at $295, it's the least expensive device on this list, yet it offers an expansive variety of workouts without the need for bulky equipment. For those reasons, and its ability to connect to the larger Peloton network, we think it's the best overall device for at-home workouts.
Best for a variety of classes
Versatility: Cardio, strength training, yoga, Pilates, boxing (and more) | Subscription cost: $39 per month | Accessories: Ankle weights, weights, heart-rate monitor
Lululemon bought Mirror in 2020, and last fall, the company launched Lululemon Studio, a membership that gives Mirror users access to boutique gym classes. The Mirror became a favorite of former Strategist senior writer Karen Iorio Adelson during our testing period because it features a wide variety of workout styles and can handle almost all of your fitness needs. For $39 per month, you'll have access to live and on-demand workouts including cardio, kettlebell and resistance-band training, yoga, boxing, and Pilates. And, under the new Lululemon Studio umbrella, you can take classes from studios like Pure Barre, Rumble, Y7, and Dogpound, to name a few. At least 50 new classes are added each week, making it extremely versatile. Mirror comes with a wall mount and stand, resistance bands, and a heart-rate monitor.
Like others on this list, Mirror tracks your metrics. But since your heart rate is measured during a variety of different types of workouts, your score is based on staying within target heart-rate zones. And when you repeat a workout, you'll be able to see how your latest performance stacks up against previous scores.
Mirror is also the most design-minded of all the equipment we tested. When not in use, it looks like an actually nice wall mirror, but it transforms into a screen during workouts. "Because you're looking at an instructor and also your own reflection, it takes a few seconds to adjust to working out with the Mirror, but once you do, the classes are a lot of fun," says Adelson. At first, Adelson felt she'd miss the communal aspect of a group class since the Mirror is just you and the instructor, but she found that the instructors were motivating enough to keep the workout exciting. Mirror also offers a personal training program (your trainer coaches you virtually via the front-facing camera, which can be covered up with a privacy cap when not in use.)
Best for runners (and aspiring runners)
Versatility: Running, endurance and strength workouts, yoga | Subscription cost: $39 per month | Accessories: None
We picked the NordicTrack X22i as the best treadmill for guided runs not only because of its belt speed that accommodates different running workouts and insane 40 percent incline, but also because of its ability to integrate iFit classes, which offers both live studio classes and on-demand sessions. You'll get the most out of iFit if you have a NordicTrack device because some iFit classes can sync with your treadmill and adjust the incline or decline based on the route you're running. Writer and Outside magazine gear columnist Joe Jackson used the X22i to simulate a trail run in Chamonix, France. "I got to run that trail, virtually, thanks to the X22i's super-varied incline capabilities," he writes. "It was cool to get that kind of workout." If you don't have a NordicTrack machine, you can still access classes and sessions via a tablet or app and follow along with your own equipment.
Versatility: Running, strength training, yoga | Subscription cost: $9 per month | Accessories: None
The MyRun treadmill is a solid choice for indoor runners and has a small (but growing) library of programming. Technogym claims that the treadmill surface adapts to your running style to protect your joints — feeling softer and absorbing more impact at lower speeds and offering firm responsiveness when you pick up the pace. While the ride is smooth, it's not quite as bouncy feeling as a treadmill with a slatted surface like a Woodway (the brand frequently recommended by trainers), but those machines are also considerably more expensive. Because the MyRun treadmill is relatively lightweight, it does vibrate when you're running, which is loud and makes the treadmill feel a little unstable.
The real highlight of MyRun is the programming on the app. In guided sessions (both stand-alone workouts and series that you complete over time), trainers lead you through runs with specific focuses such as building endurance, hill training, and technique drills. With each workout, the skill level you select will determine the recommended paces and inclines throughout the class — just tap the button on the app when it's time to change your speed or incline and it will automatically adjust the treadmill. The only downsides are that most of the runs are in the 20- to 30-minute range, so there are limited choices for people wanting to run longer, and the total number of workouts (currently a few dozen) is relatively small compared with other apps such Peloton, which has a library of thousands of classes, or SoulCycle, whose workouts number in the hundreds.
You'll also run into quite a few classes that are taught in Italian or Spanish (Technogym is based in Europe) with English subtitles, which is not a huge problem but just something to consider. Of course, you can always run without guidance or run along with one of the app's "outdoors" options, viewing scenery from around the world — including the lavender fields of Provence and the Algarve coast of Portugal. There are a few strength and yoga workouts (with both bodyweight and equipment, which is not included) that you can do off the treadmill.
Best for low-impact workouts
Photo: Courtesy of Vendor
Versatility: Rowing, strength training, yoga, Pilates | Subscription cost: $38 per month | Accessories: Resistance-band kit, heart-rate monitor
If you ever dreamed of being a collegiate crew star or you've been looking for the perfect low-impact workout (your knees and hips will thank you), this commercial-gym-grade rower is for you. With a computer-controlled resistance mechanism that mimics the sensation of rowing on water, the Hydrow has a 22-inch touchscreen for viewing prerecorded workouts — nearly 3,000 and counting — or a "Just Row" mode that will give you a view of the water without any instruction.
Along with rowing workouts, you can take yoga, Pilates, and strength-training classes to complement your cardio. Just tilt the screen off-center so you can be on a mat alongside your rower. The monthly subscription rate is $38. Delivery is included in the purchase price. Hydrow offers additional packages that include extras such as a heart-rate monitor, a foam roller, and a mat.
Adelson likes the visual experience of using the Hydrow. "Instead of watching an instructor in a blank space or inside a studio, they're all out on the open water (the classes I took were filmed in Miami, and other locations include the River Thames in London and the California coastline), which made me feel less cooped up even though I was inside my apartment on a cold winter day," she says.
Best for metric-conscious exercisers
Versatility: Rowing | Subscription cost: $29 per month | Accessories: None
If you enjoy rowing — and don't need a group workout class or an instructor cheering you on — you'll probably like the data-based style of Ergatta's programming. One of the best-looking pieces of equipment, Ergatta takes a handsome cherrywood WaterRower (a leader in the rowing field for three decades) and adds an arm with a visual display for interactive workouts. The rower stands up vertically to store when not in use, and if you already own a WaterRower, you can buy the add-on display panel for $549. White-glove delivery and installation costs $199, and a subscription to Ergatta's programming is an additional $29 per month. Ergatta is also unique in that instead of traditional classes led by instructors, it offers "game-based" workouts, including interval workouts, virtual races, progressive programming to improve your speed and endurance, and an "open row" option for rowing on your own.
While you're doing the same exercise with the Ergatta and the Hydrow rower, Adelson says "the experience could not feel more distant." The scenic waterways and athletic instructors are replaced with a purely graphic screen displaying your 500-meter splits, speed, cadence, and distance traveled. The founders compare race mode to a game of Mario Kart, minus the colorful animations and banana peels to trip you up, and it really does look like a pared-down video game with lines representing you and the other users (of similar ability) that the machine has matched up with you to race against.
Best for cyclists
Versatility: Cycling, running, cardio, strength training, yoga, Pilates, barre, stretching | Subscription cost: $39 per month | Accessories: Cycling shoes, weights, heart-rate monitor, bike mat, cleats, and more
If you're a cyclist who loves the community aspect of working out but would rather not schlep to a studio, Peloton's for you. It's become the industry standard for at-home cycling — the original Peloton bike is our favorite stationary bike with a screen. For $39 per month, you get access to new live workouts streaming every day and thousands of prerecorded on-demand ones including yoga and stretching. Last year, Peloton introduced the Bike+ (starting at $2,495), which has new features such as a larger screen that rotates 360 degrees so you can easily follow along with workouts off the bike, automatic resistance adjustments that mimic your instructor's program, and full integration with the Apple Watch.
With its large HD display and bike that's identical to the one you'll find in the studio, an at-home Peloton workout is probably the closest you're going to get to an in-person workout with at-home gym equipment with one of these machines. Based on your cadence and resistance level, you'll get a power-output score to compare and compete with other riders who've taken the same class (or are currently taking a live class), and you'll see where you rank on the leaderboard. New rides with live DJs and themed playlists are added all the time, so there's never any lack of variety. If you hit a milestone (like your 500th workout — and no, that's not an unheard-of number among the Peloton obsessed) during a live ride, there's a good chance the instructor will give you a shout-out. According to Adelson, if you're a competitive person, the Peloton leaderboard can be a little discouraging, as experienced riders put up some big numbers: "Even though I consider myself reasonably fit, I was nowhere close to the top, but that didn't make the class any less fun."
Best for weight training
Versatility: Strength training | Subscription cost: $49 per month | Accessories: Smart handles, smart bar, rope, bench, roller, workout mat
The wall-mounted Tonal screen with built-in electromagnetic motors offers up to 200 pounds of resistance, so it's ideal for both new and experienced weight lifters who want the personalized guidance of a trainer with the convenience of an at-home workout.
The $495 accessory package includes smart handles and a smart bar — both of which attach to the resistance arms and allow you to change the weight at the touch of a button. There's also an attachable rope, a bench, a mat, and a foam roller. According to Adelson, before your first workout on Tonal, you'll complete a fitness assessment and choose your goals (such as "build muscle" or "tone up"), and the machine will recommend a workout program for you and determine how much weight you should be using for each exercise. "As someone who runs most days of the week, I know I should be doing strength training but find the whole weight-room thing a little intimidating," she says. "Tonal offers the perfect alternative with guided workouts from expert coaches, detailed instructions, and weight recommendations for each exercise."
Stephen Pennington, an at-home fitness enthusiast who has used Tonal since 2020, likes how the program focuses on metrics: It keeps track of the weight you use and will automatically bump it up as you get stronger. With all of the accessories, you can do pretty much any exercise you would at the gym — from armwork and legwork to core-toning moves — with Tonal. "As a competitive person who uses Peloton for cardio activities, I fell in love with the analytics that Tonal offered," he says. "The whole experience feels very curated to you."
Best for beginner weight training
Versatility: Strength training | Subscription cost: $39 per month | Accessories: Barbell, weight plates and collars, workout mat
At first glance, the Tempo Studio looks more like a small armoire with a mirror than a home-gym device. But turn on the 42-inch HD touchscreen, open the doors below to find a series of weight plates, grab the two dumbbells on the back side of the stand, and you have a solid foundation for a weight-training setup. (Tempo also offers upgrade packages, which come with add-ons like barbells, a folding bench, a heart rate monitor, and more.) Like Tonal and Mirror, Tempo incorporates interactive workouts via a screen, but what makes Tempo stand out is its motion sensors and camera, which track your form and offer feedback on how to improve it. Our friends at the Verge reviewed the Tempo Studio when it was released, and former editor Natt Garun appreciated Tempo's approach to weight training, noting that it emphasizes doing the exercise correctly, as opposed to doing a certain number of reps: "Though the machine does suggest weights and how many reps you should aim for based on your initial strength test, it's more about how many you do right within the 30- to 60-second allotted time period per exercise."
Last year, Tempo released a more compact version of the Studio, called Tempo Move, which costs $495 plus a $39 monthly subscription. It comes with two dumbbells and a series of weight plates, which tuck neatly inside a storage unit that looks more like a speaker than a weight rack. Instead of a sensor on the Studio's large screen, the Move uses your iPhone camera to track your form and give feedback. (It requires a TV or screen with an HDMI display, and iPhone XS/XR or higher.)
If you're newer to weightlifting and want the more classic feel of barbells and dumbbells for home workouts, then Tempo's foundational setup — and guidance — may be ideal for you.
• Aparna Surapaneni, a home-fitness enthusiast based in Houston, Texas
• Karen Iorio Adelson, former Strategist senior writer
• Natt Garun, former editor at the Verge
• Joe Jackson, freelance writer and gear columnist at Outside
• Stephen Pennington, a home-fitness enthusiast based in Dayton, Ohio
• Jeremy Rellosa, Strategist writer
The Strategist is designed to surface the most useful, expert recommendations for things to buy across the vast e-commerce landscape. Some of our latest conquests include the best acne treatments, rolling luggage, pillows for side sleepers, natural anxiety remedies, and bath towels. We update links when possible, but note that deals can expire and all prices are subject to change.