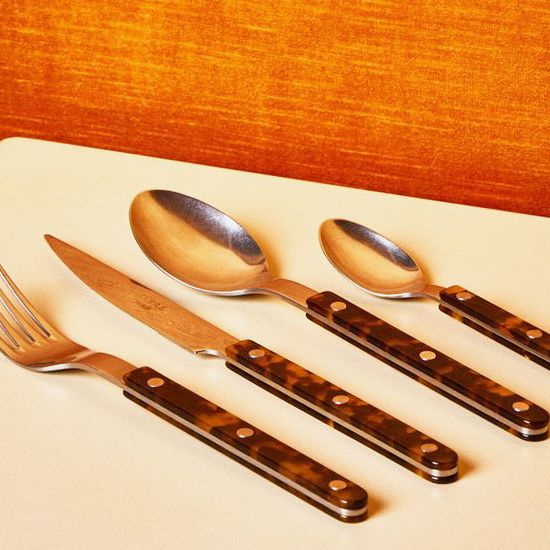 One strong contender, this tortoiseshell option from Sabre.
Photo: BALARAMA HELLER bala@balaramaheller.com
It's been almost seven months since I got married and I'm finally ready to fess up to my flatware addiction. Or obsession. I'm not really sure what to call it, but what I do know is that I spent an uncomfortable-to-admit amount of time scrolling through flatware on the internet, sending it to my fiancé, ignoring his thoughts, sending it to my mom, also ignoring her thoughts, and then scrolling some more, usually while sitting on the floor in a feverish haze. After blocking out the memory, I recently decided to look back on my time in the flatware K-hole and found that I actually sent an email with the subject line "Look What I've Done" that was filled with no text, just links. Flatware links.
If I had to psychoanalyze myself I'd say this all stemmed from growing up using Arne Jacobsen's rounded flatware, which was so unique and unusually shaped that most people who came over commented on it, and all of my friends remember my family as having cool utensils. You never quite forget the things that make you cool when you were younger, I guess. (I also just learned that was the silverware used by the crew in Stanley Kubrick's film 2001: A Space Odyssey. Futuristic.)
So I felt like I had to live up to that. Or that I at least wanted to re-create it so that when people came over to my house they would remember my flatware and associate me with having good taste, and just generally look down at their place settings and say, "Oh, wow, where did you find these?" So I searched and searched and searched for some forks and spoons and knives worthy of the inquiry. And now I'm ready to share my thought process with you. Below, a taxonomy of the flatware I considered and how I ultimately came to my decision.
My descent into the flatware universe began one Sunday when I walked into Abode, a home-goods store in Williamsburg that has since moved to Greenpoint. It was there that I first spotted and held Cutipol's Moon brushed-black cutlery and realized the vast possibilities of silverware. These were slender and attractive in a style I soon realized was very of the moment, but they felt weightier than a lot of the other slender knockoffs I saw around. Plus, that unusual, stop-and-stare matte black (they also come in stainless steel). I needed them.
Photo: BALARAMA HELLER bala@balaramaheller.com
The Cutipol was going to be my fancy, special-occasion Shabbat dinner flatware, but I wanted a second set for every day, too. That's when, perusing Coming Soon, I found Sabre's tortoise bistro flatware. Aren't they gorgeous? It's casual bistro vibes, but that elegant tortoiseshell, too. And I think they're French. It was just the look I wanted to balance out my tablescape.
This set also comes in black, of which I'm a fan.
But then I found the Collo-Alto and everything changed. Those skinny necks! I immediately put the serving pieces onto my registry, but I held off on making a decision about the full set of flatware. Still, these were the closest in shape and color to traditional silverware, while still maintaining their own unique sense of style. Not many people, let alone silverware, can so beautifully walk that line. For that reason they reminded me of the childhood Arne Jacobsen and I loved them.
I flirted with the idea of Hay's Everyday Silverware because I'm Hay's No. 1 fan and I think, in that perfect Hay way, these are basic and standard, but also have their own distinct shape, feel, and style. Also, you can get five forks for $35.
Deep in the hole, I found this set from Match at a cool $260 for literally five pieces of silverware. Let me tell you, it's not the craziest price point I saw, and it was my wedding after all, so it wasn't immediately off the table. Like, if I wasn't going to get that then, when all of my family and parents' friends might've chipped in and gotten me presents, when was I ever??? On this journalist salary??
For a brief, shining moment I thought I might go colorful. That was short-lived.
I found this when my fiancé and mom both told me that everything else I found was way too expensive.
I still really, really like these.
And lastly, I strongly vibe with wood handles (also this more modern set from Michael C. Fina) and spent a lot of time looking into those. (I even briefly bought these from Lenox, but returned them after they arrived and I realized that the wood was a bit too fake-looking for me). But after all my research, I learned that wood handles are usually not dishwasher safe, and since I recently moved into an apartment with a dishwasher, that was kind of a deal-breaker for me.
Here's what I knocked out of the running first:
— Hay's Everyday Silverware. They didn't have a salad-fork option and I wanted a true set of big fork, little fork, knife, big spoon, little spoon.
— Neon-accented silverware. What was I thinking?
— Match's really expensive set of five. I still deeply love these, but decided that if someone was truly ready to spend that much on a gift, I'd rather just get the cash.
— Ralph Kramer. I'm still not sure why I didn't end up with these, actually, but I guess these just fell by the wayside as I got caught up in all my other favorites.
— Anything wood. I wanted to use my new dishwasher.
That leaves us with Cutipol, Sabre, and Collo-Alto. So here's what I did: I put the Cutipol on my registry because they were my first love and I just couldn't get them out of my head. For a set of 12, they cost $1,275, and my registry was on Zola, so I made it a group gift. I'm not exaggerating when I say that not one person contributed to that gift. I was alone in my obsession.
So after the wedding I had to reassess. In that calmer, more level-headed place, I decided that I should probably just stick to one set of silverware — instead of one fancy, one for every day — and with that in mind I bought the Collo-Alto. I still love the Sabre and the Cutipol, don't get me wrong, but the Cutipol looked too fancy and nice for every day, whereas the Sabre felt like too strong of a look to use every day and for every single occasion. In the end, I decided to go classic stainless steel, with a bit of an edge, much like the Arne Jacobsen I was trying to imitate. Seven months later, I still love them.
The Strategist is designed to surface the most useful, expert recommendations for things to buy across the vast e-commerce landscape. Some of our latest conquests include the best women's jeans, rolling luggage, pillows for side sleepers, ultra-flattering pants, and bath towels. We update links when possible, but note that deals can expire and all prices are subject to change.
Every editorial product is independently selected. If you buy something through our links, New York may earn an affiliate commission.