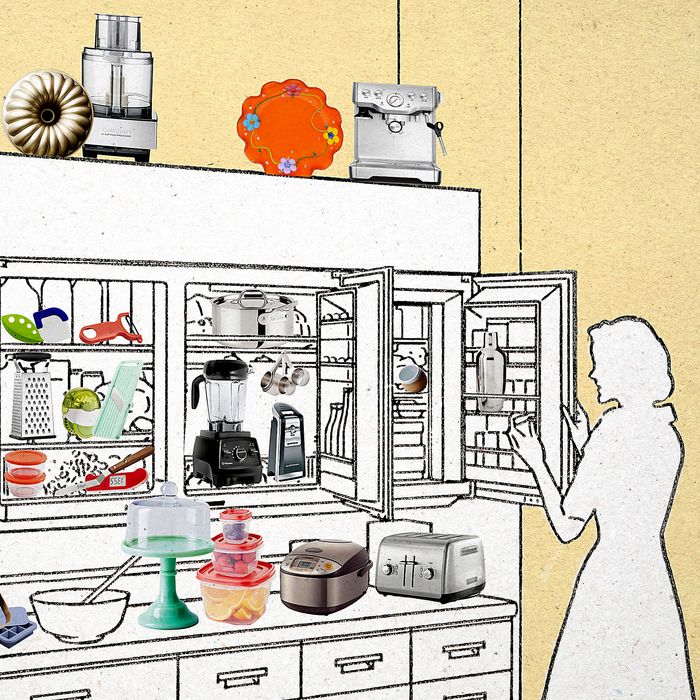 Photo-Illustration: The Strategist; Photo Getty; Products courtesy of the retailers
Over the years, we've surfaced hundreds of kitchen essentials — the tools, cookware, appliances, organizers, cleaning supplies, gadgets, textiles, and tableware that countless experts and our own staff really get behind. Here, we've curated those picks into a neat inventory of items that make up the ultimate kitchen, whether you're a veteran home cook who has been using the same KitchenAid stand mixer for ages or someone moving into their first apartment.
To decide which products made the cut, we started with the fundamentals and then sprinkled in the things that make cooking (and eating) fun — all while balancing practicality with style and the splurge-worthy with the affordable. So whether you're hunting for the very best basics (like a workhorse sheet pan that will last a decade), upgrading what you already own (like a Yamazaki dish rack that's the nicest looking we've ever seen), or browsing for some more niche but no less useful items (like the gadget that lets a Strategist writer mince whole bulbs of garlic in one go), we've got you covered.
Below, you'll find plenty of classics that live up to their reputation: a Le Creuset Dutch oven, an All-Clad stainless-steel saucepan, and a Pyrex liquid measuring cup, to name a few. There are also more unexpected items, like a handy tool for stripping greens a salad-obsessed cookbook author told us about, the weight Sohla El-Waylly uses for crisp fish skin and grilled cheeses, the inexpensive vegetable peeler used at the French Laundry, and the ice-cube tray that has become something of a Strategist phenomenon. Buy everything on this page and you'll have the best-stocked kitchen outside of Eleven Madison Park — or scroll through and pick up the pieces you may be missing or never knew you needed.