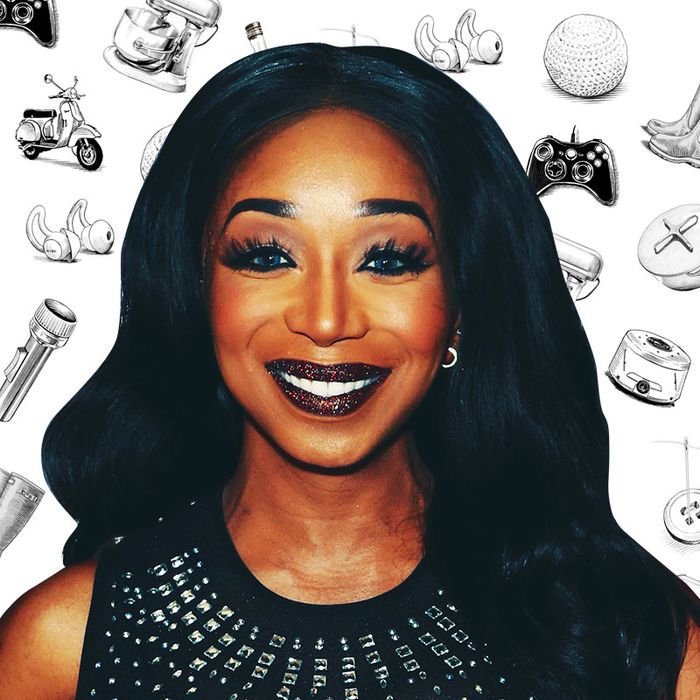 Photo-Illustration: The Strategist; Photo:Getty
If you're like us, you've probably wondered what famous people add to their carts. Not the JAR brooch and Louis XV chair but the hair spray and the electric toothbrush. We asked television personality Tiffany "New York" Pollard — who recently released a nail-polish line in partnership with Orca — about the transformative body lotion, the comforting perfume, and the giftable popcorn she can't live without.
I only drink the unfiltered organic with "the mother," which means it's not filtered. It has some stuff that floats around in it and has a little bit of a film to it, but that's what's gonna give you all the health benefits. I like Bragg's best because they're trustworthy and have been around for years. They didn't just start making apple-cider vinegar when the craze popped up with the tablets and gummies — they've been around for decades. I first heard about it on YouTube about four and a half years ago when I saw that a lot of people were taking it almost as a supplement. I tried it for myself, and I just got hooked. I find it helps keep my blood pressure stable. And I've always struggled with my weight — I would balloon up, go down, very much yo-yo dieting, and it just helped keep things stable for me. I use it as a way to jump-start a cleanse or help me feel motivated to get my health in the right direction again. I take it for about two months every day and then take a month off and then go back to it. I do notice that it gives me tremendous energy. Like if I take it in the morning, I'm gonna feel good that day. I used to be addicted to sugar, but I don't crave any snacks when I drink this with eight ounces of water. It really stops the cravings.
I've been wearing it for at least six years, and I always get compliments on it no matter where I'm at, on set or at the grocery store. It's light enough to wear every day, and I splash it on any time I want to feel more centered. This takes me back to childhood. I remember falling in love with perfume and floral scents literally in Head Start. I was on the playground, I scraped my knee, and one of the teacher's aides came over and put me on her lap and hugged me like, Oh, it's okay. I remember that she smelled like a bouquet of fresh flowers, and that has always stuck with me. Floral scents have been a nurturing and comforting scent because of that experience. And I think that's when I first got hooked on perfumes and the girly scents. So Dolce to me smells just like that. It smells comforting, and the floral and feminine smell just makes me feel so calm and at ease.
When I was a kid, my grandparents used to drink Canada Dry to help keep their stomachs settled and just because they liked the flavor of it. And that brand, to me, just brings back so many wonderful nostalgic feelings when I drink it, but it also tastes really great. I've been drinking it off and on for the past three and a half years because I just love a really good carbonated beverage. I'm always gonna be a soda drinker. I'm not gonna lie, I've had a soda every single day this week and last week. So I buy the sugar-free version; that way I feel like I'm doing the right thing for my health. I make sure I get about three-to-four cases of these at one time, and I try to have only one with dinner.
I have the gold ones, and I'm going to get a pair of the red ones and maybe a black pair, too. I love to wear them around the house so I can dance in the mirror when nobody's home and just go crazy. That's my way of getting a little bit of exercise once in a while. I also wear them in the bathroom when I'm applying my makeup. The first time I discovered Beats by Dre was with my really good friend Aktion LA Jackson. He's a rapper and artist so he's into really great music, and it's very important that the quality of the beat and treble is good. He let me borrow his Beats, and I was hooked. I had to run out and get everything I could get, but I loved the headphones that fit over my ears. Maybe I have really big ear canals, but I gravitate toward the classic headphone style because AirPods sometimes slip out of my ears. These headphones are the greatest on earth because the bass gets loud and heavy.