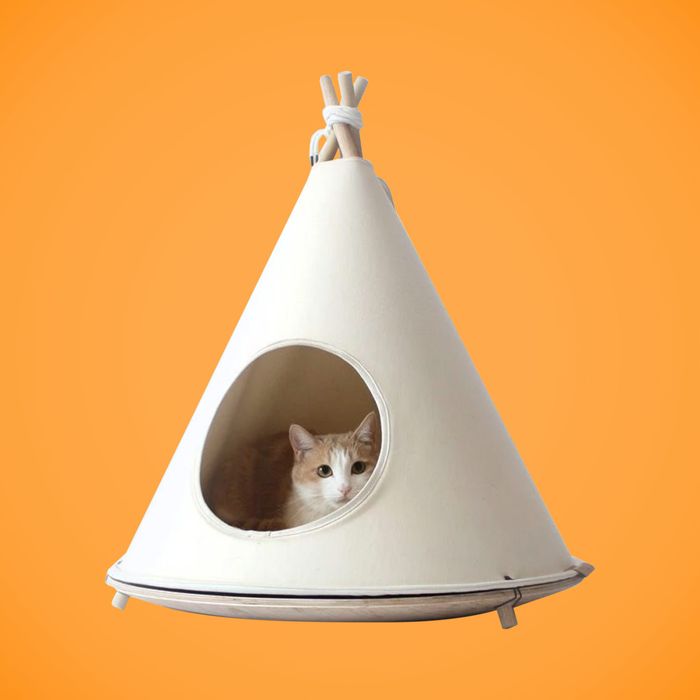 Photo: Courtesy of the vendor
You're either someone who thinks it's worth spending your hard-earned cash on fancy cat toys for your finicky feline, or you're not. As someone who falls squarely into the first category (see: my cat tree made from real bark and silken leaves), I was excited for the opportunity to test out a few products from the carefully curated selection of Tuft & Paw.
In case you haven't been keeping up with your luxury cat-accessory news, Tuft & Paw brings some of the world's most unique and aesthetically pleasing pet brands (most of which aren't otherwise available in the U.S.) together under one virtual roof. There are plush faux-fur beds and sleek scratching towers from Germany-based MiaCara; leather and suede collars from London's Cheshire & Wain; and a handful of goodies from Korean brands, like a multilevel climbing tree from Pote (that's been featured in Dezeen), sculptural bowls from Inherent, and realistic-looking fish toys from Howlpot. Instead of plastic and cardboard, most of Tuft & Paw's products are made from high-quality natural materials like wool, birchwood, and linen. This means they're often more attractive than cheaper finds (the store has been dubbed "the West Elm for cats," after all), and also, based on how the toys I tested have held up, more durable in the face of cats' sharp teeth and claws.
As you might suspect from a high-end pet-accessory retailer, the products are pricey. They range from Inherent's $19 doughnut-shaped catnip toys to Pote's $999 fish-shaped bed. But Tuft & Paw founder Jackson Cunningham believes there's a market for the type of fancy stuff he's selling because, as a cat owner, he says he's always struggled to find toys and gear beyond the uninspiring, utilitarian products on most pet stores' shelves. "The pet industry as a whole has gotten a bit stagnate," he says. "There are not a ton of companies making really high-quality and beautiful stuff." Besides being attractive to humans, the pieces sold by Tuft & Paw have features that also make them functional and appealing to cats. Kitties who feel safe in enclosed spaces will surely gravitate toward houses like this tent from Poland's Hello Pets, while those who prefer to survey their territory from above will likely love these wall-mounted — and thus, space-saving — perches from the (coincidentally also Polish) brand Cosy and Dozy. Most of the toys are stuffed with tantalizing catnip, and even those elegant collars have a quick-release breakaway clip to prevent choking in case they get caught on anything.
After Tuft & Paw sent me a few products to sample, I let my 8-year-old tabby Lovey have at them for a week or so. What follows are my observations of her time with the stuff — all of which I've decided is probably worth paying a premium for. Not only because it's cat-friendly, but, perhaps more importantly to me, because the products' modern look blends in so much better with my living-room décor than any standard-issue cat accessories I've owned.
Products I've tried
The size and shape makes this similar to one of Lovey's all-time favorite toys (the catnip banana), so it wasn't surprising that she took to it immediately. Toys like this are sometimes called "kickers" because cats will hold them in their front paws and then kick at them with their feet. It's actually very adorable to watch and, I imagine, fun for kitty to do. Like Lovey's beloved banana, this is also stuffed with catnip, so she was quickly drawn in, and it even comes with a spare satchel of catnip to sprinkle on top. The bone-shaped (and bone-colored) toy is made from natural linen that, so far, seems pretty tough. I've seen my cat rip open other catnip toys in just one or two play sessions, so it's nice to see that this one still looks brand new after being kicked, bitten, and clawed at.
While most of the stuff you'll find at Tuft & Paw is neutral-hued, here's something a little more vivid. Designed to look just like a salmon tail, this toy isn't quite as on-brand as the rest of the earth-toned selection, but it sort of reminds me of an Areaware food puzzle in how it's photo-realistic in a cool way. Like the Fish Bone, it's a good size and shape for cats to play with, and filled with catnip. Needless to say, Lovey pounced on it without any encouragement from me, and it's made of a thick (but soft) cotton that's been holding up well so far.
I have to admit that I like this teepee more than Lovey does. She's definitely more of a climbing cat who enjoys perching up high and watching the world below her, so I suspected she wouldn't be into cuddling in this small space. It's a very nice product, though, with a sturdy wood base and a canvas cover that's secured with a series of snaps and rubber bands to withstand rowdy cats. It comes with Ikea-style (diagrams; no words) instructions and I was able to assemble it on my own in about ten minutes.
While Lovey hasn't expressed much interest in the tent yet, I haven't given up on her. It comes with a fluffy cushion to line the base, and I suspect that might make her feel a little cramped inside, so I'm planning on replacing the cushion with a flatter pillow or just a soft T-shirt. I am committed to getting her to like it because I really want to keep the tent in the living room. It's just that cute. If you know your cat is the type to enjoy an enclosed house, it's worth the investment for an actually attractive object that'll give her a place to get cozy. Otherwise, I'd go for one of the perches or trees.
Other products I'd like to try
I don't have the space or money for another fancy cat tree, but if I did, I would consider splurging on this very impressive one. I can see Lovey scampering up the ramp to reach the highest post and getting a good stretch on the long scratching pole. Instead of cardboard and sisal, the scratching surfaces are made from carpeting and heavy-duty rope that both looks nicer and will likely last longer. It's without a doubt a splurge (and actually more expensive than my custom cat tree), but instead of looking like an actual tree, it has a more contemporary style that might work better depending on your space.
What I do have the space and money for is a smaller scratching post, and cat owners know you can never have enough of them. Besides looking like it'd last a long time, this minimalist one has a catnip-infused core that makes it even more attractive to cats than your furniture.
I'd much rather take Lovey to the vet in this nubuck leather tote-style carrier than my current bulky one. It has cutouts for ventilation that also let cats peek out, a washable insert, and a front zipper on one side for easily loading your kitty in and out. The nice thing about the bag is that, if you're looking at it from the side without the zipper, it just looks like a leather tote with an interesting pattern, so passersby would never realize there's a cat inside.
The plastic mat I have under Lovey's food and water bowl is starting to show its age. This easy-to-clean silicone one comes in a bunch of colors, but I'm partial to the "Seaweed Green." Of course I'd also need the matching bowl and stand.
This aesthetically pleasing update to the ever-popular wand toy replaces the plastic rod with a birchwood one that cats can safely chew on, and the feathers (that inevitable get torn out) with a wool ball and cotton fish that look sturdy. It's something that would surely get my cat excited to exercise, and also wouldn't look bad left out on the floor.
This faux-fur bed just looks ridiculously cozy, not to mention kind of elegant — way nicer than your standard, overstuffed brown-polyester model. Come next spring, there will be even more products available when Tuft & Paw launches its own line. Pieces I'm excited about include a streamlined litter box with an integrated shovel and dust bin, and what Cunningham teases as a new take on the cat perch. "The more we're working in the space, the more we realize how manys opportunities there still are," he says, adding that designing products in-house will help make the entire inventory "more accessible to everyone."
The Strategist is designed to surface the most useful, expert recommendations for things to buy across the vast e-commerce landscape. Some of our latest conquests include the best acne treatments, rolling luggage, pillows for side sleepers, natural anxiety remedies, and bath towels. We update links when possible, but note that deals can expire and all prices are subject to change.